Rent an RV near Wichita, Kansas
When considering renting an RV near Wichita, Kansas, you're going to have many different types of RVs, motorhomes, campers and travel trailers to choose from. Depending on the type of trip you are taking to or from Wichita, Kansas, you'll want to choose an RV for rent that includes the amenities you'll need for you, your friends or family. RV rentals in Wichita, Kansas are in high demand, especially between Memorial Day weekend and Labor Day weekend, so you'll want to book your RV for rent in advance....
When renting an RV or camper you will need RV Rental protection in case the unthinkable happens. Many people mistakenly believe that their personal auto policy will cover their RV rental only to find out too late that this is untrue. It's likely your Auto Insurance Policy is not going to cover the RV Rental. When you rent an RV on RVnGO.com, RV rental protection is automatically included in your rental. For a low nightly rate, you will receive $1,000,000 in liability coverage and up to $250,000 in property damage coverage. With RVnGO's RV rental protection plans, you can rent an RV with the peace of mind that you are covered in the case something happens on your trip. RVnGO's RV rental protection plans also cover RV owners, in the case something is broken or damaged on the RV during your trip.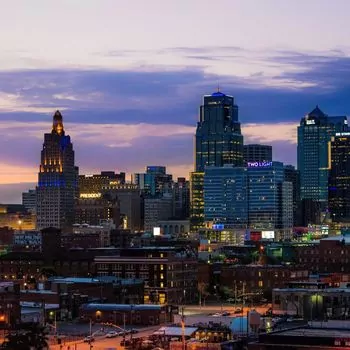 123 men and women, one of whom was the mother of the infamous Billie the Kid built Wichita, the biggest city in Kansas during the wild west days of1870. Wichita has gone far from being the center of cattle drives and became a city of a thriving aircraft industry and other booming businesses. But business is not just something Wichita is good at. The city is multicultural and vibrant with its restaurants, shopping districts, and beautiful parks and lakes, feeding the people's need for fun and relaxation. The best way to explore the beauty of Wichita in through an RV Rental in Wichita via RVnGo. RVs are an excellent way to experience for yourself everything that Wichita has to offer.
Camping and RV Parks near Wichita
Rent an RV in Wichita and stay in any of its various RV parks that have all the amenities you need for a comfortable stay - free wifi, satellite TVs, curbside trash pick up, to name a few.
Just south of downtown Wichita is the only ADA-compliant RV park in Wichita - Air Capital RV Park. The Capital RV Park has a curbside trash removal service, so all you need to do is put your trash out by your RV, and it'll be collected. Pets are also welcome in this park for free. Air Capital RV Park also offers complimentary Wi-Fi. Its community room, which doubles up as a storm shelter, features a full kitchen, puzzles, books, games, and a 60" flat-screen TV. You can rent the clubhouse for your private parties or events inside the RV Park if you want to.
If you're looking for an RV Park that's close to nature, thenDeer Grove RV Park is the place for you and your family. Located northeast of Wichita, this RV park offers a free cable channel and Wi-Fi on-site. The El Dorado lake is within walking distance of water sports and fishing, and there are several trails and hunting spots available within two miles of the park. Whatever you like, there are plenty of activities to choose from.
National Parks and State Parks near Wichita
If staying at RV parks is not your thing, you can take your rental RV and head on to any of the beautiful state parks near Wichita and enjoy the beauty of nature.
If you love being around water, fishing, or sailing, then you can head on with your RVnGO rental to Cheney State Park. Located West of Wichita, Cheney State Park is a water lover paradise. You can start your adventure sailing in the park's 6800-acre lake. But if sailing is not your thing, you can choose to go fishing for walleye, channel catfish, crappie, and other fish species thriving in the park. If boating and fishing are not your cups of tea, you can always relax and go swimming. The park has four dedicated swimming areas, with three found in its west area.
Accessible from Highway 141 is the Kanopolis State Park, the oldest state park in Kansas. There is no shortage of activity in this park with its lake, rolling hills, and nature trails. You can start by visiting the Faris Caves in the Northwest portion of the park. The Caves served as a schoolhouse, milk hour, schoolhouse, and homes to the early pioneers. You can also go hiking in any of its numerous 30-mile trails, or you can also go horseback riding. If you have a horse, the park also has a dedicated area for equestrians and their horses.
Wichita Attractions
Wichita is a great city with many natural attractions and destinations for the whole family. The city of Wichita has something from everybody. Take a day or two to experience what the city offers.
If you're traveling with kids or with animal lovers, the Tanganyika Wildlife Park at the edge of the west side of Wichita is something not to be missed. The wildlife park is aimed at animal preservation and is the only place in the country where you can hand-feed lemurs, giraffes, rhinos, guinea pigs, bunnies, and pygmy hippos. After the animal interactions, you can head on to cool down in the park's 5000 square feet of water park complete with all the amenities.
Soak in some culture with a visit to the Wichita Art Museum. The Art Museum has an impressive collection of American Art and also features regular art shows. Visit the new Art Garden with its outdoor sculptures and beautiful landscaping. Don't forget to pay a visit to the Museum Store and have lunch at the Muse Cafe. Entrance is always free on Saturdays.
Wichita Events
Whenever time you choose to go to Wichita, there is always a reason to celebrate. So Take your Wichita Motorhome rental and drive to these Wichita events.
If you are a cosplayer or just love anime and video games, the Wichita Anime Festival in June is an event you shouldn't miss. You can take part and join the competition for best in the show or be a spectator. Either way, you'll have a good time.
ICT Fest is Wichita's biggest music festival and features both local and national artists. This three-day festival is held in September at different venues around Wichita every year. Whether you like punk, pop, noise rock, grunge, electronica, and any other music in between, this festival has something for you. Entrance to the festival is always free. It can't get any better than this.