Rent an RV near Sacramento, California
When considering renting an RV near Sacramento, California, you're going to have many different types of RVs, motorhomes, campers and travel trailers to choose from. Depending on the type of trip you are taking to or from Sacramento, California, you'll want to choose an RV for rent that includes the amenities you'll need for you, your friends or family. RV rentals in Sacramento, California are in high demand, especially between Memorial Day weekend and Labor Day weekend, so you'll want to book your RV for rent in advance....
When renting an RV or camper you will need RV Rental protection in case the unthinkable happens. Many people mistakenly believe that their personal auto policy will cover their RV rental only to find out too late that this is untrue. It's likely your Auto Insurance Policy is not going to cover the RV Rental. When you rent an RV on RVnGO.com, RV rental protection is automatically included in your rental. For a low nightly rate, you will receive $1,000,000 in liability coverage and up to $250,000 in property damage coverage. With RVnGO's RV rental protection plans, you can rent an RV with the peace of mind that you are covered in the case something happens on your trip. RVnGO's RV rental protection plans also cover RV owners, in the case something is broken or damaged on the RV during your trip.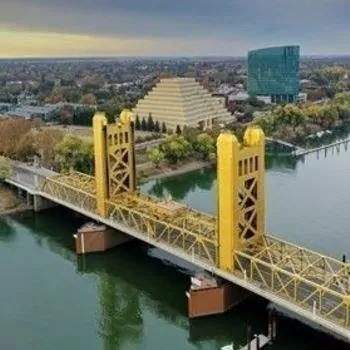 If you want to explore Northern California, it makes sense to use Sacramento as a kind of "home base." Start by enjoying a leisurely vacation throughout the region by finding RVs for rent near Sacramento. Then, you can expand your adventures from Sacramento attractions and events to those all across Northern California. As California's capital, Sacramento is a hub for state politics. It's also one of the most populated cities in California (Sacramento has about 530,000 residents, while the metro area is home to about 2.4 million). Sacramento has gone through several cultural changes over the centuries, and at one time, it was under the control of Spanish settlers. Later, it played a crucial role in the California Gold Rush. Today, it's known as an increasingly hip city with a diverse population and growing arts scene.
Camping and RV Parks near Sacramento
Sacramento has plenty to offer the vacationer, that it will be a challenge to fit everything in your trip. There are plenty of great RV Parks and Resorts to park at, as well. RV parks in and near Sacramento will help you stay comfortable during your travels. The city offers several options for you to consider. Get an affordable rate on an RV rental in Sacramento by searching your options on RVnGO. Whether you want a small RV that makes traveling more comfortable or a large RV with all the comforts of home, RVnGO can help you find the right model for your trip.
Named for the large canopy of trees that covers the grounds, Sacramento Shade RV Park has more than natural beauty and cool temperatures. The RV park has 90 sites with concrete patios, full hook-ups for water, sewage, and electricity, and free Wi-Fi. Pets are welcome!
The central location makes Cal Expo RV Park the perfect place for RV camping in Sacramento. The facilities give you access to free Wi-Fi, full hook-ups, and your choice of 30-amp or 50-amp services. The campground also has a laundry room, private restrooms with showers, and a dog park.
Located in West Sacramento, PacWest RV Park and Campground has ample features to make your trip fun. Besides full hook-ups, you have access to a heated swimming pool, recreation room, dog park, free cable, Wi-Fi, a laundry room, DVD rentals, and bike rentals. The spot even has a lake where you can go fishing or cook a meal on one of the grills.
National Parks and State Parks near Sacramento
There are beautiful National and State Parks near Sacramento. Make sure to visit them in your RV rental for a great weekend in the outdoors. Sacramento definitely has plenty of sites that everyone can enjoy! You don't even have to leave Sacramento's city limits to visit an urban state park. If you want a "deep forest" experience, though, you can find options a short drive from California's capital city. When in doubt, search RVnGO to find local hosts with RV rentals in Sacramento that give you a comfortable ride to parks throughout the area.
Make the drive to Folsom Lake to enjoy fishing, camping, picnicking, hiking, biking, and water sports. The park features a marina and designated swimming areas to keep everyone safe, and it has campgrounds and several parking lots. The recreational area doesn't have grounds specifically for RVs, but you can expect access to restroom facilities.
Just northwest of Lake Tahoe, Tahoe National Forest has more than 870,000 acres of protected land. Expect to see an abundance of evergreen trees, a giant sequoia grove, and wildlife that includes bears. In addition, the forest includes a portion of the Pacific Crest Trail, so you might want to set aside time to explore it and other trails.
Get a camper rental in Sacramento and head to Stanislaus National Forest in the Sierra Nevada mountain range of Northern California. Covering nearly 900,000 acres, the national forest offers 78 lakes, 1,100 miles of trails, and 811 miles of river.
Sacramento Attractions
There are tons of attractions in Sacramento that will be fun for the whole family. There is so much to do in the Sacramento area to keep you busy for a whole year. Sacramento has a wealth of attractions to educate and entertain visitors. Here are a few top attractions.
You don't have to go to LA or San Francisco to see terrific art in California. Sacramento's Crocker Art Museum has a permanent collection that includes pieces from Dutch masters, American Modernists, and world-renowned photographers. Don't miss the impressive collection of American Indian pottery.
If you want a glimpse into Sacramento's Gold Rush history, put Old Sacramento State Historic Park on your itinerary. The park offers protection to some of the era's significant buildings and other structures, including: • B.F. Hastings Building, western depot for the Pony Express and where the California Supreme Court used to convene. • Eagle Theatre, where people seeking their fortune could find entertainment. • The Big Four House, where the First Transcontinental Railroad was founded. • The historic area covers nearly 300 acres and has about 50 buildings. Dogs are welcome in outdoor areas, but only service animals can enter buildings.
Sacramento played a critical role in building the country's railroad system. The California State Railroad Museum has exhibits that document the machinery and effort that went into connecting the US by rail. Nineteen steam engines are at the center of the collection, but you'll also see exhibits that offer more context. Head outside to see the original wood frame for the Central Pacific Railroad Freight Depot.
Sacramento Events
There is always something going on in Sacramento. You can always find the perfect event that will scratch that itch of experience and adventure. Sacramento Events are fun and exciting ranging from the celebration of baseball, food, music, history, and everything in between. Not sure when you should rent an RV in Sacramento? You could plan your travels around these annual events.
Organized by the Sacramento Area Brewers Guild, Sacramento Beer Week includes daily events that take place in late spring. Expect to encounter new styles and meet brewers eager to talk about their processes.
This Heavy Metal Music Festival in Discovery Park often sells out by early summer. Check out the list of bands scheduled to play and buy your tickets early.