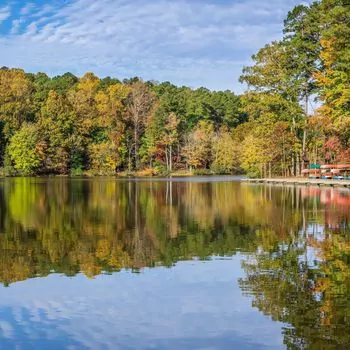 Also named the City of Oaks, Raleigh, North Carolina is a national historic landmark, known well for its divine, natural beauty. Home to multiple forests, Raleigh is the perfect city to visit with RV rentals. Read below to discover some of the great options you can explore to make your RV rental trip to Raleigh more memorable!
Campgrounds and RV Parks near Raleigh
With more than 9,000 acres of parkland and almost 1,300 acres of water, it's a surprise you haven't already booked your RV rental trip out to Raleigh yet. It hosts a nationally-acclaimed greenway system spanning more than 180 miles that connects the 200+ parks with walking, jogging, and hiking trails.
Serenity. That's the word used to describe Durant Nature Preserve. Designed to protect the area's natural resources and provide recreational and environmental education experiences, the preserve is a one-stop shop for outdoor activities. You RV rental trip wouldn't be complete without checking off all the boxes of events you can explore at the preserve. Fishing from the docks or visiting the bird and butterfly gardens are just a few examples. With 5 miles of trails to explore the park's 237 acres, you can do so on foot or even by mountain bike. So, what are you waiting for? Visit the Durant Nature Preserve
website
today to reserve your RV rental campsite.
What's better than visiting the North Carolina State Fairgrounds? How about camping right next to the site for the best convenience! The NCSF Campgrounds are perfect for RV rentals, equipped with full hookups, sewer, and water, plus a dump station to ensure your site is clean. You'll have weekly weekend flea markets to occupy yourself at the fairgrounds, along with so many outdoor recreation activity options! Though it is closed in October for the NC State Fair, this site is a "first come, first serve" property otherwise, so no need to reserve ahead of time! Just place a quick call to learn of their availability and head on out to the
NCSF Campgrounds
in your RV rental.
National Parks and State Parks near Raleigh
When it comes to parks in Raleigh, only one comes to mind, and that is William B. Umstead State Park, the crown jewel of North Carolina's parks.
There's a reason our city photo is of this state park: it captures the pure beauty of Raleigh. With 3 manmade lakes to choose from, you hold the power to park your RV rental across any of their 28 well-shaded campsites. Enjoy warm fires, fishing and canoeing, or just a simple hike through the hardwood forest. Hookups are not available at the state park but drinking water and restrooms with showers are centrally located for your convenience. Book your RV rental trip at William B. Umstead State Park
here.
Raleigh Attractions
With Raleigh's diverse performing arts and music scene that includes theaters, operas, and symphonies, as well as their three major state museums, the North Carolina capital provides countless opportunities to enhance your RV rental trip.
The largest natural history museum in the Southeast and North Carolina's most popular attraction, this museum is one of the nation's most amazing cultural resources about the natural world. It includes 4 floors of exhibits in its Nature Exploration Center and Nature Research Center, with some even having live animals! Along with gift shops and cafes, the Museum of Natural Sciences is a place you simply can't miss on your RV rental trip. Find more information on their
website.
What better way to visit local vendors and purchase souvenirs at a more than affordable price than to visit the Raleigh Flea Market! Hosting more than 500 vendors, this event offers everything from hand-made crafts, antique collectibles, clothing, jewelry, and so much more. Open every weekend from 9am-5pm, and with free parking/admission, you have no excuse to not stop by
The Raleigh Market
during your RV rental trip.
Pullen Park is the 5th oldest amusement park in the United States, and the 16th oldest in entire world. Established in 1887, it was designated as the first public park in North Carolina. It has fantastic recreational opportunities such as a carousel ride from 1911, a miniature train ride, lake activities like pedal boats, and various sports fields to play on with friends and family. The park is free to walk around and see, so plan
Pullen Park
as a part of your RV rental trip today!
Events in Raleigh
Raleigh is a buzzing hub of eventful activities. Countless fun runs and 5ks, numerous music festivals, and so many food and beer gatherings are amazing opportunities to make your RV rental trip a memorable one.
Every September, Raleigh is bustling for an entire week of toe-tappin', banjo-strummin' bluegrass taking place downtown. The International Bluegrass Music Association brings their business conference to Raleigh, along with the world's most talented bluegrass artists that perform in clubs, on street corners, and just about anywhere they can find a jam session. Capping off the week is a two-day festival IBMA Bluegrass Live! which you simply cannot miss. So, what are you waiting for? Pack up your RV rental and enjoy yourself at the
IBMA World of Bluegrass.
The Krispy Kreme Challenge requires competitors to run five miles, eat a dozen doughnuts at the halfway point, before reaching the finish line in under an hour. This makes this race one of America's most unique running events ever seen, and it was all started by a handful of North Carolina State University back in 2004. 16 years later, this challenge draws nearly 8,000 runners annually, and if you'd like to see how fun this can be, visit there website
here
and make it a stop on your RV rental trip!
Every March, the North Carolina Museum of Art hosts a four-day festival that combines art and flowers. Art in Bloom showcases more than 50 floral interpretations inspired by the museum's galleries, some of which standing more than 10 feet tall. These displays are created on-site by world-class designers and the event even provides dining, one-of-a-kind gifts, and interactive workshops. Visit
Art in Bloom
for more information, and schedule your visit on your RV rental trip.