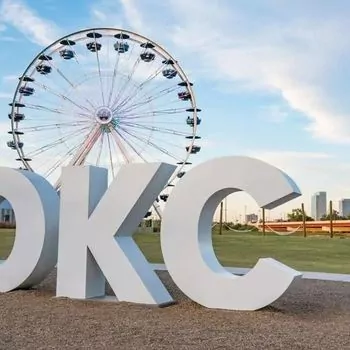 Oklahoma is an RVers dream. Rent an RV in Oklahoma City and experience historic Route 66 roadside attractions, Native American celebrations, international horse shows, cowboy history and exhibitions, beautiful landscapes bursting with majestic mountains, and gorgeous lakes overflowing with Sooner State charm.
Camping and RV Parks near Oklahoma City
Each time you search the RVnGO website for RVs for rent near Oklahoma City, scroll down to the bottom of the page to find lists of local RV-friendly destinations like RV parks, RV storage facilities, and local attractions.
As the highest-rated specialty lodging in OKC on Trip Advisor, this lovely campground has a dog park, pavilion, seasonal pool, Wi-Fi, snack bar, and lots of shady trees. Just 15 minutes from downtown, visitors say the quiet, clean, pet-friendly RV park has low dust gravel, nice patio sites and cabins, clean restrooms, and a great convenience store.
Twin Fountains RV Park in Oklahoma City is on 10 acres of rolling and wooded sites. The park offers paved roads and 152 sites with full hookups including cable TV and Wi-Fi on all pads, 30/50 amp service — 83 paved and 17 gravel pads available. Amenities at the park include laundry, showers, pool and spa, mini-golf, a covered pavilion, and a convenience store.
Rockwell RV Park has 170 shaded sites, mostly pull-throughs, and features some nice amenities, including an indoor heated pool and 10-person spa, free cable and internet, laundry, private showers, and an onsite beauty salon. This park is right off I-40 and Rockwell, close to many shops and eateries within one mile, and offers free coffee, newspapers, and muffins!
Roadrunner RV Park — With convenient access to I-35, this park has 80 concrete pads, cable TV and Wi-Fi, room for slide-outs, and pull-throughs. It is pet-friendly with "almost hotel-like" facilities.
National Parks and State Parks near Oklahoma City
There are beautiful National and State Parks near Lake Havasu. Make sure to visit them in your RV rental for a great weekend in the outdoors.
Lake Thunderbird State Park offers two marinas, 11 camping areas, nine boat ramps, and two swimming beaches. Located in the exact center of the state, it features over 200 RV sites, but those with sewer, electricity, and water hookups are limited, so reserve early. This pet-friendly park has trails for hiking, biking, and horseback riding, and the lake is stocked for fishing.
The campground at Arcadia Lake Campground at Central State Park has 104 RV hookups, plus trails for biking, hiking, and horseback riding (bring your own horse). Unique amenities include a heated, enclosed handicap-accessible fishing dock and a Frisbee golf course.
Red Rock Canyon is a beautiful example of nature's artwork in Oklahoma. Wind, water and natural forces have shaped deposits from the Permian geological period Into the natural sculpture you see today. Before the mid-1800s, Plains Indians used the canyon as a winter camp. Game was abundant, the water was pure and clean and it was an escape from the cold prairie winds, just as it is today. The canyon became a landmark on the California Road. During the 1849 California Gold Rush, the westward leading road was a haven for weary travelers. It provided fresh water, grazing for livestock and a place to rest and repair their wagons. In 1956, the City of Hinton, Hinton Kiwanis Club, and one other individual donated the land, known as Kiwanis Canyon Park to the state. The park was renamed Red Rock Canyon State Park. The 310 acres of steep, rugged cliffs and canyons make the park a favorite spot for camping and hiking. The park has new, modern comfort stations with pay hot showers located in the Canyon and California Road campgrounds. There is a sanitary waste dump station located in Canyon Campground and at the park office. There are also two older comfort stations without showers open only during summer months. RV campsite reservations must be made at least two days in advance of your stay. Full payment by credit card is required when making reservations.
Oklahoma City Attractions
If you have a camper rental in Oklahoma City, leave it at the park and consider using the OK City Street Car or Uber to get around town to these Oklahoma City attractions.
At the Oklahoma Memorial and Museum, you can learn about the immense magnitude of the 1995 bombing and its impact on the community. One haunting outdoor installation displays 168 empty chairs, representing the people (including children) who lost their lives here.
An awe-inspiring collection of Native American, cowboy, and western art and culture from the U.S.'s earliest history through modern times. Explore what life was like inside an old west church, school, saloon, blacksmith, etc.
This old warehouse district is now a family-friendly river walk area with miniature golf, water taxi boat tours, a movie theater, a baseball park, and plenty of bars and restaurants.
Oklahoma City Events
There are plenty of fun and exciting Oklahoma City events happening throughout the year for you to take advantage of with your OKC RV rental.
In June, the Festival of the Arts celebrates visual, performing, and culinary arts in downtown OKC's Bicentennial Park. Around 750,000 people attend, and the festival has been an OKC tradition since 1967.
Each September, you can find food and fun for everyone at the Oklahoma State Fair. Get a ticket to the Disney on Ice nightly performance, or spend some time with giant Percherons at the Super Barn. The fairgrounds are also known as "Horse Show Capital of the World" hosting more international equine events than any other city in the world.
Each year, The Red Earth Parade & Fall Fest showcases the best of OKC's Native American culture, art, music, and history. Oklahoma City has transformed into the center of Native American culture in America during the Festival. The award-winning festival features American Indian artists and dancers from throughout the country who celebrate the richness and diversity of their heritage with the world. A grand parade unlike any other parade in the world opens the Red Earth Festival in downtown Oklahoma City. The streets of downtown Oklahoma City will vibrate in Native American tribal spirit as tribal representatives in full regalia make the Red Earth Parade one of America's most unique processions. The Red Earth Fancy Dance Competition will feature the elite of Native American dance in Men's Fancy War Dance and Ladies' Fancy Shawl. The masters each exhibit their originality and skills in one of the most prestigious of all native dance competitions. These events, and much more, at the largest and most treasured Native American visual and performing arts event in the world!