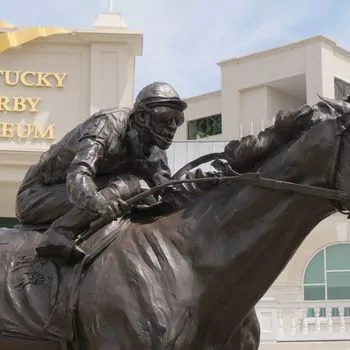 Kentucky is a beautiful state with miles of Kentucky bluegrass and rolling hills. It's also home to Louisville, the largest city in the state. If you're an RV renter looking for a vacation destination with plenty to do and see, look no further than this southern gem. Louisville is just minutes from some of Kentucky's most scenic vistas, as well as family-friendly activities that will keep you busy for days on end. Louisville is in the heart of Kentucky, so you're never too far from one of our many state parks. The city is famous for tons of things, and we will highlight some of them in this article but for starters; It was the birthplace of KFC (Kentucky Fried Chicken), the home of boxer Mohammad Ali, the Kentucky Derby, the Louisville Cardinals, and Louisville Slugger baseball bats.
Camping and RV Parks near Louisville
Louisville has plenty to offer the vacationer, that it will be a challenge to fit everything in your trip. There are plenty of great RV Parks and Resorts to park at, as well.
just a few blocks from Churchill Downs, they offer water for holding tanks, onsite dump station, 20-30 & 50 amp electric, 24 access to restrooms and showers, free WIFI and 24 hour security. There is also an outdoor grill & patio at the Odyssey Deck and home-style breakfast served Oaks & Derby Day.
Bring the whole family for an ideal getaway in the Bluegrass State! This park has endless activities, themed weekends, top notch accommodations and is located only minutes from downtown Louisville. While on the campground, observe the Indian cave dwelling burrowed in limestone cliffs, enjoy movies on a big outdoor movie screen, explore the area with a hike right from your site and enjoy a natural pond area or make a splash in our crystal clear pool. Summer campers can join in the fun with our themed events every weekend from June until September. With 90 foot pull-through and 50-amp sites available, the RV campground is truly big rig friendly.
Taylorsville RV Park and Boat Storage is located at 11 Hunter Road, Taylorsville Kentucky 40071. The RV park is on more than thirty beautiful acres. Taylorsville RV park is located directly across from Taylorsville Lake Marina. Taylorville RV Park lot sizes are large enough to accommodate up to 45 foot Recreational Vehicle. The park also offers 30 and 50 amp campsites with your choice of either water & electric or full hook-up.
It is the closest RV park to downtown Louisville. This campground has an onsite snack bar and convenience store, a camp kitchen, propane, gas, and diesel onsite. Plus, it's only four miles from Green Tree Mall. You'll find all the conveniences you need here, including full hookups with Wi-Fi, high-speed internet, and up to 30 channels on the regular antenna.
National Parks and State Parks near Louisville
There are beautiful National and State Parks near Louisville. Make sure to visit them in your RV rental for a great weekend in the outdoors. Louisville definitely has plenty of sites that everyone can enjoy!
Natural Bridge State Resort Park is Kentucky's crown jewel, and it is a must-see for anyone visiting The Bluegrass State. It includes the Red River Gorge, which is considered a natural wonder. It is known as the Grand Canyon of Kentucky. People travel for miles to see this beautiful system of canyons that line the Red River to relax next to this serene watery paradise. Here are more activities offered at this state park: 1. Hike the scenic trail to Natural Bridge 2. Ride the skylift. 3. Explore the Red River Gorge area. 4. Enjoy square dancing at Hoedown Island. 5. Hike Henson's Arch 6. Tour the Natural Bridge Cave.
Mammoth Cave National Park is a massive, historic park that is beautiful both above and below ground. The caves are spectacular and well worth a visit. It boasts of being the largest cave system in the world. So definitely take a cave tour and consider exploring the hiking trails as the scenery above ground is breathtaking.
Cumberland Falls State Resort Park is known as the Niagara Falls of the south. The waterfalls are 125 feet across, falling 60 feet into a gorge strewn with boulders. There is a fine refreshing mist created by the falls. Interestingly, on a full moon, you can see a moonbow that doesn't occur anywhere else in the western hemisphere. While visiting the falls, you can also try some other fun activities like: 1. Hiking 2. Canoeing 3. White water rafting 4. Swimming 5. Horseback riding
Louisville Attractions
There are tons of attractions in Louisville that will be fun for the whole family. There is so much to do in the Louisville, KY area to keep you busy for a whole year. Attractions include the Louisville Slugger Museum and Factory, Churchill Downs, Kentucky Derby Museum, Kentucky Fair and Exposition Center. Experience everything from the Bourbon Trail (Jim Beam, Maker's Mark, Wild Turkey, etc.) to the Mammoth Cave National Park, plus museums and cultural fairs. The list is endless!
Whether you are a baseball fan or not, Louisville is synonymous with the game. The Louisville Slugger Museum & Factory, is a museum and factory tour attraction located in Louisville, Kentucky's "Museum Row", part of the West Main District of downtown. The museum showcases the story of Louisville Slugger baseball bats in baseball and in American history. Slide into the action of a private behind-the-scenes tour of the factory and much more. All-Star Experiences are customized to cover your favorite players and teams. You'll also get to check out special artifacts, step into our Bat Vault and each All-Star receives a full-size personalized bat.
The Louisville Palace opened in 1928. It is a beautiful historic theater with a seating capacity of 2,700. Concerts, films, children's performances, and the Louisville Orchestra performs in this Baroque-style palace. The theater is listed on the U.S. National Register of Historic Places.
Next to Baseball bats, and horse races, Kentucky is known for it's bourbon. Why not try a taste of Kentucky by visiting some of Louisville's whiskey distilleries. Let the spirit guide you to Downtown Louisville, where the Bourbon District is a walking urban experience. Many of the distilleries offer unique tours, classes, and, of course, a taste of "America's Official Native Spirit."
Louisville Events
There is always something going on in Louisville. You can always find the perfect event that will scratch that itch of experience and adventure. Louisville Events are fun and exciting ranging from the celebration of baseball, horse races, food, music, history, and everything in between.
How could you visit Kentucky without going to the Kentucky Derby? What an exciting place to visit, especially if you like horse racing, fabulous hats, and maybe a little gambling. Even if you visit off season, tours are still available, and there's a Kentucky Derby museum onsite.
Louisville has three other annual events that are not to be missed! The other events starts with "Thunder Over Louisville" on the Saturday before Memorial Day weekend, featuring a fabulous firework show that's perfect for the entire family.
The next annual event is the Forecastle festival; this is a three-day music, arts, and activism festival held in Waterfront Park, Louisville, every summer, with headliners like The Avett Brothers, Anderson East, Iration (Jerk), Dropkick Murphys (ska-punk).
The next annual event worth mentioning is The Big Four Arts Festival in September. It's held at the Louisville Waterfront Park on the Big Four Bridge lawn. The Big Four Bridge was built in 1895 as a railroad bridge. It connects Louisville, Kentucky, to Jeffersonville, Indiana, spanning the Ohio River. The railroad decommissioned the bridge in the 1960s, and you can now enjoy walking or biking over it.