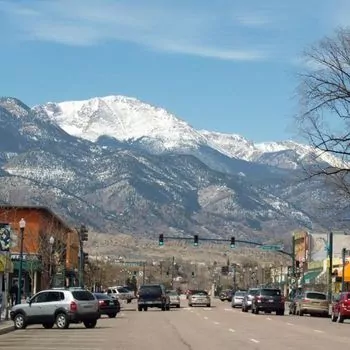 Colorado Springs sits at an elevation of 6,035 ft. It is located on the eastern foot of the Rocky Mountains. It lies near the glacier-carved Pikes Peak, a landmark in Pike National Forest with hiking trails and a cog railway leading to its 14,114-ft. summit. With more than 60 area attractions, including trains, museums, parks, a zoo and more, you'll have no shortage of activities to enjoy in Colorado Springs, where the adventures range from indoor and outdoors to mild to wild! Activities and attractions in Colorado Springs are limitless, whether you're looking for outdoor thrills or educational and cultural activities.
Camping and RV Parks near Colorado Springs
Discover the wide-open spaces of Colorado Springs and the entire Pikes Peak Region. Reignite your sense of adventure with the Broadmoor Manitou and Pikes Peak Cog Railway. Hop off the train and look out at the vast surroundings from the Summit Visitor Center on Pikes Peak Mountain. There is no shortage of outdoor adventure in Colorado Springs. With so many area attractions, incredible scenery for endless outdoor adventures and a vibrant culture, there's something for every explorer.
Close to many of the State and National Parks, this is a great spot to park the RV and set camp. Take in the glorious views of Pikes Peak. Visit Cave of the Winds, Garden of the Gods, and other area attractions. If you are planning a rally or family reunion, this KOA has a hall for those potlucks, or have them catered by the staff. During the summer, enjoy the water park, take a dip in the heated pool or relax in the hot tub. Pets are very welcome and will have a great time meeting new dogs, running in the dog park, or trying out the agility park. Max pull thru 80 feet. There is a 50 Watt Max Amp. Cable TV, WiFi, Snak Bar, Laundry and very clean restrooms.
Goldfield RV Park gives you full access to Colorado Springs, all year long. It is located between Colorado City and Manitou Springs. They offer you a wide selection of site types along with some of the best rental rates in town. The knowledgeable staff continuously strives to accommodate all your needs. Amenities include 9 Pull Through RV Sites, Wifi, Direct TV, Laundry and Showers, a Dump Station and 30 & 50 Amp Connections.
Pikes peak RV Park is located within a 15 minute walk from Manitou springs. There you can find plenty of entertainment for the whole family and many places to shop and eat. The park is also practically right next door to Garden of the Gods and other outdoor attractions such as: the Manitou Incline, Seven Falls, Pikes Peak itself and more! Experience picturesque views and meditative scenery along the beautiful creek running though the park offering a nice ambiance and view. If you're not one for ambiance the opposite side of the park is along a walking trail which offers a quieter stay and Pikes Peak is in view. No matter where you stay in the park you will often find a plethora of wildlife from deer, and ducks to beavers! You will also have 30 – 50 Amp Service, full hook ups, laundry facility, Wifi and clean showers. The furry family members will also enjoy the dog run area.
National Parks and State Parks near Colorado Springs
There are beautiful National and State Parks near Colorado Springs. Make sure to visit them in your RV rental for a great weekend in the outdoors. Colorado Springs definitely has plenty of nature that everyone can enjoy!
Elevation Outdoors Magazine named it Best Urban Park in its Best of Rockies. This park boasts a dog park, a gorgeous botanical preserve, 25 miles of hiking trails and the scenic overlook that is breathtaking along with views of the famous 7 Castles.
No trip to Colorado is complete without seeing the Seven Falls, which is one of Colorado's most captivating natural wonders. This magnificent series of waterfalls is situated in a 1,250-foot-wall box canyon between the towering Pillars of Hercules. It is on National Geographic's list of international waterfalls. Take in stunning vistas of valleys, striking rock formations and golden prairies as you climb the challenging 224 steps to the hiking trails and the banks of glistening streams that feed Seven Falls, and its 181-foot drop of falling water. Also take in the hiking trails and zip line adventure.
This park provides 28 miles of hiking trails, trails for biking and also horseback riding. The campground is open all year long and is handicap accessible. There are 51 full service campsites with showers and a laundry. For those who like archery there is an archery range with 28 field targets. Everyone can also enjoy guided wildflower walks, family mystery hikes, animal education, and campfire talks.
Garden of the Gods Park is a registered National Natural Landmark. This ONE Park provides dramatic views, 300' towering sandstone rock formations against a backdrop of snow-capped Pikes Peak and brilliant blue skies. There is a world-class Visitor & Nature Center and museum, which is the most visited attraction in the region. Learn how the amazing red rocks got there with the Geo-Trekker theater experience, shown every 20 minutes. Delight in one of Colorado's most photographed views from the café or from the terrace overlooking Pikes Peak and Garden of the Gods. Get active and head to the rock climbing range or take a jeep tour through the expansive park. You can even rent a peddle or electric bike to explore the scenery.
Colorado Springs Attractions
There are tons of attractions in Colorado Springs that will be fun for the whole family. Looking for fun and exciting attractions to experience while on vacation? With a wide variety of Colorado Springs attractions to see when in town, you'll have plenty to keep you busy. Feed the giraffes at America's mountain zoo, take a step back in time in an old ghost town or roar with dinosaurs.
This is the only vertical shaft Gold Mine in America and goes 1,000 feet deep. Visitors can see natural gold veins in their natural state. Ride an underground tram and experience real mining equipment. Tours take about an hour to complete and is in tight quarters so if you are claustrophobic or larger than the average person, you may want to pass on this attraction.
Come walk with one of their experienced and knowledgeable guides, and learn why it is important to preserve our diminishing wildlife -- not only for their existence but ours as well. 1-hour walking tours through the sanctuary are fun and educational. They also guarantee an up-close view of the beautiful, majestic and elusive wolf. There is an opportunity for an interactive VIP experience that is unforgettable. On the VIP interactive encounter, you and your guests will get an exclusive, private, up close and personal interaction with our wolves. A staff photographer and wolf handler will help you to experience and capture this once in a lifetime experience. You will receive up to 20 photos. Attendants Must be 18 or older.
Experience the breathtaking wonder of the Royal Gorge Bridge and Park, where jaw-dropping views, extreme adrenaline rides, and fun for the whole family await. Start your visit at the visitor center. Located at the north rim, the facility is the perfect place to relax and take in views of the Royal Gorge Bridge— the world's highest and possibly the scariest suspension bridge. Take in views of the gorge itself, and the surrounding Sangre de Cristo Mountains. Take a walk across the bridge to stand 956 feet above the wild Arkansas River or jump aboard an aerial gondola to glide 2,200 feet across the gorge and 1,200 feet above the river. If that isn't enough, and your heart hasn't stopped from being so high from the adrenaline rush, jump to the next level of thrill seeking and soar across the gorge on the Cloudscape Zipline, which uses state-of-the-art harnesses and braking systems for a hands-free, hair-raising ride. For the biggest thrill of all, jump aboard the Royal Rush Skycoaster. Named the World's Scariest Skycoaster, this ride sweeps 50 mph through the air in a free fall over the gorge that ensures high-pitched screams and an experience to last a lifetime.
Colorado Springs Events
There is always something going on in Colorado Springs. You can always find the perfect event that will scratch that itch of experience and adventure. Colorado Springs Events are fun and exciting ranging from the celebration of food, music, history, and everything in between.
Happening at the scenic Norris-Penrose Event Center—one of the finest places in the country to enjoy the sport of rodeo, The best rodeo athletes compete for top prize money in bareback riding, steer wrestling, team roping, saddle bronc riding, tie-down roping, barrel racing, and bull riding. Plan to get your tickets early because this event often sells out. The Pikes Peak or Bust Rodeo is perfect for rodeo enthusiasts, first-timers and everyone in between. The Pikes Peak Rodeo in Colorado Springs has been happening since 1937 and highlights top rodeo talent.
Find a variety of high quality and unique artwork from artists from all across the nation. Booths will feature jewelry designers, woodcarvers, photographers, painters, potters and much more. There will be plenty of delicious food vendors to satisfy your taste buds while browsing the beautiful art pieces.
The Pikes Peak International Hill Climb "Race to the Clouds" is the second oldest motorsports race in America has been a long-standing tradition in Colorado Springs and the Pikes Peak Region. It is also one of the more dangerous races. The Broadmoor Pikes Peak International Hill Climb encompasses a 12.42-mile trek up Pikes Peak Highway with 156 turns that begins at 9,390 feet and finishes at the 14,115-foot summit. It is truly like no other race. What takes an average person around 1-3 hours to drive, takes these professional daredevils around ten minutes.