Rent an RV near Charlotte, North Carolina
When considering renting an RV near Charlotte, North Carolina, you're going to have many different types of RVs, motorhomes, campers and travel trailers to choose from. Depending on the type of trip you are taking to or from Charlotte, North Carolina, you'll want to choose an RV for rent that includes the amenities you'll need for you, your friends or family. RV rentals in Charlotte, North Carolina are in high demand, especially between Memorial Day weekend and Labor Day weekend, so you'll want to book your RV for rent in advance....
When renting an RV or camper you will need RV Rental protection in case the unthinkable happens. Many people mistakenly believe that their personal auto policy will cover their RV rental only to find out too late that this is untrue. It's likely your Auto Insurance Policy is not going to cover the RV Rental. When you rent an RV on RVnGO.com, RV rental protection is automatically included in your rental. For a low nightly rate, you will receive $1,000,000 in liability coverage and up to $250,000 in property damage coverage. With RVnGO's RV rental protection plans, you can rent an RV with the peace of mind that you are covered in the case something happens on your trip. RVnGO's RV rental protection plans also cover RV owners, in the case something is broken or damaged on the RV during your trip.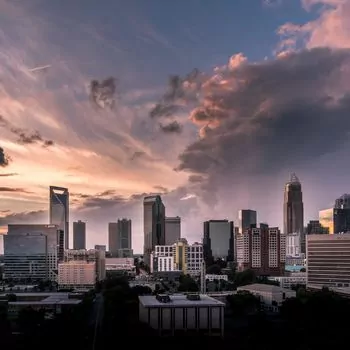 Sunny Charlotte, North Carolina, has undergone something of a re-invention recently. This onetime textile town is now a capital of culture and cuisine, enticing RV travelers like it once did mill workers. Despite all those tech startups downtown, "Queen City" is still proud of its industrial roots, straddling the past and present better than most Southern metropolises. Pack your RV, drive here for a long weekend, and discover its enduring charms.
Camping and RV Parks near Charlotte
RV camping is one of the most original ways to see Charlotte. The RV rental process is quick and easy and takes the hassle out of your vacation. The RVnGo website is one of the easiest ways to find a great selection of RVs for rent near Charlotte, all in one place. With an RV, you don't have to worry about getting a hotel room, as you have the perfect place to stay that holds all your stuff. When you rent an RV in Charlotte, take comfort in the hospitality of these RV Parks!
This stunning RV park offers great hospitality, friendly atmosphere, great weather and amazing views! Located four miles southwest of downtown, Elmore is an affordable pet-friendly option for RV'ers who want fast check-in, good Wi-FI, and big rigs. Open all year round this community situated RV park is perfect for a short term stay while staying near their downtown area.
This RV resort is perfect for family fun in North Carolina! With plenty of nearby attractions you can venture off camp and find sports, shopping, dining, parks and sightseeing destinations. The Crown Cove RV Park is nestled on the outskirts of Charlotte and a quiet natural area. The Park is pet friendly with a leash-free dog run. The 166 sites are all within walking distance from their clean bathhouse, and central internet access. This RV Park makes for the perfect venture off point when you explore Charlotte!
This no-frills campground in Concord, 26 miles from downtown Charlotte, welcomes RV travelers of all kinds. Stop here if visiting the world-famous NASCAR Charlotte Motor Speedway and still require speedy access to Charlotte via Interstate 85. With 100 sites on their picturesque, green property this RV park gives easy access to the region's top attractions. This RV park has beautiful trees, open sites, full hookups and paved roads. Stay in the comfort of this RV Park the next time you are visiting Charlotte.
National Parks and State Parks near Charlotte
There are many amazing National and State Parks near Charlotte. Make sure to visit them in your RV rental for a great weekend in the outdoors, or a scenic day trip with friends and family. With so many parks to choose from make sure you are hitting the best ones on your next trip to Charlotte.
If you're traveling from the west, there's no excuse not to stop at Crowders Mountain State Park, about 31 miles from downtown Charlotte, even if it's just for a quick photo opp. For the best views — think vertical cliffs and rugged rock faces — drive to the picture-postcard village of Mountain View and cruise down Crowders Mountain Drive (part of Route 1125) as it slices through this picturesque patch of the "Tar Heel State."
Coming from the north? Take a detour to Morrow Mountain State Park, just 50 miles northeast of downtown Charlotte, for its 5,881 acres of astonishingly incredible open space and 15 miles of twisty-turvy hiking trails. There are a little over 100 RV sites here, so park somewhere for a few hours, have a picnic, and then continue south to Charlotte.
Charlotte Attractions
There are tons of attractions in Charlotte that you must check out. Charlotte is a great place to visit and find opportunities to find fun wherever you go.
One of the top Charlotte attractions is NASCAR Hall of Fame. This interactive museum and hall of fame is the perfect stop for any NASCAR lovers, or people who love to learn about new things! Here you can explore their interactive exhibits, the incredible and famous cars and of course the hall of fame. Every Monday and Friday the center hosts guided tours which is perfect for anyone looking to appreciate the NASCAR culture !
Tour the historic site of 11th President James K. Polk. Here you can dive into the rich history of the past at the original Polk house. The Polk family lived on the land until 1806 and now consists of a visitor center, self-guided museum, film, historic log cabins, nature trails and the original monument erected by the Daughter's of the American Revolution. Here you can make an exciting and memorable trip to the past and learn about the 11th president of the United States.
Charlotte Events
There is always something going on in Charlotte. Charlotte Events are fun and exciting ranging from the celebration of food, music, history, and everything in between. Here you can scratch your itch for adventure and festivals, no matter what you are into!
With featured artists, music, and good times this festival has been a big part of Charlotte since 1964. At this festival you can explore the Kings Drive Art Walk or enjoy the live music in the park. The festival is held at the end of October and is known for its beautiful selection of vendors. At this festival you can make a day out of it and spend time with friends and family while exploring Charlotte's art scene.
While the Coca Cola 600 isn't held in Charlotte North Carolina, it is held in the neighboring town of Concord. The action-packed Coca-Cola 600 is the longest race of the NASCAR cup series. Also known as the World 600 this race is different from most because it has changing tack conditions. This unique race starts during the day and ends at night. As a result the changing light makes it a challenging and exciting race. You don't want to miss this race!