Rent an RV near Boston, Massachusetts
When considering renting an RV near Boston, Massachusetts, you're going to have many different types of RVs, motorhomes, campers and travel trailers to choose from. Depending on the type of trip you are taking to or from Boston, Massachusetts, you'll want to choose an RV for rent that includes the amenities you'll need for you, your friends or family. RV rentals in Boston, Massachusetts are in high demand, especially between Memorial Day weekend and Labor Day weekend, so you'll want to book your RV for rent in advance....
When renting an RV or camper you will need RV Rental protection in case the unthinkable happens. Many people mistakenly believe that their personal auto policy will cover their RV rental only to find out too late that this is untrue. It's likely your Auto Insurance Policy is not going to cover the RV Rental. When you rent an RV on RVnGO.com, RV rental protection is automatically included in your rental. For a low nightly rate, you will receive $1,000,000 in liability coverage and up to $250,000 in property damage coverage. With RVnGO's RV rental protection plans, you can rent an RV with the peace of mind that you are covered in the case something happens on your trip. RVnGO's RV rental protection plans also cover RV owners, in the case something is broken or damaged on the RV during your trip.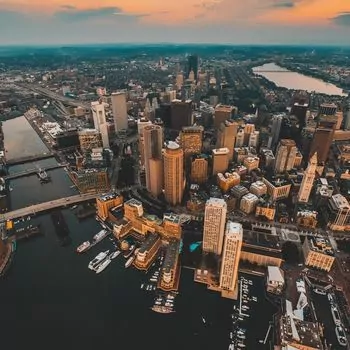 Boston
is one of the most historic and iconic cities in the U.S. You can explore the rich and diverse history of the makings of America. This is city where you will never be bored and always find something to see and somewhere to be.
Camping and RV Parks near Boston
Boston is a great place to visit for the history and activities. It can be hard to find a hotel or AirBnB due to the demand of the city. An easy solution is to rent an RV and stay at a RV park. This way you can do everything you wish to do and have fun while doing it.
This campsite prides itself on being one of the most luxurious campsites in Massachusetts. Offering more amenities and facilities than even most luxury hotels can provide. Warning: it may be hard to go explore Boston because you will never want to leave the campgrounds.
Enjoy your peaceful getaway to Boston at the Boston Minutemen Campgrounds. This campground is a little farther away from Boston but you will enjoy the quiet and serene atmosphere creates at the campsite. This is the campsite if you want a relaxing and reflective vacation away from the city.
Located in the historic country side of Massachusetts, you can use this as a place to stay while explore the rich and diverse areas of Boston. The site offers all the amenities you will need during your stay and even have a pool and fire pits for some fun bonding time. This can be the escape you were looking for while visiting Boston.
National Parks and State Parks near Boston
There are beautiful National and State Parks near Boston. Make sure to visit them in your RV rental for a great weekend in the outdoors. Boston has plenty o
Right across the harbor from downtown Boston are a collection of Islands. A short ferry trip away is a whole new world of opportunities for outdoor fun and adventure. With so many options of islands that offer different experiences, you are sure to find the best one for your trip! You can relax, enjoy outdoor recreations such as hiking and trails, and even fish. This is a great way to getaway without going very far from Boston.
Wompatuck State Park is only 20 minutes away from downtown Boston but once you are here, you will feel worlds apart. Disconnect from the busy world and slow things down at this state park. Here you can enjoy hiking, fishing, and camping in a world class state park full of amazing sights and sounds.
Boston Attractions
There are tons of attractions in Boston that you must check out. Full of historical landmarks, fun sporting events and activites, as well as great museums and other attractions you need to see. Boston is a great place to visit and find opportunities to find fun where ever you go.
Fenway Park is known as "Americas Most Beloved Ballpark" and is easily one of the most recognizable sports stadiums in the world. The tours allow people to go inside all see and learn all the history behind the ballpark and the legacy of baseball. This is must see when visiting Boston.
Visit some of the major historical sites and places that changed the course of America history. The Freedom Trail is a 2.5 mile stretch that highlights important landmarks and sites that played a part of the Revolution of America. This will help connect you to history and appreciate the struggle the Founding Fathers went through for the Independence of the American people.
New England Aquarium is full of thousands of unique aquatic animals. You can learn and see all types of different fish and mammals that you may have never seen before. There are always different exhibits that visit the aquarium that brings different aquatic animals from all different oceans and seas. You can even have animal encounters where you feed or swim with different breeds of animals.
Boston Events
There is always something going on in Boston. You can always find the perfect event that will scratch that itch of experience and adventure.
Boston Events
are fun and exciting ranging from the celebration of food, music, history, and everything in between.
The Boston Marathon is only one of six marathons that are recognized as World Marathon Majors. It is known as the worlds most recognized racing events and is the oldest running annual marathon. This attracts hundreds of thousands of spectators and tens of thousands of contestants. This goal is to promote a healthy lifestyle and to be able to push yourself to do something difficult.
Harborfest is a nearly a 40 year old tradition that takes place annually in the harbors of Boston. Celebrating the history and significance that took place for the American Revolution. Programs and activities will go on to embrace and educate those in attendance of the history that took place.