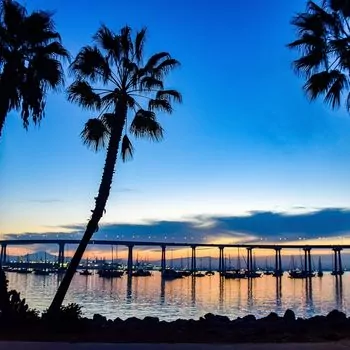 Averaging a temperature of 70, how have you not made an RV rental trip down to San Diego already? A city right on the coastline, experience a different side of camping. No trees to block out this seashore sunshine; dig your toes in the sand, feel the breeze through your hair, and relax by a roaring campfire in the lovely Californian city.
Campgrounds and RV Parks near San Diego
With the city being as busy as it always is, you can bet you'll find an RV park and/or campground just about anywhere. Whether you want to stay in the suburbs of La Mesa, or right on the San Diego beach, the city offers numerous options to fit your needs for your RV rental trip.
Located in the La Mesa suburb, San Diego RV Resort is a large RV park of 180 available sites. Offering full hookups, both 30 and 50 Amps, as well as pull-through sites, this RV resort is an ideal spot to park your RV rental. The park is actually surrounded by trees with most of the RV pads grassy, so park your RV, relax, and enjoy San Diego at this RV resort. Reserve your spot
here.
Nestled in the middle of Admiral Baker Recreation Area in Mission Gorge, the park is utterly surrounded by green grass and tree-lined roads. Sporting just under 50 RV sites, the grounds feature numerous amenities such as playground equipment for children, multiple sports courts, horseshoe pits, and two top-rated golf courses adjacent to the park. Plus, it's on a military base, meaning it's well-maintained and clean. Book a reservation on their
website.
If you want to enjoy San Diego without staying inside the actual city, Chula Vista is just down the road, and the Chula Vista RV Resort provides you that ease of access. Situated right on the beach, there's a small park right next to the property, along with convenient access to Chula Vista Marina. With tons of watersports such as swimming, fishing, kayaking, paddle boarding, and more, the RV resort also hosts live music and concert events, as well as children's activities. Sound like the perfect spot for your RV rental? Book a spot
now!
National Parks and State Parks near San Diego
California has countless national and state parks, and a few of them can be found in the San Diego area. Surprise, surprise: they're beaches. However, just because there's no forest and the smell of pine in the air doesn't mean it can't be as memorable!
In 1542, Juan Rodriguez Cabrillo stepped into history as the first European to set foot on what is now the West Coast of the United States. Now, Cabrillo National Monument serves as a wealth of cultural and natural resources, in addition to telling the story of the 16th century exploration. No reservations are necessary to visit the national monument, but visit their
website
for more information before stopping as part of your RV rental trip.
Moonlight State Beach was named after local residents in the early 1900s would come to the area for midnight picnics. Operated by the City of Encinitas, this wide, sandy beach offers swimming in the Pacific Ocean, surfing along those roaring waves, fishing along the shoreline. If you don't want to go into the water, you can always visit the volleyball and tennis courts. And with a snack bar on the beach,
Moonlight State Beach
is an excellent pit stop along your RV rental trip.
Also called Beacon's Beach, Leucadia State Beach is not your average shoreline. Tucked below a few condos and homes, it's quite the trek down towards the state beach, which is quite small in comparison to others such as Moonlight. Surfers and sunbathers are the primary users, but this beach is also home to fishing and picnicking. And remember, if you're on your RV rental trip and asking someone for directions to
Leucadia State Beach
, they might just say "It's always been Beacon's."
San Diego Attractions
Bright and shiny San Diego is ripe with universal appeal and attractions for any visitor. With all sorts of goodies to see on your RV rental trip,
The Crazy Tourist
has put together a sizable list, and we've listed a few examples below:
Housing more than 650 species, the San Diego Zoo is a top-rated animal habitation facility that features incredible sights. One of the first zoos to build cageless exhibits and the first-ever moated lion enclosure, the zoo hosts some of the most exotic animals in the world, being one of only 4 zoos in the entire US to showcase Giant Pandas. Visit their
San Diego Zoo
website for more information, and make the San Diego Zoo a primary stop on your RV rental.
For decades, the San Diego Air & Space Museum has catalogued the evolution of human flight with mint-condition aircraft and faithful reproductions. The museum also has flight simulators and other children activities for the little ones, as well as a 3D/4D theater for different shows and informational films. If you're wanting to see one of the best Air and Space Museums, mark this one for your next RV rental trip. More information about the San Diego Air & Space Museum can be found
Belmont Park
Since 1925, Belmont Park has been serving as a beachfront amusement park and boardwalk for San Diego. This small park features a combination of rides, restaurants, and even a Tiki-themed golf course! It's most notable feature is the historical Big Dipper wooden rollercoaster, having been around since the park's creation, but there are modern rides featured as well. And with free surrounding parking, you can't go wrong with making
Comic-Con
  Back in the day of 1970, Golden State Comic Book Convention was attended by 200 comic book fans. Flash forward into the 21st century, Comic-Con is considered the world's largest annual pop culture festival, now attended by roughly 150,000 people. Though the name may suggest otherwise, the convention hosts more than just comic books. Comic-Con encompasses movies, TV shows, comics, and even anime. It's a must-see extravaganza, but tickets sell fast, so make sure you book early on their
Whale Watching
  Visit San Diego during the months of mid-December through April, and you could take a trip out on the water for whale-watching season. There's something incredible about seeing these majestic creatures in their natural habitat that is quite inspiring. A good tip is to actually visit late in the season, because you'll have a strong chance of seeing the females taking their newborn babies back north with them.