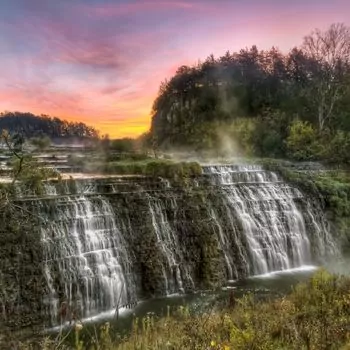 Hankering for a taste of the Midwestern trip? Illinois is a wonderful state to explore by RV in the summer months. With city life, scenic beauty, and many historical sites, Illinois offers excellent opportunities for indoor and outdoor fun. Camping, fishing, boating and hiking are available at many Illinois' scenic areas. Spoon River Trail, Lake Michigan's beaches, Starved Rock State Park, Mississippi Palisades Park, Shawnee National Forest and Apple River Canyon are among the most popular destinations for exploring the great wide open. The most complete resource for RV campgrounds in Illinois can be found at
RVCamping.org.
But if you're planning for a more urban RVing experience, check out these
Chicago
options.
COVID-19 / CORONAVIRUS UPDATES FOR NATIONAL PARKS IN ILLINOIS
Illinois National Park Closure Updates
The National Park Service is modifying its operations on a park-by-park basis in accordance with the latest guidance from the Centers for Disease Control and Prevention (CDC) and state and local public health authorities. While most facilities and events are closed or canceled, outdoor spaces in some parks remain accessible to the public. Before visiting, please check with individual parks regarding changes to park operations. If you choose to visit a national park, please ensure that you follow CDC and state and local guidelines to prevent the spread of infectious diseases and practice Leave No Trace principles. Updates about the NPS response, including safety information, are posted on
The National Parks Service Coronavirus Website.
COVID-19 / CORONAVIRUS UPDATES FOR STATE PARKS IN ILLINOIS
Click for Up to Date Illinois State Park COVID-19 Updates
SPRINGFIELD, Ill. — Illinois has barred all activities at state parks, fish and wildlife areas, recreational areas and historic sites in another move to stem the spread of the coronavirus. Illinois Department of Natural Resources director Colleen Callahan noted in a statement that hunters and anglers aren't allowed to receive refunds on state-issued permits or transfer of permits due to administrative guidelines under the state wildlife code. The Journal-Star reported Thursday that with proper authorization from the state, people can hunt and fish on privately-owned open properties. The state's spring trout-fishing season begins on Saturday.
Attractions in Illinois
Amusement Parks in Gurnee
Gurnee is a residential community just north of the Chicago city confines that has a ton of fun activities and places to let loose. Home to
Six Flags Great America
and Keylime Cove Indoor Waterpark, this city is the perfect place for a family trip. Appreciate exciting rides, amusements, and games at Six Flags Great America or make a splash at the waterpark. At
Keylime
bay you can appreciate a tropical climate each and every day of the year. Outfitted with indoor water slides and wave pools the entire family will appreciate spending the day getting wet and wild. There is a campground nearby where you can park your RV trailer rental in Illinois.
Abraham Lincoln Museum in Springfield
Considered one of the most influential American Presidents, Abraham Lincoln is a prominent figure in Illinois history. Springfield, Illinois is home to his Presidential Library and a Museum, which is a popular spot for history buffs. The
Abraham Lincoln Museum in Springfield
houses demonstrations of each part of Lincoln's eventful life, from his log cabin days to sitting in office at the White House. Guests can even observe a duplicate of the Gettysburg Address and his famous top hat!
Mermet Springs in Belknap
Anyone who has a love for beautiful bodies of water won't want to pass by the
Mermet Springs,
Because of its refreshing warm spring water supply it is a a paradise all year. You can see up to 60 feet in the clear water, giving divers an awesome perspective of the fantastic underwater life in the Mermet Springs. Scuba rentals and direction are accessible on location, which just happens to have a RV Campsite close by, so you can relax afterwards in your Class B RV rental in Illinois.
Illinois State Parks/Campgrounds
Millpoint RV Park and Campground
Drive your RV rental in Illinois to Peoria for a respite at the
Millpoint RV Park.
This RV Park is minutes from the art museum, planetarium, zoo, botanic garden, and more. It has 80 accessible full hookup spots with flame rings, tables, and space for slideouts. Offices and accommodations include water sports, play area, nature trails, and restrooms and showers. Situated on the banks of Illinois River, Millpoint RV Park and Campground is the best location if you want to enjoy sailing, fishing, and swimming. This RV Park is open throughout the entire year for your Illinois RV trailer rental.
RV Park At Hollywood Casino Joliet
Perfect for an deluxe RV rental in Illinois,
RV Park At Hollywood Casino Joliet
is the main club in Northern Illinois. It is only a couple of minutes from Naperville so you can roll the dice and try your luck in the gambling club. It has 80 accessible spots with yards and tables. Offices and courtesies include wi-fi hotspot, game room, mixed drink bar, restrooms and showers, and laundry rooms. Stop season is from April 5 to October 15.
Cedar Lake Ministries RV Park
Situated about 35 miles south of downtown Chicago,
Cedar Lake Ministries RV Park
is great if you want to explore the city but leave the hustle and bustle behind for a good night's rest. It has 30 hookup spots, 23 of which are full hookups with tables, fire rings, and space for slideouts to make the most of its grand lake setting and peaceful climate. Offices and luxuries include wi-fi access, water activities, nature trails, game room, shuffleboard, tennis court, play area, restrooms and showers, and self-serve RV wash. Stop season is from April 15 to October 15 for your Class B RV rental in Illinois.
Celebrations and Events
Clinton County Fair
Appreciate a drive in your RV rental in Illinois to Southern Illinois for a bunch of fun at the
Clinton County Fair.
The late spring celebration started in 1951 and has since become one of the biggest celebrations in the Clinton County. It is a seven daylong celebration which happens each July. It includes a parade, 5K run, trade stores, games, parade, Miss Clinton County show, jubilee, displays, family fun night, and live shows!
Taste of Chicago
One of the most mouthwatering extravaganzas, the
Taste of Chicago
attracts more than a million guests to the city every year. It pays tribute to the ever-changing food culture of the city and is filled with entertainment. Hosted at Grant Park, along Lake Michigan, it is known as the world's largest food festival. It is a five-day event which includes the best chefs in the city, pop up eateries, food trucks, a Chicago showcase of art, food discussions, games, exhibitions by prominent culinary experts, and live shows. Put on your elastic pants and take a bite out of the Taste of Chicago. Beautiful views, a plethora of attractions, historical centers, and celebrations are waiting for you when you visit "The Prairie State." Look at campers for lease today and RVnGO to Illinois!