Rent an RV near Austin, Texas
When considering renting an RV near Austin, Texas, you're going to have many different types of RVs, motorhomes, campers and travel trailers to choose from. Depending on the type of trip you are taking to or from Austin, Texas, you'll want to choose an RV for rent that includes the amenities you'll need for you, your friends or family. RV rentals in Austin, Texas are in high demand, especially between Memorial Day weekend and Labor Day weekend, so you'll want to book your RV for rent in advance....
When renting an RV or camper you will need RV Rental protection in case the unthinkable happens. Many people mistakenly believe that their personal auto policy will cover their RV rental only to find out too late that this is untrue. It's likely your Auto Insurance Policy is not going to cover the RV Rental. When you rent an RV on RVnGO.com, RV rental protection is automatically included in your rental. For a low nightly rate, you will receive $1,000,000 in liability coverage and up to $250,000 in property damage coverage. With RVnGO's RV rental protection plans, you can rent an RV with the peace of mind that you are covered in the case something happens on your trip. RVnGO's RV rental protection plans also cover RV owners, in the case something is broken or damaged on the RV during your trip.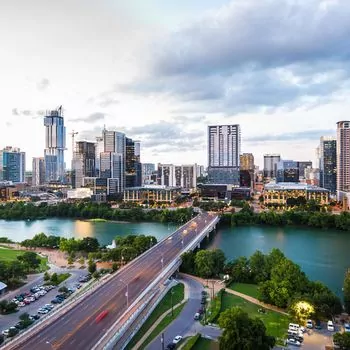 Austin
is a world famous city that is known for its melting pot of ideas and cultures to create a unique hub of entertainment, food, and activities. Austin is a one of a kind city in Texas that you can find unlimited experiences that you cannot find anywhere else.
Camping and RV Parks near Austin
Camping in a RV rental in Austin is a fun way to get the experience of Austin. Skip the hotel room and get into an RV rental for your vacation in Austin. Create your own unique visit to Austin and do it in style. There are plenty of great RV parks to choose from when camping in Austin.
The Austin Lone Star RV Resort is located only 5 miles away from downtown Austin, proving to be located perfectly to get the most out of your vacation. Nearly reaching all the possibly attractions and events in Austin within 20 minutes, you will be able to do and see everything you want to while in town. Do not forget to take advantage of the clubhouse to get a good work out or even play a game of billiards while you are at the campsite. This site has everything and more.
La Hacienda is a luxury RV resort that provides all the same luxuries you would get while you are in a hotel, in an RV. You will glamp in style in you RV rental. There are many activities and events that take place on the campsite, so be sure to look out for those when booking your trip. This is a great place to get comfortable and enjoy while taking a break from exploring Austin.
Austin has handful of nice RV parks but only a few are more convienietly located than Evergreen RV Park. Only 10 minutes from downtown Austin, you will have easy access no matter where you want to go and visit. This site also includes amenities such as laundry and free wifi. You will find everything you need and more at this campsite in Austin.
National Parks and State Parks near Austin
There are beautiful National and State Parks near Austin. Make sure you are staying connected to nature and visit these beautiful landmarks. There is no better way to vacation than getting your RV rental and going to a national or state park. Austin is home to many state and national parks to choose from.
McKinney Falls State Park is less than 20 miles outside of Austin, so you do not have to travel far to getaway to the great outdoors. You can enjoy a long vacation camping in your rental RV as you and your family and friends can enjoy nature. There is places to swim, fish, hike, and picnic. Anything you want to do is ready and available at McKinney Falls State Park.
If you are looking to get a bit further away and lost in nature, then you will want to visit Enchanted Rock State Natural Area. This state park is said to be a mythical spot due to the beauty of the landforms and hills. The Dome is a pink granite that makes the trip all the more worth the trek. You can camp, hike, and fish while at this state park as well. Make sure to have Enchanted Rock State Natural Area on your bucket list when visiting Austin.
Lockhart is a calmer and more relaxing scene for your State park adventure. Come ready to stargaze under the bright night sky. Enjoy easy and relaxing walks and hikes along the river and through the trails. You can even test your golf swing on the golf course located next to the park. This is your getaway location for a peaceful time of recollecting from the stresses of life.
Austin Attractions
There are tons of attractions in Austin that you must check out. Ranging from art to fun activities to museums, there are an ample amount of opportunity for the whole family to find something they enjoy.
The Blanton Museum of Art is an Art experience located on the University of Texas – Austin Campus. This exhibit offers a large variety of arts ranging from ancient and classical to new and modern art pieces. There is something to make you reflect and ask yourself what it means to be a work of art.
The Barton Springs Pool is a staple of Austin. This spring is fed by multiple springs that keeps the water right around 68 degrees all year long. Get into something cool after a long day and relax by the water. It is perfect for hanging out with friends and entertaining the kids. This is also the home to the endangered Barton Springs Salamander, so be on the look out for some rare species, but also be courteous.
The Austin Nature and Science Center allows a deep dive in to the history of Science and how we were able to get to where we are today. It is an interesting venue that offers both indoor and outdoor exhibits. The purpose is to educate people about the natural environment and to bring attention and awareness about its importance it plays in the world.
Austin Events
There is always something going on in Austin. You can always find the perfect event that will scratch that itch of experience and adventure.
Austin Events
are fun and exciting ranging from the celebration of food, music, history, and everything in between.
One of the most popular events in Austin that happens every year is South By Southwest (SXSW). This is a large gathering of conferences and festivals put together is a large gathering in Austin. There will be major keynote speakers talking about trends and innovative ideas on all different types of topics and industries. You can also find the perfect festival that you want to attend, whether it is the music, film, or comedy fest. Or you can go to them all and take in all the information and experience as you can. This is highly regarded festival that you will have to attend at least once.
Austin City Limits is your more tradition music festival that takes place annually in Austin. The music that goes on here is a diverse line up of new and old music than everyone knows and loves. This event lasts for 2 weekends in October. There is delicious food and great vendors to shop from. Make sure you give this event a look when trying to decide the next festival you want to attend.