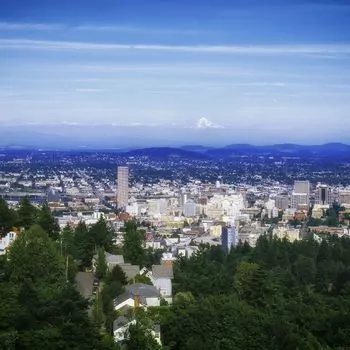 Ready for a high-energy (or totally chill) vacation? You'll get the best of both worlds with an RV rental in Portland, Oregon. Just one hour east of the stunning Pacific coastline and an hour west of the Cascade Mountain Range, a motorhome rental in Portland might be the best experience of your life. Warm, dry summer days are perfect for touring carefully cultivated rose gardens or traipsing through the mountains. In winter, count on brisk temperatures and overcast, drizzly days — perfect for museums, art galleries, and bookstores. In the spring and fall, when skies alternate between sunny and cloudy, head indoors or out. No matter the season, the City of Roses has something for everyone. You'll find outstanding global cuisine from fine dining to food trucks. Awe-inspiring views of snow-covered Mt. Hood plus outdoor festivals, concerts, and markets. Add hiking, cycling, and swimming to the list along with family-focused water parks, and you'll have plenty to see and do when you rent an RV in Portland.
Camping and RV Parks near Portland
Portland is full of RV parks, spread throughout the communities that make up this vast and exciting city. There's no shortage of places to stay in Portland, but most hotels are expensive and do not provide the perks of RVing. When searching for RVs for rent near Oklahoma on RVnGO, you'll see a list of local RV-friendly destinations. Whether you want to stay at a campground or state park, or need an RV storage facility, there are dozens of options to choose from.
An island vacation sounds dreamy, doesn't it? You won't find palm trees at Jantzen Beach RV Resort, but you'll be in the center of everything on Hayden Island in the Columbia River. It's just fifteen minutes to popular Portland attractions, and you can hop on a bus, MAX light rail, or streetcar to reach more distant points of interest. Back at Jantzen, unwind and relax in the heated pool. Pets are welcome, and there's a playground, too, if RV camping in Portland is a family affair.
If picturesque forests and fields make your eyes light up, look no further than Sandy Riverfront RV Resort. Located in Troutdale, a charming suburb of Portland, Sandy Riverfront offers a relaxing atmosphere at the "Gateway to the Columbia River Gorge." Spend the day fishing — there's plenty of trout in Troutdale — or take the kids swimming or paddling. Walk to the town and tour the Caswell Sculpture Gallery, go antiquing, or enjoy the Troutdale First Friday Art Walk. Or head into Portland to take in the city sights and sounds.
If you enjoy fabulous riverfront views and watching yachts and sailboats float by, Columbia River RV Park is perfect for RV camping in Portland. The park is situated right along the river, and the well-maintained, grassy area is perfect for kids or walking your dog. There's even an off-leash dog park for your pooch to run off some energy. Plus, it's minutes from downtown Portland, and the proximity to the marinas means plenty of great restaurants nearby.
National Parks and State Parks near Portland
Situated at the confluence of the Willamette and Columbia Rivers, on the border of Oregon and Washington, Portland is the ideal starting point for a Pacific Northwest national parks road trip. Cruise America into this outdoorsy, eco-friendly city which provides easy access to some of the greatest U.S. national parks. Drive your RV rental from RVnGO to these parks to enjoy the perfect Instagram worthy spots.
If you're RV camping in Portland to enjoy the great outdoors or you just need a break from the city buzz, Tryon Creek State Natural Area is for you. Only 15 minutes from Portland, your nature escape offers eight miles of year-round hiking trails, horseback riding and bike trails. Don't miss the three-mile "Trillium Trail" with over 300 species of plant life, including the gorgeous Pacific trillium.
Get out of town and head to Rooster Rock State Park. Just 22 miles east of Portland, relax on three miles of sandy beach along the Columbia River (the clothing-optional beach is separate). Pack your windsurfing gear and catch some wind or take an easy-going hike. Fish or paddle in the lovely lagoon, play disc golf, or simply breathe in the spectacular mountain scenery.
Portland Attractions
Portland, Oregon's largest city, sits on the Columbia and Willamette rivers, in the shadow of snow-capped Mount Hood. It's known for its parks, bridges and bicycle paths, as well as for its eco-friendliness and its microbreweries and coffeehouses. Iconic Washington Park encompasses sites from the formal Japanese Garden to Oregon Zoo and its railway. The city hosts thriving art, theater and music. Perhaps to compensate for the damp Pacific Northwest winters, Portland is alive with cultural happenings, musical entertainment, theater, and a selection of other fun things to do. But those same rains also nourish the city's impressive gardens.
Whatever you do, don't miss thePortland Japanese Garden. Known as "the most beautiful and authentic Japanese garden in the world outside of Japan," it's an oasis of peace and inclusivity. In June, magnificent Japanese irises bloom purple and white amid the greenery, and in fall, the foliage is absolutely stunning. A stroll around ponds, gazebos, Zen sand gardens, and beautiful statuary takes about two hours. Afterward, enjoy traditional Japanese tea at the Umami Cafe.
Beer is to Portland like wine is to Sonoma, and you'll want to taste the goodies. But how? Take a guided tour, of course. With 70 breweries and countless taprooms and pubs, you'll have a blast, make some friends, and maybe even order some beer to ship home. Insider tip: if you're RV camping in Portland in June, be sure to check out Portland Beer Week.
Portland Events
For events, you will never run short of options in Portland! There are plenty of exciting Portland events going on all year. Whether you're interested in film, art, music, or food, no matter when you visit, there will probably be a festival going on. Many of these festivals partner with resorts, and attractions.
It's a movement, a party, and a revival on the Willamette River in Portland every July. Sponsored by the Human Access Project (HAP), this non-profit group cleaned up the river and made it accessible to anyone who enjoys beaching, swimming, and tubing. The annual floating event includes a parade, live music, food trucks, costume contests, and loads of fun. Grab an inner tube and jump in!
If you're a book lover, meeting your favorite authors might be your definition of heaven. Held annually in November, this literary festival features author readings, signings, writing classes, food trucks, and, of course, lots of books. It's one of the most important literary events in the U.S. Stay tuned for the author line-up and check out the FAQs.