Rent an RV near Nashville, Georgia
When considering renting an RV near Nashville, Georgia, you're going to have many different types of RVs, motorhomes, campers and travel trailers to choose from. Depending on the type of trip you are taking to or from Nashville, Georgia, you'll want to choose an RV for rent that includes the amenities you'll need for you, your friends or family. RV rentals in Nashville, Georgia are in high demand, especially between Memorial Day weekend and Labor Day weekend, so you'll want to book your RV for rent in advance....
When renting an RV or camper you will need RV Rental protection in case the unthinkable happens. Many people mistakenly believe that their personal auto policy will cover their RV rental only to find out too late that this is untrue. It's likely your Auto Insurance Policy is not going to cover the RV Rental. When you rent an RV on RVnGO.com, RV rental protection is automatically included in your rental. For a low nightly rate, you will receive $1,000,000 in liability coverage and up to $250,000 in property damage coverage. With RVnGO's RV rental protection plans, you can rent an RV with the peace of mind that you are covered in the case something happens on your trip. RVnGO's RV rental protection plans also cover RV owners, in the case something is broken or damaged on the RV during your trip.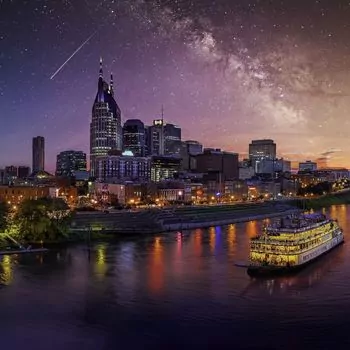 Yee Haw. Pinch my toes and color me purple! Nashville is a phenomenal place to Rent an RV. Plenty of outdoor activities, beautiful lakes and state parks and of course a lot of great music. There are plenty of spots to park your RV rental and stay a spell. Drive or walk around and you will learn real quick why Nashville is one of the most visited cities in the country. Nashville hosts annual events like the Tin Pan South Songwriters Festival and the St. Jude Rock 'n' Roll Marathon. Book your RV rental in Nashville and start planning the fun!
Campgrounds and RV Parks near Nashville
You have your RV Rental ready and on the road, now ya just need to find a great spot to park for a while to enjoy the area. Whether you have a Class A RV, a Class C RV or even a 5th Wheel, We have the RV parks to handle whatever size rig you arrive in.
Safe Harbor RV Resort
Your Premier RV Rental Destination. Sitting on a gorgeous peninsula with views of Percy Priest Lake this camping ground is world class. It has hook-ups for 131 RVs, an outdoor pool, sandy beach, playground & Wi-Fi. Some of our amenities: • 131 Full Hook-up Sites • Neighboring Marina • Propane refilling • Kayak, paddleboard and boat rental • Cable TV and WIFI • Outdoor Pool • Restrooms and showers • Game Room • Laundry Facility
Two Rivers Campground and RV Park a>
The campground is a beautiful, quiet location to park your RV rental and relax. This park is also part of the Good Sam network. It's perfectly located between Opryland and an exciting shopping center – Opry Mills. They also have a grocery store too stock your RV and a great selection of souvenirs and gifts. Take in a game of billiards or arcade video games. Not finding what you're looking for? Ask our concierge for help and making dinner reservations, taking tours or attending a show. Also enjoy amenities like: • Free coffee • Free WIFI • Swimming Pool • Shuttles • Restroom and Shower Facilities • Game Room • Dog Friendly
Grand Ole RV Resort
Welcoming RV lovers and families to Nashville since 2013. Located in the historic Goodlettsville Tennessee, you can park your RV and camp all year around with affordable accommodations. Soak up the southern hospitality and the standard amenities. The family owned resort was designed by veteran home builder Tommy Cunningham of Tommy Cunningham Construction. You may arrive as a guest in your RV rental but you will leave as part of our family. Park your RV or 5th Wheel under a huge shade tree in one of our 106 campsites. ___________________________________________________________________________
National Parks and State Parks near Nashville
Radnor Lake State Park
This popular 1,332 acre nature preserve and, state park in Oak Hill, Tennessee lies just outside Nashville. The park is open from 6:00 a.m. to 20 minutes after sunset year-round. It may be only open during the day but the amount of wildlife viewing opportunities are countless. Plenty of hiking trails offer a fantastic way to stretch your legs and take beautiful nature photographs. Check here often as they hold events throughout the year.
Stones River National Battlefield Park
A 570-acre park along the Stones River in Rutherford County, Tennessee, three miles northwest of Murfreesboro and twenty-eight miles southeast of Nashville, memorializes the Battle of Stones River. Visit this historic battlefield and learn how this pivotal battle altered the course of the civil war.
Big South Fork National River and Recreation Area
Come Explore the 125,000 acres of Cumberland Plateau. Take in the scenic gorges and sandstone bluffs. Make a rafting trip down the river. Tap your foot to the live music during the Spring Planting and Music Festival. Get your camera or Phone ready for the Annual Photo Contest. Naturally there are camping opportunities and Ranger Led programs and events like guided hiking, horseback riding and even kayaking. Be sure to check out Backwoods Adventures for guided hikes and overnight excursions. Don't worry about your RV rental, there are sites with RV hook Ups from 30 – 50 AMPs.
Nashville Attractions
Nashville is the capital of Tennessee and home to Vanderbilt University. Being the capital of American Music as well, it is home to Legendary country music venues that include the Grand Ole Opry House. It's not just about the music. Take a tour of the Jack Daniel's Distillery and so much more.
Grand Ole Opry
Experience all on one stage, the past, present and future of country music. This is an American Icon and Tennessee's #1 attraction. What started from an Insurance Company's office space, became the place for Country Music legends to be born. Check website for current show time details.
Tennessee Whiskey Tours
Ah, Tennessee is home to not just legendary music, but also the Legendary Whiskey, Jack Daniels. And not trip is complete without parking your RV rental at the Whiskey Tours and drinking up some history and American tradition. There are several distilleries on the tour that make it a memorable attraction.
The Adventure Park
You've been cooped up in your RV rental long enough. Get outside at the Aerial Adventure Park to experience a self-guided tree-to-tree climbing adventure. There is a ton of fun and challenge in the 156 tree top platforms connected by bridges, ladders, 15 zip lines and other crossings. Have children under 7 years old? There is a playground adventure for them too. Contact the park for tickets and special details.
Centennial Park
This is the mother of all parks. Centennial Park is one of Nashville's premier parks. Drive your RV rental here and see why. This 132-acre park offers: the iconic Parthenon – an exact recreation. Soak up the fresh air and nature on the one-mile walking trail, or on the beautiful Lake Watauga. For art lovers there is the Centennial Art Center, historical monuments, an arts activity center, a gorgeous sunken garden, there are live events hosted throughout the year too. For the furry family members there is a dog park. If that's not enough, do some reps ao and an exercise trail. Thousands of people visit the park each year to visit the museum, see exhibits, attend festivals, and just enjoy the beauty of the park.
Events in Nashville
There are many events around Nashville that are friendly for the RV Rental. So ya don't need to worry about where to park the RV. Obviously there are plenty of music related activities and events to attend. You can also attend events other than concerts and shows, such as the ones below.
Nashville Cherry Blossom Festival
The Cherry Blossom Festival in Nashville has been going on for over 12 years now. It's free to the public and is a warm and inviting event celebrating spring and the Japanese culture. Take part in the 2 and a ½ mile Cherry Blossom walk. There are also fun activities for children and even a Cosplay Contest! That gets fairly serious as people come from across the country to dress up as their favorite Japanese comic or anime (cartoon) character and compete for top prizes.
Middle Tennessee Highland Games & Celtic Festival
Start up your RV rental and head to the highlands for the Highland Games and Celtic Festival. Every year families gather to learn, appreciate, preserve and, honor the Scottish and Celtic traditions. It is fun for all and the proceeds go to charity. Feel free to participate in the games and not just spectate. Of course you can sit back and watch the variety of entertainment as well from bagpipes, dancing and even a sheep herding demonstration. Be sure to pick up some of the handmade crafts to take home.