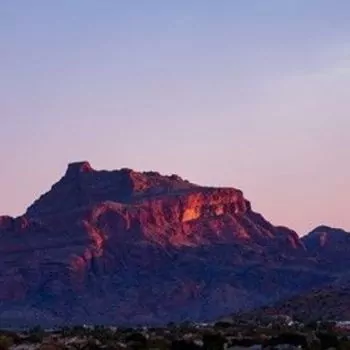 Mesa, Arizona is home to dozens of suitable local RV parks, depending on your needs. Check out our favorite RV Camping spots as you plan where you'll park your camper rental in Mesa. Mesa is a city just east of Phoenix, in Arizona. Mesa Grande Cultural Park is home to a giant, centuries-old ceremonial mound, and artifacts of the ancient Hohokam people. The Arizona Museum of Natural History exhibits dinosaur skeletons and archaeological finds. The nearby i.d.e.a. Museum offers hands-on artistic and scientific exhibits for kids. Mesa Arts Center presents theater, musicals, and contemporary art.
Camping and RV Parks near Mesa
Mesa has plenty to offer the vacationer, that it will be a challenge to fit everything in your trip. There are plenty of great RV Parks and Resorts to park at, as well.
Twin Palms is conveniently located in the center of Mesa city, right on Main Street. Staying here puts you in the heart of the action, and you'll be surrounded by a variety of eateries, landmarks, attractions, and shopping malls. The Twin Palms is an affordable, pet-friendly RV park with excellent amenities. It has just 15 spots, guaranteeing an intimate and cozy stay at the end of a long day of exploration. Be sure to call ahead to reserve your spot, especially around Mesa Events in the summer and fall.
This is a fantastic RV Park to stop and unwind. It offers a peaceful country setting with clear views of the Superstition Mountains. This is a pet friendly RV Park with clean restrooms, showers and laundry rooms. They offer 75 Full 50 Amp Hookups and free WiFi.
Whether you're planning a retreat for a group of friends or a getaway for two, there's no shortage of unique activities to explore at Mesa Spirit RV Resort. Plan activities upon arrival or visit this page before your departure to plan ahead. Mesa Spirit is your warm-weather destination for a wide array of activities and attractions, including fishing, swimming, golfing, sporting events, shopping, spas, casinos, and much more! This Arizona RV resort is situated in the desert just west of the beautiful Superstition Mountains and only a 30-minute drive away from Phoenix. A pet-friendly, adult RV community, Mesa Spirit features 1,800 spaces with full hook-ups. Even big rigs are welcome! The RV sites provide 30 Amp and 50 Amp Hookups.
National Parks and State Parks near Mesa
There are beautiful National and State Parks near Mesa. Make sure to visit them in your RV rental for a great weekend in the outdoors. Mesa definitely has plenty of sites that everyone can enjoy!
On the east side of the Valley is the Usery Mountain Regional Park, the home of a vast array of plants and animals in the lower Sonoran Desert. Be sure to explore the Wind Cave Trail, a moderate hike where water seeping from its alcove roof feeds the Rock Daisy hanging gardens. If you make it to its topmost point, you'll enjoy spectacular views of the Valley. If you are full of zip, there are tons of activities for you, from archery, hiking, and biking to horseback riding and guided outdoor fitness. The Bleven Trail is excellent for beginner hikers. Carry your picnic basket and stay until dusk for some stargazing.
Riverview Park is the place to go for premium recreation for the whole family. With designated playgrounds for children 2-5 and 6-12, your children will enjoy the playground, park, and water features. There's something for every child here. Adults won't be left behind – explore the urban fishing lake for a quiet expedition or climb the 50-foot climbing tower or 60-foot caterpillar mesh-rope structure for more adrenaline-packed exploring. Once you're tired, take out your picnic baskets in one of the tabled and shaded picnic areas or reservable ramadas (Reservations: (480)644-PLAY (7529).
Mesa Attractions
There are tons of attractions in Mesa that will be fun for the whole family. There is so much to do in the Mesa area to keep you busy for a whole year.
One of the most profound Mesa attractions would be kayaking along the picturesque lower Salt River, whether alone or guided. Take your motorhome rental in Mesa to the Saguaro Lake Ranch Kayaking and Tubing and try one of the several kayaking options. While kayaking along the Lower Salt River, a class I river (easiest to navigate), you'll enjoy the best views of indigenous birds and wildlife in Arizona, including bald eagles and wild horses. Pick a guided tour for a more immersive option and paddling instruction. Experts of watersports can comfortably go on unguided tours and be in charge of their own experience.
No road trip and RV camping in Mesa would be complete without a visit to the Uptown Jungle Fun Park, Mesa's leading indoor playground. If you're vacationing with kids, get one-of-a-kind, non-stop fun with features like mega slides, trampolines, obstacle courses, rock walls, and ninja courses.
The Arizona Museum of Natural History is the only natural history museum in the greater Phoenix area and is located in Mesa, Arizona. It exhibits the natural and cultural history of the Southwestern United States. The Museum's exhibitions include a three-story indoor waterfall on Dinosaur Mountain, Dinosaur Hall, a real territorial jail, and a recreation of the Lost Dutchman's Gold Mine. The Southwest Gallery consists of a native peoples' gallery, with exhibits about Paleoindian big game hunters and gatherers, the first inhabitants of North America, and the Desert Cultures that developed later. It also holds a recreation of a Hohokam village, with pithouses and above-ground structures, outfitted with real artifacts as they might have been from about A.D. 600-1450. Another exhibit is the Ancient Cultures of Mexico. The Origins gallery is designed as a voyage through the timeline of the cosmos and discusses major events in the history of planet Earth. Among the exhibitions is a hands-on Exploration Station and the Paleo Dig Pit. Three changing exhibition galleries offer a variety of subjects.
Mesa Events
There is always something going on in Mesa. You can always find the perfect event that will scratch that itch of experience and adventure. Mesa Events are fun and exciting ranging from the celebration of baseball, food, music, history, and everything in between.
This new ticketed event will include limited access to the gardens, light bites, and two drink tickets. In collaboration with Superior's Chamber of Commerce, check out Second Friday in downtown Superior before or afterward for more fun, food, shopping, and music in the park!
Mesa is home to two spring training teams – the Chicago Cubs, which have been part of the fabric since the early 1950s, and the Oakland A's, a team that recently returned to our city and planted roots for decades to come. The Chicago Cubs are the attendance winners of the Cactus League, packing in legions of fans at Sloan Park. Click here to learn more about this incredible stadium at Mesa Riverview. The Oakland A's are also hosting fans to a whole new ballgame at Hohokam Stadium which recently completed a multi-million dollar renovation and facelift, bringing fans closer to the action. Click here to learn more. Mesa is in the heart of Arizona's Cactus League Spring Training action. With more than 200 Major League Baseball games in just 30 days, you'll find plenty of chances to catch America's pastime in action!