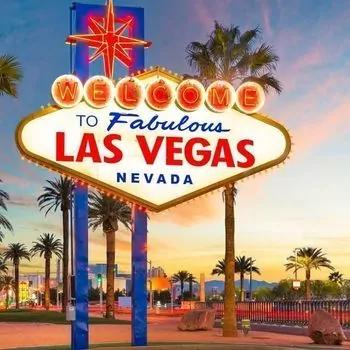 Stunning lights displays, dazzling streets beneath gilded hotels, gorgeous red rock formations and canyons to explore— Las Vegas really does have it all. Designed to wow people of all ages, the city is a hub of classic Americana culture mixed with the larger than life eccentricities that people flock to from across the world. There's so much to do in Las Vegas, it would take a lifetime to explore it all. And most conveniently, the city is a hotspot for RV rentals and camping, so you can take in the glitz and glamour without having to break the bank.
Campgrounds and RV Parks near Las Vegas
It should come as no surprise that one of the most popular tourist destinations in the world knows how to take care of its visitors. There are many RV resorts in Las Vegas, and because of this high volume, each of them offers more and more features than the last—all at the benefit of its campers!
Hitchin' Post RV Park and Motel/a>
In the Sunrise Manor district of northeastern Las Vegas, Hitchin' Post RV Park is highly regarded amongst visitors for its well-appointed amenities and thoughtful layout. Each gravel site has a tree beside it for shade in the desert sun, and a large saltwater pool is available to help keep everyone cool. The pet friendly site supports electric 30/20/15 amp hook-ups, and comes with restrooms, showers, and laundry facilities. Additionally, there is a shaded patio area with a number of cozy tables and chairs and flatscreen tvs for guests to enjoy.
Oasis Las Vegas RV Resort
Directly south of Las Vegas city center is Oasis Las Vegas RV Resort, which features an on-site cafe, convenience store, workout room, and clubhouse! The resort supports electric 30-15 and 50 amp hook-ups, and comes with a pool, restrooms, showers, and laundry facilities. The individual sites themselves are concrete pads with small grassy patches and picnic tables, and there is a dog park on the edge of the campgrounds for your furry friend to enjoy.
LVM Resort
Southwest of Las Vegas is LVM Resort, a luxury RV resort for those looking for top of the line amenities during their vacation. LVM Resort supports full electric hook-ups and has restrooms, showers, and a pool. What makes the resort truly special is the level of detail given to the lots themselves and their special features. Many of the individual lots come with shaded, built-in BBQ islands and outdoor kitchens with tables and chairs— there are even private lounge areas to unwind in. This RV resort has several pools and hot tubs, and is still pet friendly. Best yet, all of this is possible while only being ten minutes away from the main strip.
National Parks and State Parks near Las Vegas
Although the city of Las Vegas may be what draws people to the area, the surrounding parks have been enthralling newcomers for decades. There are breathtaking vistas in almost all directions around Las Vegas, and all of them within an hour's drive from the city center.
Red Rock Canyon National Conservation Area
The stunning, rust-colored landscape of Red Rock Canyon is so grand and transportive, it's nearly impossible to believe that it's only 30 minutes from the center of Las Vegas. Perhaps it's the proximity to such a whimsical city, but there's a uniquely magical quality imbued in the twisting caverns and winding byway that passes right through the Conservation Area. Here, visitors can hike through miles of Nevada's legendary desert plains, or cool off in its crystal clear, flowing gully streams, bracketed in the distance by tranquil mountains.
Spring Mountain Ranch State Park
South of Red Rock Canyon is Spring Mountain Ranch State Park, and the scenery couldn't be any different. For those looking to escape from the city and the desert, this State Park (and working ranch) features quaint grass plains with many shaded areas from trees to relax under. Visitors can tour the historic ranch house and grounds, and in the summer, hundreds of people flock to the park to watch live music and theater performances on the grass (sponsored by Super Summer Theatre at Spring Mountain Ranch).
Las Vegas Attractions
There are probably about as many words in the English language as there are things to do in Las Vegas; to try and name even just a few is to leave out so many sights just as extraordinary as the last. However, there are three places that should be on every person's to-do list for the first time that they visit Las Vegas.
Fremont Street Experience
Occupying five blocks in central Las Vegas, the pedestrian mall at Fremont Street represents the kookiness and wonderful absurdity boiled down to an essence. The crowning glory of Fremont Street is the barrel vault canopy that sits on top of it, with over 12 million LED lights inside it that create incredible, otherworldly displays that drench the area in neon. Luminous shops line the pedestrian streets, live performances take place on one of the mall's three stages every night, and there's even a zipline that runs along the canopy for people to soar by.
Bellagio Hotel, Casino, and Fountain
Possibly one of the most famous resorts and casinos in the world, it's a necessity for every first-timer in Las Vegas to visit the Bellagio Hotel & Casino. Made particularly famous by Ocean's Eleven, visitors can try their luck in its legendary casino, what many famous professional poker players refer to as "home base." Or, stroll through the hotel's ornate designer shops and get food at one of the resort's Michelin star-rated restaurants. There's even the Bellagio Gallery of Fine Art and the botanical gardens to tour, because you don't have to bring a thick wallet to enjoy what the resort has to offer. Then, of course, watch the awe-inspiring light and water show at the grand fountain out front. If you go to Vegas, but you don't watch the fountain show, did you really go to Vegas?
Shark Reef Aquarium at Mandalay Bay
For an immersive aquatic experience, the underwater tunnels of Shark Reef Aquarium are second to none in bringing you as close to all kinds of sea creatures as possible without being out in the actual ocean! Mandalay Bay's resort is home to a variety of species of shark, giant rays, green sea turtles, piranha, and the endangered Komodo dragon. The aquarium gives visitors the unique opportunity to feed the stingrays, sea turtles, and sharks, and now has an incredible motion-platform, 360º VR theater that takes you on a thrilling journey through the waters of the South Pacific and the Bahamas. Now that's up close and personal.
Events in Las Vegas
Not only a city that throws incredible parties, but the sports scene in Las Vegas is huge. As one might expect, it's a melting pot of influences, a place where you can root for the home team or cheer along for your favorite in a match.
Life is Beautiful Festival
For three days in downtown Las Vegas, thousands of people and celebrities descend upon the Life is Beautiful Music and Arts Festival in September, a celebration of exactly its namesake. All over the city are art exhibit pop-ups, outdoor markets, and cookouts that bring people together in the parks. At night, the celebrations continue with performances mostly recently by Billie Eilish, Green Day, and Tame Impala (plus dozens more). Although it may be easy to dismiss the revelries as just another music festival, it's the atmosphere of kindness and positivity throughout the city that makes the Life is Beautiful Festival so special to those that attend.
World Series of Poker
Of course, we couldn't not mention the World Series of Poker! In June through July, high-stakes gamblers compete for outrageously high purses at various casinos throughout Las Vegas. The entry fees for a seat at the table are exorbitant (ranging from $125 to as high as $10,000 for the Championship Event), but it's completely free to see the pros fake each other out in person at the tables. Plus, it's showcased on televisions across the city, in case the crowds at the tables become too congested.
March Madness on the Strip
March Madness in Las Vegas is truly madness of the best kind to behold, and you don't have to be a hardcore college basketball fan to get swept away in it. There's an infectious high in the city during the month of March as the NCAA tournament takes place. If you're not lucky enough to score tickets to the games themselves, then have no fear— because the entire city has you covered! Quite literally, flatscreens are erected outside by resort pools and every bar will be playing the games nonstop. For betting aficionados, Westgate Sportsbook is an amazing place to keep up with the games. The venue has 350 seats and a gigantic 220 foot 4k wall of video to take in the madness from, complete with food, drinks, and a VIP section away from the crowds. All of these incredible sights and so many others are just outside of your door when you rent an RV near Las Vegas with RVnGO. Where will you go next?