Rent an RV near Kansas City, Missouri
When considering renting an RV near Kansas City, Missouri, you're going to have many different types of RVs, motorhomes, campers and travel trailers to choose from. Depending on the type of trip you are taking to or from Kansas City, Missouri, you'll want to choose an RV for rent that includes the amenities you'll need for you, your friends or family. RV rentals in Kansas City, Missouri are in high demand, especially between Memorial Day weekend and Labor Day weekend, so you'll want to book your RV for rent in advance....
When renting an RV or camper you will need RV Rental protection in case the unthinkable happens. Many people mistakenly believe that their personal auto policy will cover their RV rental only to find out too late that this is untrue. It's likely your Auto Insurance Policy is not going to cover the RV Rental. When you rent an RV on RVnGO.com, RV rental protection is automatically included in your rental. For a low nightly rate, you will receive $1,000,000 in liability coverage and up to $250,000 in property damage coverage. With RVnGO's RV rental protection plans, you can rent an RV with the peace of mind that you are covered in the case something happens on your trip. RVnGO's RV rental protection plans also cover RV owners, in the case something is broken or damaged on the RV during your trip.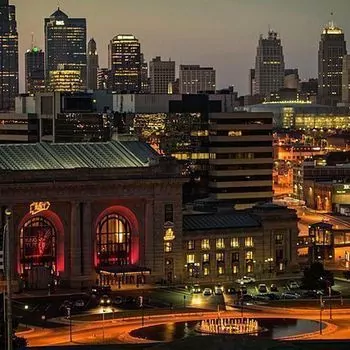 Kansas City, Missouri is different from Kansas City, Kansas and despite the confusion in names its an amazing city for an RV destination. Kansas City in Missouri was created in 1853, eight years before Kansas was even created as a state. The Missouri city took its confusing name from the Kansas River and is locally abbreviated as K.C.M.O. The city in Missouri is known for its jazz scene, barbeque, football team and fun-loving people. The city has a thriving art scene, unique museums and exciting attractions, which makes for a perfect RV destination!
Camping and RV Parks near Kansas City
Kansas City is full of amazing things to see and do. With all their beautiful views and gorgeous nature, it makes for the perfect place for an RV rental. In fact, there are so many exciting things to do that one of the best options for getting around Kansas City is using an RV rental. You don't have to worry about getting a hotel room, as you have the perfect place to stay that holds all your stuff. When you rent an RV in Kansas City take comfort in the solace and hospitality of these RV Parks!
On the outskirts of Kansas City this RV Park is in the perfect place to relax on your RV vacation. The quiet RV Park is shaded by large oak trees and is the perfect place to unwind in. The Park has grass lawns and concrete pads for all of their full hookup sites. When you stay at Campus RV Park you can also venture and explore the nearby home of President Harry S. Truman, or the covered wagon rides through the trails.
This RV Park offers guests fully equipped and full hookup RV sites only a short walks from the Worlds of Fun amusement park! The RV sites are available in both back-in and pull-through configurations. Satellite TV and highspeed Wi-Fi are both included for no extra costs. Every RV site features an outdoor patio with a charcoal grill and picnic table. The campground also features a relaxing pool and hot tub as well as a fully stocked on site store.
Longview Campground is only minutes away from south Kansas City and situated right in Longview Lake Park. Here you can enjoy a day with friends and family for boating, water skiing, jet skiing or swimming at the beach. Their campsite includes fire grills, firewood, ice, picnic tabled, playground, restrooms, and showers. At this RV Park you can experience the beauty of Longview Lake right from their full hookup spots!
National Parks and State Parks near Kansas City
There are beautiful National and State Parks near Kansas City. Make sure to visit them in your RV rental for a great weekend in the outdoors. Kansas City has plenty of nature everyone can enjoy!
The former site of a Civil War battle, this 75-acre park is now beautifully manicured and is an amazing place to spend time. This Park features beautiful walking paths, rose garden, and tennis courts. Relax with a picnic in front of the famous fountain pond and sit under the beautiful oak trees. This local park makes for the perfect destination if you want to enjoy a nice sunny day!
Cave Spring Park, also known as William M. Klein Park is called a "hidden little forest in the city". Here you can venture through their hiking trails, wildlife reserve, historical sites, and picnic areas. The park has a free 1 acre playground and play area, surrounded by 5 miles of easy walking trails- perfect for a family trip. The Cave Spring Park is also home to an Interpretive Center. At this center you can observe a variety of displays on various elements of history on the region, a Truman room with photos exclusively from the Truman Collection and other various art exhibits.
Kansas City Attractions
There are tons of attractions in Kansas City that you must check out. Kansas City is a great place to visit and find opportunities to find fun wherever you go. The next time you visit this city you can explore the rich history and beautiful art scene!
The National World War I Museum and Memorial is the biggest in the United States. First opened as the Liberty Memorial Museum in 1926 to the public it was later dedicated to WWI. The National Museum focuses on WWI and the global events which led up to the way. The Museum also covers the war from 1914-1918 and the armistice and Paris peace Conference. The entrance to the Museum is a glass bridge over a field of 9,000 red poppies, each one symbolizing 1,000 deaths from combat. This incredible museum is a must see when visiting Kansas City.
With over 10,000 5 star reviews this art museum needs to be on your bucket list. The Nelson-Atkins Museum of Art is not only free, but the buildings alone have been called one of the 10 Best Architectural Marvels" by Time Magazine. At this museum you can see a variety of exhibits centered around time periods, different themes, and cultures. At the museum you can also participate in art activities, classes, music, artist presentations and much more. Enjoy one of the best art collections the next time you go to Kansas City!
Kansas City Events
There is always something going on in Kansas City. You can always find the perfect event that will scratch that itch of experience and adventure. Kansas City Events are fun and exciting ranging from the celebration of food, music, history, and everything in between.
This celebration is held annually on Memorial Day to support veterans and remember the first World War. On Memorial Day weekend you can head to the lawn of the National WWI memorial to enjoy the special celebration led by Kansas City. Pack a picnic basket and blanket to enjoy the special patriotic concert held by the Kansas City Symphony. After this beautiful concert stay and enjoy the fireworks display. This display is the largest in the city, and this event is the largest free Memorial Day weekend event in all of the Midwest!
The Kansas City Chiefs have been representing Kansas City since 1963 and they are here to stay! The team is valued at over 2 billion dollars and remains a fan favorite for their track record and amazing gameplay. During football season dress up in red gold and white colors to catch one of the games at the Arrowhead Stadium. Enjoy their massive cheerleading squad, K.C. Wolf mascot and all the fun a good old fashioned football game has to offer next time you're in town!