Rent an RV near Jacksonville, Florida
When considering renting an RV near Jacksonville, Florida, you're going to have many different types of RVs, motorhomes, campers and travel trailers to choose from. Depending on the type of trip you are taking to or from Jacksonville, Florida, you'll want to choose an RV for rent that includes the amenities you'll need for you, your friends or family. RV rentals in Jacksonville, Florida are in high demand, especially between Memorial Day weekend and Labor Day weekend, so you'll want to book your RV for rent in advance....
When renting an RV or camper you will need RV Rental protection in case the unthinkable happens. Many people mistakenly believe that their personal auto policy will cover their RV rental only to find out too late that this is untrue. It's likely your Auto Insurance Policy is not going to cover the RV Rental. When you rent an RV on RVnGO.com, RV rental protection is automatically included in your rental. For a low nightly rate, you will receive $1,000,000 in liability coverage and up to $250,000 in property damage coverage. With RVnGO's RV rental protection plans, you can rent an RV with the peace of mind that you are covered in the case something happens on your trip. RVnGO's RV rental protection plans also cover RV owners, in the case something is broken or damaged on the RV during your trip.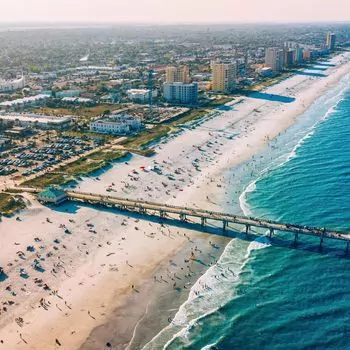 Jacksonville, Florida, is one of the best tourist destinations in the state. It's known for having plenty of beaches, shopping, and various attractions. Individuals interested in an RV rental in Jacksonville will have plenty to do and see if they choose to vacation here! Consider visiting these top spots to get a feel for all that Jacksonville has to offer.
Camping and RV Parks near Jacksonville
RV camping is one of the most original ways to see Jacksonville. The RV rental process is quick and easy and takes the hassle out of your vacation. The RVnGo website is one of the easiest ways to find a great selection of RVs for rent near Jacksonville, all in one place. With an RV, you don't have to worry about getting a hotel room, as you have the perfect place to stay that holds all your stuff. When you rent an RV in Jacksonville, take comfort in the hospitality of these RV Parks!
This stunning RV park offers great hospitality, friendly atmosphere, great weather and amazing views! Here you can enjoy their fully stocked lake for fishing, or if you love to swim this fenced in pool and spa. You can enjoy their yard games like horseshoes too! The Pecan Park RV resort is located near the Jacksonville international airport which offers a host of exciting Florida attractions.
This RV resort is perfect for family fun in Florida! Their fantastic location in Jacksonville keeps you close to the natural beauty of Florida and the excitement the city has to offer. At Flamingo Lake you can enjoy a variety of full hookup sites with lake views and lake front spots! The property also has a 17 acre lake for fishing and swimming. Enjoy the sandy beaches and their Sunrise Café- the onsite restaurant. Here you can find a relaxing RV vacation!
This RV park is a great find for anyone looking for a relaxing stay in Jacksonville. In the heart of the widespread city, this park is only minutes from popular destinations. With back in and pull through sites with private parking this RV retreat makes for an amazing stay. Here you can enjoy their complimentary Wi-Fi and private patio to relax at! Enjoy the solace of this RV park while still being able to explore the city of Jacksonville.
National Parks and State Parks near Jacksonville
There are many amazing National and State Parks near Jacksonville. Make sure to visit them in your RV rental for a great weekend in the outdoors, or a scenic day trip with friends and family. With so many parks to choose from make sure you are hitting the best ones on your next trip to Jacksonville.
Little Talbot Island State Park is another big attraction for Florida. This location is approximately 17 miles north of Jacksonville, and it's on a 2500-acre island. This one of a kind state park is perfect for adventurous people who want to connect with nature. This quiet setting is a treat for outdoor enthusiasts who hate crowds. Families love swimming in this area. People can also fish or gather shells if they choose, and there are bathrooms and changing facilities on site. This area also offers RV-friendly parking and hook-ups.
Kathryn Abby Hanna Park is a great destination for individuals traveling via RV. There are plenty of activities to choose from in this area, which features almost two miles of public beach. It's perfect for surfing or swimming with the family, or a relaxing day at the beach! One of the notable features of this area is the 447 acres of coastal hammock, a rare ecosystem today because of the modern infrastructure across the coastline. For people unaware of coastal terms, a hammock is a beachside forest that rests on stable sand dunes. The hammock allows visitors to enjoy natural overgrowth and stunning views. This location is also the perfect place for visitors to see all the genuine beauty Florida offers. RV travelers will have designated parking and an assortment of facilities for convenience.
Jacksonville Attractions
There are tons of attractions in Jacksonville that you must check out. Jacksonville is a great place to visit and find opportunities to find fun wherever you go.
One of the top Jacksonville attractions is the Jacksonville Zoo and Gardens. If you're looking for a fun and educational experience in the area, it's a must-see destination. It's home to hundreds of species of animals in a well-kept habitat that allows visitors to get an up-close view of various species. The zoo is located on approximately 122 acres and situated at the mouth of the Trout River, a tributary of the Saint John's River. The zoo is home to over 2000 different animals and features Jaguars, Komodo dragons, elephants, and a children's play park.
This huge shopping mall is a big attraction for people visiting or living in Jacksonville. With their over 1.2 million square feet of open air shopping this place is a shopping mecca. The center has over 175 retailers and over 20 restaurants, which makes this place full of things to explore. Theres something for everyone whether you're a food lover, saver, or the type to shop till you drop!
Jacksonville Events
There is always something going on in Jacksonville. Jacksonville Events are fun and exciting ranging from the celebration of food, music, history, and everything in between. Here you can scratch your itch for adventure and festivals, no matter what you are into!
With featured artists and over 40 years of jazz history this festival is sure to please any music lovers. The Jacksonville Jazz Fest kicks off with a piano competition. The festival follows with the Sacred Jazz Brunch, Jazz Jam and artist announcements. The festival is hosted every fall at the end of September and beginning of October. What's best about this festival is that it has free entertainment on two different stages. Experience a one of a kind jazz festival this fall!
This two-day music festival is hosted every summer In Jacksonville. If you think regular music festivals are a fun time, just wait until you experience an oceanfront one! This one-of-a-kind festival is hosted on Jax Beach and is perfect for creating long lasting memories with friends and family. At this event you can have the experience of a music festival with the cool addition of being at an oceanfront venue. With six or seven concerts a day this festival is sure to rock! Their lineup changes every year, and hosts a variety of native Jacksonville artists, and others from all over America! The sooner you buy tickets the better chance you'll get one, as this festival sells out fast!