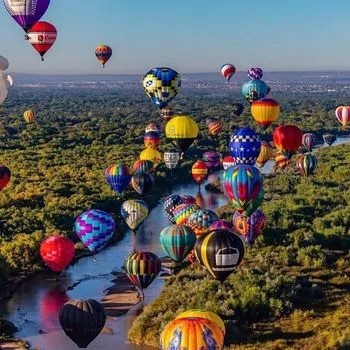 Planning a road trip around Albuquerque? Albuquerque, also known as ABQ, is the most populous state of New Mexico and known as the heart of culture in the Southwest. It has 4.4 million tourists visiting each year, with most of them coming back for a second visit! What's more is that Albuquerque is no stranger to sunshine, receiving almost 80% of all available sun, making it the perfect place to visit all year round. If you want to hop in your RV and drive to a place bursting with divergent history, authentic art, and lively tradition that have molded Albuquerque into the culturally rich city it is today, then keep reading!
Camping and RV Parks near Albuquerque
Albuquerque is home to countless RV Parks, with a variety to suit all tastes! Whether you want the convenience of being close to the Old Town, buzzing with museums, shops, and nightlife, or you wish to have a relaxing homey stay, you'll never have trouble finding the perfect spot for your needs.
Enjoy a luxurious getaway at the Route 66 RV Resort. Conveniently situated under 20 minutes from Downtown Albuquerque, this deluxe resort is the perfect spot to park your RV, put your feet up, and get comfy. Featuring large recreational rooms with big-screen TVs, pool tables, and a fireplace, and close to the popular Route 66 Casino Hotel, this is the ultimate enjoyment hub.
Everyone loves a place to stay with a view, and Enchanted Trails RV Park has just that. Overlooking the city of Albuquerque, this dynamic park presents guests with a vintage vibe, with fully restored old campers available to tour. It has many useful amenities, including a pool and a trading post, and conveniently close to shops, a post office, and cafes for your morning joe.
The RV sites, amenities and activities offer something for every person in the family. Located just off I-40, and Historic Route 66, this beautiful campground nestled at the base of the Sandia Mountains is the Albuquerque KOA Journey. They offer full hook pull-thrus and lots of fun. The park has a swimming pool, indoor hot tub, mini golf, playground and 4 pet parks for your furry, four legged friends. Stop here to relax and let them take care of all your camping needs. There's plenty to do during your camping stay here. The Resort is conveniently located near attractions such as the Albuquerque International Balloon Fiesta , the world's longest aerial Tramway , and we are the closest campground to Expo New Mexico Fairgrounds. The campground is also conveniently located near a variety of restaurants, the aquarium, zoo, multiple museums and the fascinating Old Town shopping district.
National Parks and State Parks near Albuquerque
A trip to Albuquerque wouldn't be complete without visiting at least one of the area's state parks. Albuquerque is no stranger when it comes to state parks; 35 of them are scattered throughout the state. The state parks all have something exceptional to offer for the adventurer within.
For history lovers, this park gives off some serious ancient vibes! With an original timber roof and a 900-year-old ancestral Pueblo Great House comprising 400+ masonry rooms, you will feel you are stepping back an entire century. The Aztec Ruins National Monument in northwestern New Mexico, USA consists of preserved structures constructed by the Pueblo Indians. The national monument lies on the western bank of the Animas River in Aztec, New Mexico, about 12 miles northeast of Farmington.
Situated over 119 caves and showcasing pre-historic sea ledges, flowering cactus, desert wildlife, and deep rocky canyons, Carlsbad Caverns National Park is the ultimate historic must-see. Human activities have long taken place here including American Indian occupations, European exploration and settlement, industrial exploitation, and much more that have contributed to the rich history of Carlsbad Caverns.
Capulin Volcano National Monument is a U.S. National Monument located in northeastern New Mexico that protects and interprets an extinct cinder cone volcano and is part of the Raton-Clayton Volcanic Field. Part of the 8,000 square mile Raton-Clayton Volcanic Field, Capulin Volcano showcases the volcanic geology of northeastern New Mexico. The views are spectacular day or night, with views of 4 different states from the volcanic rim and one of the darkest night skies in the country.
Albuquerque Attractions
Depending on what tickles your fancy, Albuquerque is home to many dynamic attractions, and with so many to pick from, the only dilemma will be selecting which one to attend first! Here are some of our top picks:
Take the scenic route and witness the most pristine view of Albuquerque on the Sandia Peak Tramway. In just 15 minutes, you will conquer one of America's most astounding urban peaks. Once at the top you can choose to take part in many activities, including hiking, dining in the TEN 3 restaurant, stopping off at the Visitors Centre, or even skiing! The best part is, you can stay at the top for as long as your heart desires.
Founded in 1986, the New Mexico Museum of National History is home to New Mexico's largest collection of fossils and possesses exhibits, many events captivating and highlighting the history of New Mexico, and children/adult programs to keep the entire family entertained. There is always something new to see and do at this museum, any time of the year.
Albuquerque Events
Creative cultures flourish in Albuquerque. Home to more than 100 art galleries and studios, Albuquerque offers a variety of fine art, authentic Southwestern jewelry, pottery and contemporary art. Its innovative theater scene spans everything from intimate black-box shows to international festivals. Albuquerque is a favorite cultural destination for visitors from all over the map. Albuquerque's climate and landscape are perfect for outdoor adventure vacations. The city has four seasons, so plan for potential snow in the winter and sunny days in the 90s during the summer. And there is more… For centuries, New Mexico's geothermally heated mineral springs have given comfort to weary travelers. Today Albuquerque's outstanding spas have made it a true relaxation destination. New Mexico's luxury spa vacations are also perfect for a girls' weekend getaway, or for a romantic couple's retreat. Many of our spas specialize in treatments that use local ingredients – such as mud from the Jemez Mountains or piñon-scented oil – for a unique New Mexico day spa experience.
Albuquerque is perhaps best known for its International Balloon Fiesta, which brings in thousands of people to watch hundreds of balloons launched into the sky. The most exciting part of this fiesta is that while the balloons enter the skies in the morning, they're re-launched in the evening and glow against the dark night sky. The balloons can be seen from miles away, from anywhere in the city, so whether you want to stay in your comfy RV park or get a closer view, we promise you and your family/friends will be blown away.
Recurring every summer, the Albuquerque Summerfest Series is a free event with food trucks, local brew, handcrafted items, and entertainment to suit people of all ages. We guarantee anyone who attends to have a blast and make memories that last a lifetime.
Thousands of people gather every year to celebrate the birthday of the vibrant and buzzing city that is over 300 years old. During the Fiesta, the entire Old Town, where the birthday takes place, hosts live music and dancing, historic presentations, and acknowledge the five eras of New Mexico history that make up what the city is today. It is a fun event with entertainment, festivities, contests, and delicious food and drink to suit all tastes. Celebrate the eras of Albuquerque's history as our beautiful city turns another year older. The City of Albuquerque invites you to enjoy a day of family fun in Historic Old Town with free children's activities, artist demonstrations, local food, and shopping. Dance the afternoon away with live music in the gazebo featuring local bands and ending the afternoon with the Freddie Chavez Foundation. Honor the founders as descendants of Albuquerque's founding families hold their annual procession through Old Town.