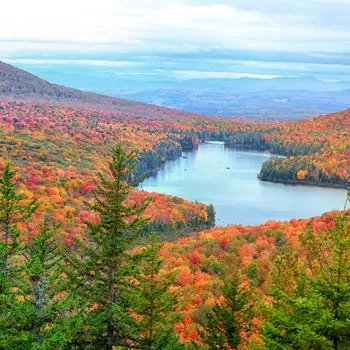 Vermont is known for its natural, heavily forested landscape and being a major producer of Maple Syrup. It is also home to over 100 wooden bridges. Get a unique experience during any season. There are so many things to do all year so drive your RV rental and enjoy the weather, scenery and activities.
COVID-19 / CORONAVIRUS UPDATES FOR NATIONAL PARKS IN VERMONT
Vermont National Park Closure Updates
The National Park Service is modifying its operations on a park-by-park basis in accordance with the latest guidance from the Centers for Disease Control and Prevention (CDC) and state and local public health authorities. While most facilities and events are closed or canceled, outdoor spaces in some parks remain accessible to the public. Before visiting, please check with individual parks regarding changes to park operations. If you choose to visit a national park, please ensure that you follow CDC and state and local guidelines to prevent the spread of infectious diseases and practice Leave No Trace principles. Updates about the NPS response, including safety information, are posted on
The National Parks Service Coronavirus Website.
COVID-19 / CORONAVIRUS UPDATES FOR STATE PARKS IN VERMONT
Click for Up to Date Vermont State Park COVID-19 Updates
April 15 - Based on Governor Scott's Stay Home/Stay Safe Executive Order, staff will not be able to get out into the parks to turn on water systems and prepare park facilities for opening according to anything close to our normal schedule. The timing of full operation of the parks remains uncertain. Regardless, there is no possibility we will be able to offer camping at least through Memorial Day weekend. We will be working hard to resume operations as soon after that as possible. We just can't control the timing at this point.
Camping and RV Campsites in Vermont
With so many things to do and places to see, you can rest assured that there are plenty of RV Parks and Resorts. Vermont is a beautiful place for RVers to visit until Winter, when it gets pretty harsh as you would expect for being in New England.
The Alpine Valley RV Campground located in Concord, offers tent sites with electric and full hookup sites. There is a pool and the typical accommodations such as shuffleboard basketball, laundry and a general store. It's close to St. Johnsbury Country Club, Shadow Lake, and the Fort Jefferson Fun Park.
RV Camping is one of the most economical and affordable family vacations you can have. This RV Park is a great place to spend your time at spacious campsites with full electric, and sewer and water hookups. Eat well at the Dutch Mill Family Restaurant. Family activities include fishing, boating and hiking.
National Parks and State Parks near Vermont
Vermont may be small and has the 2nd smallest population, but the Green Mountain State offers 150 miles of trails. Drive your RV through the many mountainous regions of the 2 National Parks. Explore and enjoy it as Vermont offers nature lovers a chance to escape to the great outdoors.
Start your RV Adventure in our park at the Billing Farms Museum. The mansion and gardens have guided tours. It is recommended to get reservations. There are trails so bring your hiking shoes and enjoy the 20 miles of trails through forests and incredible overlooks. Bring plenty of water to stay hydrated. For those inclined to ride horses you have that option as well. With so much wilderness there is plenty of animals to see in their natural habitat such as deer, ducks, barred owls and turtles.
Victory State Forest covers 16,272 acres in Concord, Granby, Lunenburg, and Victory, Vermont in Essex County. RV Adventurers come here to enjoy hunting, trapping, wildlife viewing, snowmobiling, hiking, snowshoeing, and horseback riding and even primitive camping. You won't be troubled looking for outdoor activities at this park.
In northwest Vermont, lies Burton Island State Park. The park includes Burton Island, an island of 253 acres and located off St. Albans Point in Lake Champlain. The park can only be accessed by boat and a state ferry which does not support vehicles. There are pristine 3 miles of shoreline, a nature center with a museum and trails. Family fun activities include night hikes, nature crafts and games, campfire programs and amphibian explorations. Section: Additional Content
Vermont Attractions
Much of the attractions are great for families with young children. Of course the Vermont Teddy Bear Factory is a huge draw and don't forget about Ben & Jerry's Ice Cream also has a factory here. Who doesn't love ice cream?
A noteworthy adventure stop is Bromley. This is a fantastic destination for the Outdoor Lover with zip lines, canopy tours and an obstacle course. Want more? They also have high up in the trees a series of ropes and platforms and wooden bridges that aren't the easiest to travel across. During the winter months there is also skiing down the slopes. If neither of those excite you, then you may enjoy a game of disc golf at one of our 3 courses.
Yes That Teddy Bear Company that has been open since 1981 starting in Burlington in a garage. You probably already know these bears are all handcrafted and still has a lifetime guarantee. This company offers tours and many family friendly events from Teddy Bear Picnics to community celebrations.
The exhibitions at Shelburne are constantly changing and that is what makes this an exciting attraction. That engages your senses and inspires thought. Works from traditional to contemporary artists, designers and pieces on loan you will be delighted with your experience. The world renowned collections are from pieces even centuries old to modern and use of many mediums from oil paints to textiles and sculpture. It is well worth the visit.
Vermont Events and Celebrations
The RV rental will need a lot of gas for all the driving you'll be doing going from festival to festival. The state has a wide variety of interests from maple syrup to class cars to classic Jazz to open farm festivals and yoga to hot air ballooning.
There is nothing like the sound of cool saxophones and smooth trumpets and the syncopated drums of true jazz that calls to your heart and once inside, it won't let go. This festival lasts 10 days on 4 stages of live music. Call ahead for tickets and dates.
For those who need a vacation after the vacation, we have the event for you. Pack your race bike or mountain bike for a cycling tour, These are guided cycling tours among the top 10 in the world. Wind through the Lake Champlain Valley, bike through the IPA Highway and visit local breweries. Make a scenic ride to view the foliage over a weekend. We have the trip for you.
Ahh. Or should I say Ohm? This is an event to calm your soul and find your true north. World renowned guides and teachers come to share their knowledge on meditation, yoga and health for body and soul. Attend classes to get fully immersed and focused with hands on learning. Take part in new HIIT sessions or Pilates and when that is over, soak in the sounds of yes, that's right, dueling DJ's on 3 different dancefloors.