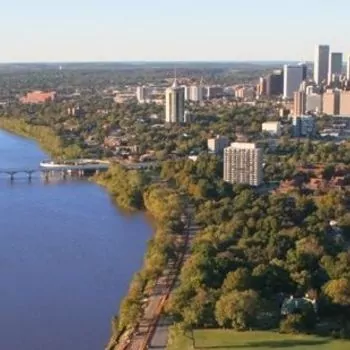 Tulsa, the former "Oil Capital of the World," is Oklahoma's second largest city, located on the Arkansas River. The town that started in the early 20th century has grown into an urban city that offers mid-west comfort in a cosmopolitan style. Throughout the many districts, art deco architecture is seen throughout, mostly in the central Deco District. There are hundreds of activities and events designed for people of all walks of life in T-Town. From family outings to nightlife and dining, you will always find a unique experience in Tulsa.
Camping and RV Parks near Tulsa
Tulsa is home to countless RV Parks. You can stay in parks on the outskirts of the city and in the heart, which makes it convenient for what you want to during your visit, from the beautiful scenic views to a vibrant city life, you have many options to select from for your stay around Tulsa.
Located intown, Mingo RV Park offers a warm, western welcome to all RV travelers. A friendly staff and a beautifully landscaped park is ready for you. Enjoy the peace and quiet of Mingo RV Park. This is a gated community where you'll find spacious sites and fun activities, as well as a convenient proximity to the attractions of Tulsa. There is a wide variety of events and destination that Tulsa offers, and Mingo RV Park is the perfect place to start your Oklahoma vacation!
You can play all day just steps from your campground at the popular "racino" Cherokee Casino Will Rogers Downs. Take advantage of BBQ Grills, Picnic Tables, laundry room and pull throughs of 100 feet. You can also enjoy live horse races and the "Racino" Cherokee Casino, just steps away from the campground.
Get Away from the crowds and still be close to see the attractions in the city. Amenities include laundry room, bathrooms and showers and wireless internet. The park offers weekly and monthly rates as well as nightly rates.
National Parks and State Parks near Tulsa
A trip to Tulsa wouldn't be complete without visiting at least one of the area's state parks. Tulsa is no stranger when it comes to state parks; 35 of them are scattered throughout the state. The state parks all have something exceptional to offer for the adventurer within.
The Mary K. Oxley Nature Center is part of the City of Tulsa Parks. Oxley offers 804 secluded acres, 9 miles of trails, with 700 species of plants and a 70 acre lake. Bring your binoculars and see if you can spot one of the 263 species of birds or any one of the various other animals.
This park sprawls 3,300 acres, and makes it the largest park in Tulsa and one of the largest city parks in the country. The park was created as part of the 1924 public works project that piped drinking water from the Spavinaw Dam to Tulsa. More than 800 acres of the park feature the above mentioned Oxley Nature Center with hiking, picnicking, a 5-acre marsh with 600 foot boardwalk and observation tower and 9+ miles trails. The interpretive center houses hands-on exhibits, an observation beehive, restrooms and drinking water. The area is also home to abundant wildlife and waterfowl, the Tulsa Zoo and the Mohawk Park Golf Course, 36 hole disc golf course, several CCC-era picnic shelters, polo field and several miles of equestrian trails.
Explore life on the edge of frontier and Indian Territory through the stories of soldiers, the Trail of Tears, scandals, outlaws, and lawmen who pursued them. From the establishment of the first Fort Smith on December 25, 1817, to the final days of Judge Isaac C. Parker's jurisdiction over Indian Territory in 1896, Fort Smith National Historic Site preserves almost 80 years of history.
Tulsa Attractions
Tulsa is a great city with many natural attractions and destinations for the whole family. There are many museums and festivals and entertainment. When you get hungry, there is a great selection of restaurants that are a welcome escape from the national fast food chains. The vibrant city offers cultural attractions from Philbrook and Gilcrease Museums, to theater shows at the Performing Arts Center including Tulsa Ballet, Tulsa Opera, Tulsa Symphony Orchestra and traveling Broadway shows. The music scene bounces throughout the city from country and western to indie rock with live music happening 365 days a year anywhere from local hot spots like Cain's Ballroom and Guthrie Green, to Brady Theater and BOK Event Center.
The Blue Dome District is where people congregate for many of the concerts, celebrations, and festivals. Have your fill of shopping, fine dining, music.
The Oklahoma Aquarium opened its doors to the public on May 28, 2003, although the facility was a dream and passion for founders Dr. P.R. Ramey and Doug Kemper in 1984. You heard of mechanical bulls, well, children can rid a Mechanical Shark. Get up close to extreme fish and learn about their defenses, and forms of camouflage and the environments. If that isn't enough, you can ride the "Hurricane Experience" to feel the impact of a hurricane without being on the coast. Have a safe interaction while learning how powerful these storms are.
Tulsa Events
Family fun is a must for Tulsans. Key family spots include the highly rated Tulsa Zoo, Oklahoma Aquarium, Tulsa Air and Space Museum or any of the River Parks trails and outdoor recreation areas, which give a rural feel to Tulsa's urban setting. Tulsa also offers numerous kid-friendly activities, festivals and day camps that combine education and fun. There are also annual festivals varying from Tulsa International Mayfest to Tulsa Oktoberfest.
Before you get your mouth set for a bowl of spicy chili, the Tulsa Chili Bowl Nationals is anything but a chili cook off. This is the mother of all midget car races. The four-night event began in 1987 and is billed as racing's winter answer to football's Super Bowl. The Chili Bowl Midget Nationals is an indoor midget car racing event. It takes place on a 1/4 mile dirt track at the Tulsa Expo Center in January, two weeks after Christmas. NASCAR calls it the "biggest Midget race of the year".
Always the Friday evening and Saturday before Mother's Day, the festival features nonstop entertainment and lots and lots of barbecue. The only admission charge is a per-vehicle one, but there are several ways to spend your money here. You can buy barbecue—and other festival-type foods—from vendors, and you can buy Taster Kits for the barbecue competition. The music's all free.The barbecue contenders—over four or five dozen teams—take their 'cue seriously. The competition is sanctioned by the Kansas City Barbecue Society. If you want to taste, check the schedule and arrive before competition starts. And you can vote for your favorite for the "People's Choice" award. Other activities include a children's play space with inflatables, face painting, clowns, and activities.
This is Tulsa's major art party, and it's been going on for over 35 years. With more than 100 artists, a multitude of musicians, and a plethora of performers, it stretches from West 3rd to West 6th St. on South Main Street and spills out onto the side streets. The KidZone offers a variety of activities for youngsters of all ages. Several of the venues are indoors, including the Invitational Gallery, where works by some of Tulsa's finest artists will be on display.