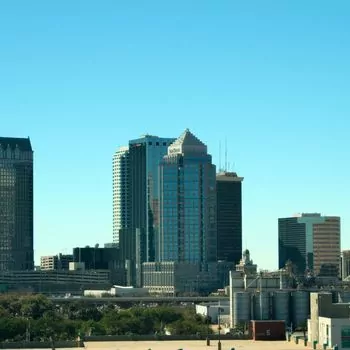 Campgrounds and RV Parks near St. Petersburg
St. Petersburg is a unique slice of Florida that leaves a lasting impression on those who visit. If you are looking to go RV camping around the St. Petersburg area, then RVnGO has you covered. You can rent various types of recreational vehicles for less by signing up with RVnGO today. With your new RV rental, consider adventuring out to some of the campgrounds and RV parks below!
Vacation Village RV Resort is an extended-stay RV resort community in Tampa, Florida, nearby St. Petersburg. The resort is conveniently located near some of Tampa's best attractions. Enjoy the stunning Florida beaches or take a short trip to Busch Gardens. Vacation Village RV resort offers full site hook-ups. There is a lively community and plenty of activities to do like biking, volleyball, and swimming.
Camp near the Gulf Coast's stunning beaches at St. Petersburg KOA. Nearby are lush mangrove-lined bayou and the Pinellas Trail. The campgrounds offer large RV sites for all types of recreational vehicles. Sites include full hookup, 50amp electricity, and pull-through sites. Want to spend some time outside your RV and in a cabin? Then you will be happy to know the campgrounds have Deluxe Cabins for rent. Deluxe Cabins come with a private bath, patio, grill, fresh linens, and sometimes a fully stocked kitchen.
The campground has activities planned all year. Campers can enjoy outdoor movies in the summer, themed weekends, and fishing from the dock. During the winter, you can spend time with a wide array of classes like water aerobics, yoga, quilting, and painting.
Fort De Soto Park was designated America's Top Beach in 2009 and sees more than 2.7 million annual visitors. Fort DeSoto County Park reservations offer 238 sites for tent and RV campers. It is located on St. Christopher and St. Jean Keys, approximately 10 miles southwest of St. Petersburg. The campground is mostly wooded and divided up into three areas: Area 1 for tents, vans, and small campers, and Areas 2 and 3 for larger RVs. All sites are equipped with electrical and water hookups, picnic tables, and cooking grills.
National Parks and State Parks near St. Petersburg
St. Petersburg has a unique ecosystem and plenty of National Parks and State Parks nearby. Not only can you enjoy natural, woodsy areas, you can also find gorgeous beaches to dip your feet into. Just make sure you stay well protected with sunblock! Consider visiting some of the parks below on your next RV rental adventure with RVnGO.
Sawgrass Lake Park is a 400 acres park that is home to one of the largest maple swamps on the Gulf Coast of Florida. The park features a mile-long boardwalk and a half-mile dirt trail where you can catch sight of birds, butterflies, plants, and animals. Birds like herons, egrets, ibis, and wood storks can be seen all along the lake. The area is also a migration destination for birds in the Spring and Summer and is a great location for birdwatching.
If you enjoy the sun and relaxing by the beach or kayaking in calm water, then you should take a trip to Fort De Soto. The ecology of the area is beautifully complex, but may not be immediately apparent. The park offers great diversity and the opportunity to see tons of wildlife. At Fort De Soto Park, you will find an abundance of bird, sea, and plant life!
If you are looking to stretch your legs after a long RV journey, then Boyd Nature Preserve is a fantastic spot for you. The preserve features tons of trails for long treks among the beautiful plant and wildlife. Boyd Hill Park originally began its life as a zoo and botanical garden for the city of St. Petersburg. It has since evolved over the decades into a mosaic of natural habitats and wild tropical landscapes along the shores of Lake Maggiore. From the outer Main Trail, there are five side trails (mostly loops) showcasing specific habitats: The Swamp Woodlands Trail, Willow Marsh Trail, Lake Maggiore Trail, Scrub Island Trail, and Pine Flatwoods Trail.
St. Petersburg Attractions
St. Petersburg features plenty of amazing attractions for the adventurous RV goer. The city is well known for its natural attractions, particularly the beaches! The climate and waters make it the perfect location for golfing, boating, fishing, and beachgoing. However, there are plenty of museums and other attractions to keep you busy during your RVing trip.
The Dalí Museum celebrates the life and work of Salvador Dalí (1904-1989). The museum features works from the artist's entire career. The collection includes over 2,400 works including oil paintings, many original drawings, book illustrations, books, prints, sculptures, photos, manuscripts, and documents. Founded with the works collected by A. Reynolds and Eleanor Morse, the Museum has made significant additions to its collection over the years, celebrating the life and art of one of the most influential and innovative artists in history.
Enjoy a range of food, shopping, and live music in Downtown St. Petersburg. Located at Central Avenue and 2nd Street in St. Petersburg, it is a center for nightlife activities with plenty of nearby attractions like the James Museum and Demens Landing Park.
Sunken Gardens
Sunken Gardens is a botanical paradise in the midst of a bustling city. As St. Petersburg's oldest living museum, this 100-year-old garden is home to some of the oldest tropical plants in the region. Unwind as you stroll through meandering paths, lush with exotic plants from around the world. Explore cascading waterfalls, beautiful demonstration gardens, more than 50,000 tropical plants, and flowers, and a walk-through butterfly encounter. It's a perfect way for families, couples, and friends to spend some time in paradise.
Events in St. Petersburg
Depending on when in the year you are in St. Petersburg, you will have your pick of a variety of events! Experience the waters or trails in a different light, or enjoy some live music and food; the choice is yours. Consider some of these St. Petersburg events on your next RVnGO RV rental journey.
Crystal Clear Kayaks offers calming kayak tours of the Shell Key Preserve and Tampa Bay area. Enjoy a calming ride through some of the most beautiful and preserved areas of St. Petersburg and Tampa. Just make sure to water since bottles will not be provided. The tour is around 2 hours, so do not worry about being stuck on the waters all day. Costs are $69 per person and you can book a tour today by clicking the link above.
Enjoy a beautiful light display and set-up at the Florida Botanical Gardens. Each year this amazing light display is visited by over 100,000 guests. The Gardens will sparkle with 1 million, twinkling, LED lights in a multitude of colors. Vibrant laser lights and lighted figures round out our display to wow guests of all ages. New this year will be our Children's Candy Cane Area with family-focused fun and activities.
Offering further proof that singing the blues doesn't have to be a bummer, the annual Tampa Bay Blues Fest features three days of blues on the Bay. The event is held each April along the picturesque downtown St. Petersburg waterfront in Vinoy Park. In addition to the powerful vocals and high-energy riffs of the biggest acts in blues, you can also sample tasty local treats such as seafood, barbecue, Cuban cuisine, and more. Festival vendors also peddle arts and crafts, and premium beer and wine.
Rent with RVnGO Today!
With RVnGO, you get an easy-to-use platform and affordable rates all-in-one! Save on your RV rentals with RVnGO today. Find convenient RVs for rent in your area and enjoy your RVing adventures! Sign up today to get started.