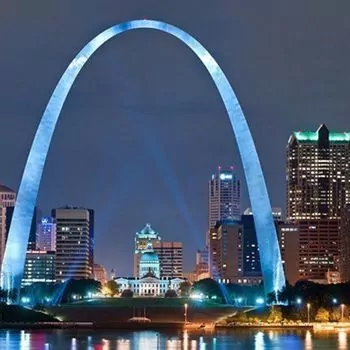 If you're wondering where next to take your RV road trip vacation, look no further than St. Louis, Missouri. Whether you're looking for the ultimate summer road trip with your RV rental in St. Louis or you just need a break from your home environment, the city promises a host of sights and activities to keep you occupied. You'll love that St. Louis is one of the most budget-friendly cities in the country. For one, you can visit several impressive attractions, like the St. Louis Zoo, St. Louis Science Center, and the Missouri Botanical Garden at no charge — yes, you heard that right! These locations are completely free and house some of the most impressive flora and fauna displays and habitats. Start planning your vacation by getting your ideal RV from our rich selection of RV rentals near St. Louis at RVnGO. Next, plan your itinerary using this article, which includes the best RV camping parks, as well as attractions, state parks, and events not to miss out on. Happy camping!
Camping and RV Parks near St Louis
St. Louis features a host of campsite options if you're planning an RV camping trip, with everything from state park camping and city docking to luxurious private parks with all the bells and whistles in amenities. These are our top choices:
The St. Louis RV Park is the only one located downtown and within walking distance of the city's most popular attractions—Forest Park, Gateway Arch, and the City Museum. You'll be conveniently near casinos and riverboat excursion sites, and there's a nearby trolley to get you into the city center.
The Dr. Edmund A. Babler Memorial State Park is ideal if you need some distance from the city bustle but still want to be close enough to access various St. Louis attractions. It's located less than 45 minutes away and fairly close to city conveniences like shops and restaurants. Being in the park feels like camping out in the wilderness. You'll enjoy its biking, hiking, and horseback riding trails if you're looking for some adventure on your trip.
The Pin Oak Creek RV Park near St. Louis city center is one of the best camping grounds in the city and about an hour away from town. Enjoy resort-style camping amenities and family-friendly vacation activities, and get into the city within no time whenever you need to. This RV Park has everything from arts and crafts to putt-putt golf, and there are planned events all year round to make your vacation extra enriching.
National Parks and State Parks near St Louis
There's something special about leaving behind the city and exploring nature. No vacation or road trip would be complete without a visit to one or two state parks. Check out our top selections and what makes them so impressive:
The Ha Ha Tonka State Park is one of the best St. Louis attractions. With its rich history and collection of natural features, it's a fascinating stopover for science and geology enthusiasts. You'll enjoy its natural bridge, sinkholes, bluffs, caves, and even a spring. Visit 20th-century castle ruins and enjoy a picnic against the backdrop of the Ha Ha Tonka Spring or Lake of the Ozarks. Or put on your hiking shoes to explore some strenuous trails as you learn more about park history.
The Katy Trail State Park is home to part of the country's longest unbroken rail-trail corridor, which is 240 miles long. Once the Missouri-Kansas-Texas Railroad, this corridor was part of the main railway line to St. Louis. The trail is now a path for horseback riding, cycling, and hiking. It meanders through various parts of Missouri, and you can take a day to cover the trail from one end to the other. You'll love Missouri for a whole bunch of reasons after this experience.
St Louis Attractions
St Louis is a great, small midwestern city. If you don't fancy long hikes or biking out in nature, there are still plenty of attractions within the city that you can experience with your St. Louis motorhome rental. These are our top three choices:
You can't visit St. Louis without paying homage to the Gateway Arch, a universally recognized symbol for the city of St. Louis. The Gateway Arch is a 630-foot-tall man-made monument, the tallest of its kind in the Western Hemisphere, and it is the centerpiece attraction of the Jefferson National Expansion Memorial. You can ride a tram to its observation point at the top, where you'll experience heart-stopping views of St. Louis and its surroundings, all the way up the Mississippi River to Illinois on a clear day. You can also take an hour-long sightseeing riverboat cruise along the Mississippi. Book your tickets online in advance to have the best experience once you get there.
The Missouri Botanical Garden is the oldest garden in the USA that has been continuously operational—153 years since its opening. Rightly so, it is a National Historic Landmark and a venue you should make time to visit. Check out the first geodesic dome converted into a conservatory at the Climatron attraction, walk through the various garden shops and cafes, or take a tram tour of the facility. If you are on a St. Louis camper rental vacation with your kids, be sure to stop in at the Children's Garden and the famous Japanese Tea Garden.
The Lake of the Ozarks is the perfect stop for you if you're looking for a quiet day of fishing and picnicking right in the middle of nature. You can boat, swim, or fish in this lake, the largest in the state, or go hiking nearby to take in impressive views of surrounding nature. There are also exciting mountain biking trips to take, and you can explore the woodlands and striking streams that drain into the lake. Families will enjoy swimming at its beaches, where you can also rent a boat. The lake includes a paved ramp if you have your own watercraft. Stop by the Ozark Caverns to learn more about the region's unique geology.
St Louis Events
Throughout the year, there are plenty of exciting St Louis events. When you plan your vacation trip, check out this site to find out what events are on the calendar. Some interesting St. Louis events you might want to catch include:
Happening in mid-January, the Loop Ice Carnival makes the winter bearable with winter sporting activities, S'mores roasts, and live entertainment.
When you mention Mardi Gras in St. Louis, most of us think of Soulard. This is the big event of Mardi Gras, bringing tens of thousands of revelers to the streets of Soulard. Some 130 Krewes spend months building their floats, hoping to win prizes and bragging rights at the parade. From Mid-February to early March, this free 11-day event features tons of parades, frivolity, frolicking, and fun in classic Mardi gras style.
Every Labor Day weekend, St. Louis' historic Laclede's Landing hosts over 30,000 people from around the country for the Big Muddy Blues Festival. This very popular outdoor music festival attracts an eclectic audience celebrating the rich St Louis history of "the Blues". Big Muddy is the region's largest Blues music event featuring a 100% local line up of over 50 bands and musicians. The festival takes place along the cobblestone streets of Laclede's Landing, while boasting the Big Muddy (Mississippi River) itself along with the Gateway Arch as the backdrops for the weekend. Music will be showcased on 3 stages, 3 indoor clubs, and two events at the National Blues Museum featuring tributes to Albert King and Tommy Bankhead. Big Muddy Blues Festival is one of the longest-running events of its kind and is produced annually by Laclede's Landing Merchants Association. Formed in 1979, LLMA is the nonprofit group of Laclede's Landing restaurants, bars and shops that focuses on preserving and revitalizing St. Louis' oldest community and introducing people to the historic area through its various businesses, events and sights.