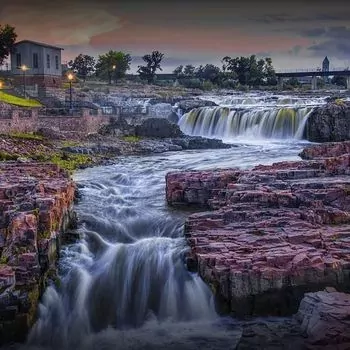 In the southeastern corner of South Dakota is the lively city of Sioux Falls, an increasingly popular Northern destination for camping and hiking. As a city, Sioux Falls is best known for its stunning natural features— for a landlocked state, Sioux Falls is easily characterized by its roaring waterways in its local and state parks. However, as much as its a hotspot for outdoors fun, the downtown area is home to dozens of local craft brewing and wine companies, as well as a zoo that is as beloved as its animals and activities are awe-inspiring. Sioux Falls has become a great Northern getaway for families looking for the best in both worlds with their camping, and the city and surrounding parks are perfect for RVing.
Campgrounds and RV Parks near Sioux Falls
For options that include the convenience of downtown or the plains of one of its state parks, Sioux Falls has its guests covered no matter what.
Directly west of Sioux Falls, Tower Campground offers a convenient location by Sioux Falls Airport and the city's downtown area. The pet friendly campsites support electric 30-15 and 50 amp, and offer restrooms, showers, and laundry facilities. The grounds themselves are underneath the cover of trees to keep the camp cool, and come with a pool for the summer months.
Big Sioux Recreation Area's campground is located northeast of the city and is situated right on the edge of the park, making it a great access point for exploration. The park supports full electric amp hookups and each individual campsite comes with picnic tables and firepits. The campgrounds are pet friendly and offer restrooms and showers for guests. Big Sioux is a great option for travellers looking to camp in nature without being too far away from the attractions of downtown Sioux Falls.
To the north of Sioux Falls by about 30 minutes, River of the Double Bend Campground is a family-run campground for people looking to be fully immersed in South Dakota's grass plains, with lots of options for activities at the camp. As the name suggests, the campsites are flush along the Big Sioux River. Guests can rent tubes and canoes from the grounds to take advantage of the water, or sunbathe along its grassy banks. The park supports full electric amp hookups, is pet friendly, and has showers and restrooms. Live music is performed throughout the summer and early autumn months.
National Parks and State Parks near Sioux Falls
Sioux Falls has multiple state parks within its city limits, one of which supports RV camping. For kayaking and canoeing enthusiasts in particular, Sioux Falls is a Northern destination that's right on the cusp of being "discovered."
East of downtown, Big Sioux Recreation Area is a maze of grasslands and intersecting rivers and creeks. In addition to its many hiking trails and suspension bridges, the park hosts a number of outdoor activities. Visitors can enjoy: archery, biking, canoeing, disc golf, fishing, horseback riding, volleyball, snowmobiling, cross-country skiing, and more! Plus, if that's not enough, families can enjoy picnicking in the park's many tranquil grassy hills.
Further northeast of Sioux Falls are the dramatic, sweeping views of Palisades State Park. At the Palisades, grand, jagged shelves of rock formations line the coursing waters of Split Rock Creek, making it a hotspot for rock climbers and thrill seekers. The park is also open to kayaking/canoeing, hiking, and camping.
Sioux Falls Attractions
At Sioux Falls, the atmosphere is one of involvement. Every piece of the city is about exploration and bringing locals and tourists together, through its incredible outdoor spaces and restaurants, and established organizations.
The Great Plains Zoo at Sioux Falls is an exemplary institution not only for the animals that it hosts, but its engaging range of activities for visitors as well. On certain days of the year, the zoo offers campouts to families by one of its exhibits. During this event, families can take after-dark tours of the zoo, enjoy snacks in the evening by a firepit, and have a light breakfast the following morning. For families that don't wish to stay the night, After Dark Adventure's offer a similar package without camping. Additionally, the zoo sponsors a number of educational programs, ZooCamps, junior zookeepers, and more. Adjacent to the zoo is the Delbridge Museum of Natural History, which houses 150 wall-mounted animals from a time when hunting them was legal. Now, the Museum seeks to spread awareness of endangered species and education on conservation efforts for the world's fauna.
Sioux Falls is lucky to be home to so many local wineries and breweries, we couldn't pick just one to feature! Many are set against gorgeous country backdrops for a relaxing afternoon out of the city, while others are nestled in the heart of downtown. Popular local joints include Miner Brewing Company and Prairie Berry Taproom, Lupulin Brewing Company, and Strawbale Winery.
It wouldn't be a trip to Sioux Falls without taking a wide-eyed stroll through Falls Park. The centerpiece of the city, Falls Park is an extraordinary natural formation of rushing waterfalls that cascade through the surrounding greenery. During the day, the park is great for picnics in the grass, and at night, the street lamps illuminate the waters and turn them into something magical.
Events in Sioux Falls
Just like its daily attractions, festivals and events in Sioux Falls are another celebration of being outdoors together. In particular, the city comes alive during the summer months, when showstopping carnivals and sumptuous food and wine tastings draw hundreds of thousands of people.
The wineries and breweries that are much beloved by locals and tourists alike in Sioux Falls have the spotlight on them during the Summer Classic. Each year in June, brewing companies from across South Dakota present their best craft beers and wines for one day only in downtown Sioux Falls. In addition, live music, food trucks, and activity vendors are present to keep everyone fed and entertained, making this one day that beer enthusiasts are not to miss! As always, RVnGO implores their customers to drink safely and responsibly.
The big event summer every year for the last 82 years in South Dakota is the Sioux Empire Fair, the largest fair and carnival in the state. For a week in early August, the W.H. Lyon Fairgrounds become a sprawling mecca of incredible rides and vendor stalls with all the popular fair food and games that a person could ever want, right in one place. The fair also hosts national headline concerts, magic shows, pro-rodeo events, livestock and horse shows, and art competitions. The Empire Fair is no joke in town— in 2014, over 280,000 people attended, and the event has only grown from there!