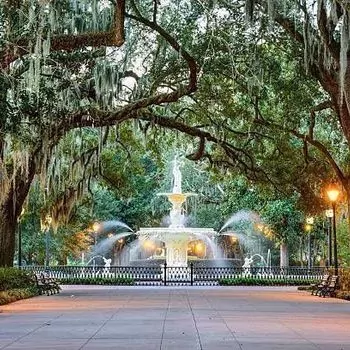 With its lush, dramatic flora and stately colonial architecture, it's no wonder that people flock to Savannah, Georgia, as a popular destination in the South. The city's bustling downtown scene and surplus of annual festivals draw in crowds from across the country, and the wildlife and nearby beaches inspire awe in all those that are lucky enough to visit them. With an RV, you can tour the beautiful countryside and the vibrant city up close and personal.
Campgrounds and RV Parks near Savannah
There are a plethora of RV parks that orbit around Savannah, although many of them are at least twenty minutes outside of the city center. However, what is sacrificed in distance to the downtown area is more than made up for in the parks' natural features and amenities.
Red Gate Campground & RV Resort /a>
Conveniently located seven minutes from downtown Savannah, Red Gate Campground & RV Resort is a working farm and ranch that also hosts weddings on part of its grounds— suffice it so say that the campsites are picturesque! Red Gate is pet friendly, has full electric hook-ups and basic amenities (showers, restrooms), a pool, and five different ponds on the premises. Despite being so close to the city, you'll feel immersed in the Southern countryside that this campground has to offer.
Fort McAllister State Park
Although Fort McAllister State Park is 40 minutes outside of the city, the campground is highly regarded by guests who've stayed there for a reason. RVing in a State or National Park is as authentic as it gets to truly spending time in nature itself, and this park delivers on nature. Deer and other fauna have been known to range by the park— even armadillos! Fort McAllister State Park supports full electric hook-ups, has restrooms and showers, is pet friendly, and has numerous trails and water access to hike, boat, and fish.
Skidaway Island State Park
Skidaway Island State Park is about 20 minutes from Savannah city center, and the RV campsites are perfect for anyone that's looking for a woodland stay. Surrounded by magnolia and oak trees, many of the campsites are naturally private because of the woods surrounding them. The site is pet friendly and supports full electric hook-ups, with restrooms, showers, and laundry facilities available. Each individual campsite comes with a picnic table and leveled pad, and there are a number of hiking/biking trails scattered throughout the park.
National Parks and State Parks near Savannah
In addition to the two State Parks mentioned already above, Savannah is home to a number of historic sites and wildlife refuges.
Wormsloe State Historic Site
At Wormsloe State Historic Site, visitors first walk through its famous, dramatic entryway, lined with live oak trees, draped with Spanish moss, that extends for over a mile into the park. Within the site itself is a Colonial Life reenactment area, complete with the ruins of Revolution-era dwellings, and acres of walking trails and picnic areas. The scenery is exquisite at Wormsloe Historic Site, which also serves as a popular destination for weddings and birding.
Savannah National Wildlife Refuge
To the Northwest of Savannah is the Savannah Wildlife Refuge in nearby Chatham, home to over 30,000 acres of federally protected land. The sanctuary features marshes, grasslands, swamp systems, and miles of hiking and kayaking trails to explore. Here, you can see alligators, bobcats, wild hogs, and so many other animals in their natural habitats as you develop an appreciation for the American conservation effort in the heart of the Southern wild.
Savannah Attractions
It's an impossible task to narrow a list of Savannah's attractions down to just a few things because the city is so filled to the brim with amazing things to do. Amazing restaurants, gorgeous mansions, and historical sites within the city barely cover Savannah's attractions, but they're a good place to start.
Savannah Historic District
Because Savannah's Historic District covers around 20 blocks, it's a little bit cheating to shove them all under one attraction (but who's counting?). The grid structure of the streets in the Historic District make this part of the city perfect for walking, which is the best way to take in all of its sites. First, any visitor to Savannah has to tour Forsyth Park, famed for its breathtaking avenue of live oaks that surround its central fountain (and on Saturdays, the park hosts a Farmer's Market). History aficionados can visit any one of the American Prohibition Museum, the Mercer-Williams House Museum, or Owens-Thomas House & Slave Quarters. Top off your day with a horse-drawn carriage tour to one of the popular restaurants nearby, like The Olde Pink House.
Bonaventure Cemetery
The Bonaventure Cemetery is the beating heart of Southern gothic and recognizable from the novel and movie Midnight In The Garden of Good and Evil. The cemetery is set atop of a bluff overlooking the Wilmington River, and whose ethereal statues of saints and angels perched beneath hanging Spanish moss is a truly awe-inspiring sight. Take a peaceful and contemplative walk through the rows of this hauntingly beautiful landmark.
Hunt for Spirits on a Ghost Tour
Did you know that Savannah is considered the most haunted city in America? In fact, there are so many ghost tours and sites within the city that you can even hop on a Ghost City Haunted Pub Tour! Plus, even if you're not a believer, it's a good opportunity to tour the city's sights at night and learn more about the history of many of Savannah's historic mansions and buildings. While you're on the hunt, check out Moon River Brewing Company, the Kehoe House, and the Hamilton-Turner Inn.
Events in Savannah
As with its attractions, there are so many events in Savannah every year that it's difficult to parse a list of must-do activities down. The following events serve as a representation of the wide range of festivities that the city celebrates each year— and there's something for everyone.
Savannah Film Festival
Most prestigiously, the Savannah College of Art and Design hosts the Savannah Film Festival each year in October, which draws in celebrities, filmmakers, and lovers of the arts from around the world. Past attendants include Star Wars' John Boyega, The Handmaid's Tale's Elizabeth Moss, Sir Patrick Stewart, and A Quiet Place's Emily Blunt and John Krasinski! The festival showcases films, documentaries, students' short films, and so much more in a celebration of the arts that only grows in popularity and influence each passing year.
Tybee Island Pirate Festival
For a change in pace from the Film Festival is the jolly merriments of the Tybee Island Pirate Festival! From October 6-9, the streets and beaches of Tybee Island are decked out and overflowing with pirate-themed regalia. There's a costume contest, parade, craft fair, pub crawl, and plenty of kooky things to do for people of all ages. If you've ever wanted to live a pirate's life for a weekend, this is your time to do it!
Savannah Food and Wine Festival
Savannah takes food and wine festivals to a whole other level with its own Food and Wine Festival. In addition to local wine, spirits, and beer tastings, the festival features celebrity chefs, cooking classes, food tastings, and a grand community barbeque designed to unite everyone under traditional Southern hospitality. For lovers of all kinds of food, whether it's comfort or fine dining, this weeklong festival of culinary excellence is not to be missed. All of these incredible sights and so many others are just outside of your door when you rent an RV near Savannah with RVnGO. Where will you go next?