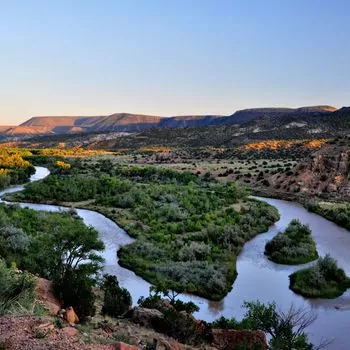 In both its location and its history, Santa Fe is a crossroads where desert plains and canyons meet grassland valleys and snow capped mountain peaks. Where Spanish conquistadores, Mexican villagers, and Pueblo and Plains Native Americans met American settlers moving West. Where the past is celebrated and yet the new is embraced with open arms. In Santa Fe, there's one single promise that encapsulates the entire experience: your mind will explore as much as your body.
Campgrounds and RV Parks near Santa Fe
As a popular destination for RVs, Santa Fe has you well covered. There are RV campgrounds sprinkled all across the city and surrounding towns that can keep you in the center of the action. Or, if you're looking to stay hidden in the heart of New Mexico's wilderness itself, venture a little further out to be surrounded by nature.
Trailer Ranch RV Park /a>
Fifteen minutes from the center of Santa Fe, adults-only Trailer Ranch RV Park is located conveniently in the town of Agua Fria. The grounds support electric 30-15 and 50 amp and are pet friendly, and come with the full range of basic amenities (restrooms, showers, laundry). For hot New Mexico days, the campground's pool will keep you refreshed, and there are trees dotted throughout for shade. The sites themselves are a combination of gravel and grass.
Santa Fe Skies RV Park
Although Sante Fe Skies RV Park is approximately 10 minutes drive from downtown Santa Fe, there's something special about its campsites that keeps people returning. As the name implies, the campgrounds are located beneath the bare skies of New Mexico, with desert plains that reach out towards the distant mountains for miles in all directions. The sites support full electric hook-ups, with restrooms and showers. The grounds feature a walking trail, art sculptures, a dog park, and occasionally music on the main patio.
Pendaries RV Resort
If you prefer to camp out in nature for an entirely remote feel, Pendaries RV Resort in nearby Rociada, New Mexico, is your best bet. The campgrounds are nestled amongst the pine trees in the expansive forest area to the far east of Santa Fe, and make for a perfect base for exploring the wilderness of the various mountain peaks that surround it. The grounds support full electrical hook-ups and are pet friendly; they come with restrooms and showers, hiking trails by Turquoise Mine, and a food truck.
National Parks and State Parks near Santa Fe
Santa Fe's geography is a mirror to the landscape of New Mexico itself. Simultaneously flecked with pine forests and desert canyons, a week's vacation in Santa Fe can bring you the best of both worlds without having to travel more than an hour in any direction.
Pecos National Historic Park
The Pecos Valley is rich with cultural influences from Pueblo and Plains Native Americans, Spanish colonialists, and Mexican settlers. As a result, the park prominently features the ruins of Pecos Pueblo, the rock-and-mud village of the Pueblo tribe, as well as the remains of Mission Nuestra Señora de los Ángeles de Porciúncula de los Pecos. The Pecos Valley also served as the site of the Glorieta Pass Battle during the Civil War. At the park, visitors can learn about all of the historic events and cultures while they explore over 6,000 acres of the park's dramatic plains.
Santa Fe National Forest
Santa Fe's incredible range in biomes extends to its National Forest, where campers can hike through miles of pine-covered mountainous wilderness. The area that it covers is so sprawling, there are four segmented areas within it that each feature their own distinct character. Pecos Wilderness has sloping hills and jagged ridges from the Sangre de Cristo Mountains, San Pedro Parks Wilderness is characterized by grassland valleys and reservoirs, Chama River Canyon Wilderness is recognizable for its towering rock formations and desert rivers, and Dome Wilderness is soaring, grass covered peaks.
Santa Fe Attractions
Not only an incredible geographical intersection, Santa Fe hosts an extraordinary artistic community that's bursting at the seams with dazzling immersive exhibits and museums. Then, after night falls, look to the stars for some of nature's most popular artistic muses.
Visit One Of Santa Fe's Museums
We couldn't name just one; any of Santa Fe's museums are a treat to visit. Santa Fe is a cultural hub for art, in any of its forms, from various communities. To that end, an entire week could be spent exploring the Georgia O'Keefe Museum, or the Museum of International Folk Art, or the New Mexico History Museum, or the New Mexico Museum of Art… you get the point. Plus, after you hit up any of these museums, be sure to check out Canyon Road, home to more than 80 art galleries, studios, designer boutiques, jewelry stores, and restaurants; they're all on one amazing street!
Expand Your Mind with Meow Wolf's Insane Exhibits
For a one of a kind out of this world experience, the Meow Wolf exhibit of Santa Fe is not to be missed! Officially opened in 2016 to popular uproar, Santa Fe's Meow Wolf: House of Eternal Return is a completely immersive, 100% explorable and mind-melting art exhibit with over 70 whimsical rooms to explore. Enter through a stately yet inconspicuously designed house only to find hidden passageways behind the fireplace or inside the kitchen refrigerator that open up into a world of neon blacklights and surreal set designs. The exhibit is a real life Alice in Wonderland experience for people of all ages contributed to by over 70 artists. Pictures, while captivating in their own right, don't do this breathtaking experience justice— it must be lived to be believed.
Discover Stars and Planets with Astronomy Adventures
The night skies of New Mexico are made for stargazing (or catching a glimpse of some unidentified aircraft flying in the night, perhaps). Astronomy Adventures offers people a low-key guide to appreciating Santa Fe's brilliant skies at night through use of its expert staff and its portable Newtonian telescope, so that tours will always go where the season and weather dictates the best skies for gazing.
Events in Santa Fe
Santa Fe is a city that embraces its people entirely, for their cultures, their cuisine, and their struggles– together. To understand what this truly means, look no further than their annual festivals and celebrations.
Sample Local Cuisine with Santa Fe Wine and Chile Festival
You're heard of Wine and Food Festivals before, but what about Wine and Chile? Santa Fe's celebration of local and national wines also appreciates the cuisine of its favorite local restaurants, an unspoken tribute to Santa Fe's Spanish and Mexican heritage. For two days, guests can attend wine samplings and seminars, cooking demos and classes, and, of course, fabulous dinners and lunches throughout set against a beautiful mountain backdrop.
Attend One of Santa Fe's Pueblo Feast Days
All throughout the year, on select days, members of the public are invited to attend Native American tribal feast celebrations that celebrate both the Indigenous culture, its language, history, and religion, as well as its proximity to Catholic tradition. On these days, visitors are allowed to attend a dance and feast prepared by members of the Pueblo tribe. To attend this event is to witness a prayer ceremony, and is considered a privilege extended to people outside of Pueblo life. The Feast Days are an incredible way to honor the Indigenous Peoples of Santa Fe and to come together as a community and learn something new about each other.
Celebrate A New Start with The Burning of Zozobra
Called the original Burning Man, Santa Fe's tradition "The Burning of Zozobra" now draws in up to 10,000 people each year on the Friday before Labor Day. The event is both an acknowledgement of the previous months of hardships and hard work and a celebration of release that comes with turning a new page, so to speak. To do so, a 50-foot tall puppet, Zozobra, is symbolically erected as a boogeyman, a placeholder for people's frustrations and exhaustion. In burning Zozobra before such a crowd, the message is catharsis and resilience— the puppet itself is empty, only air, and in the words of A.W. Denningers, "He never wins." As an event, The Burning of Zozobra brings people together to celebrate joy after grief or fear, and to embrace the freedom of letting go. As a celebration in the face of adversity, there are live performers, food trucks, and a fireworks show to revel in. All of these incredible sights and so many others are just outside of your door when you rent an RV near Santa Fe with RVnGO. Where will you go next?