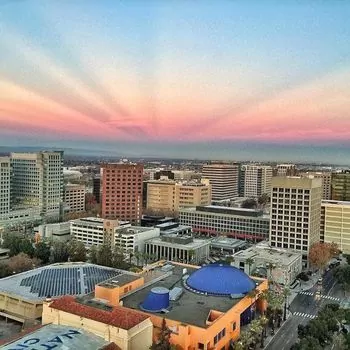 San Jose is California's third largest city, located in Silicon Valley. Home to many tech companies including Google, Apple, Facebook, eBay, Netflix, Yahoo, Intel, Hewlett Packard, Cisco and Tesla, San Jose is a cutting-edge urban destination. The weather is great year-round, and the many sunny days make San Jose a great place to visit, stay, work and play. There are many great restaurant options in San Jose with a wide variety of ethnic cuisine options. Although San Jose is the largest city in Silicon Valley and the Bay area, there are many
hiking trails
 in the city and surrounding the city.
Campgrounds and RV Parks near City
    There aren't many campgrounds or RV parks in San Jose with nightly or weekly space rentals available. The majority of the RV parks in the area rent on a month to month basis and some even have a 2 month minimum stay requirement. While we've included a few options in the San Jose area, you'll want to look at options futher outside San Jose, in areas like Palo Alto, South San Francisco and North San Francisco for more availability. For a list of campsites around San Jose, check out
Reserve California.
  The RV park is located south of San Jose, but offers many amenities is one of the rare RV parks in the area to offer daily and weekly rates. Amenities:77 RV Camping Spots, Pull-thrus (55 feet long), Full hookup - 20, 30 and 50 AMPS, Dump Station, Cable TV hookups, High Speed Internet (Wireless or DSL), Meeting Room (Club), Heated Swimming Pool & Jacuzzi, Restrooms, Showers, Grocery Store, 3 Laundromats, RV Supplies, Basketball Hoop, Propane Service (On Site Propane Delivery Schedule for removable tanks only available at the office).
How to get to Maple Leaf RV Park
  Maple Leaf RV Park, 15200 Monterey Rd, Morgan Hill, CA 95037, (408) 776-1818
  Nestled in a beautiful landscape, Coyote Valley Resort offers many amenities, making it worthy of being called a luxury RV park. Onsite, they have 127 RV sites that they call "Deluxe sites." If you're visiting tech companies in the San Francisco area, the location of Coyote Valley Resort is a convenient location to stay.  Amenities: 127 RV Sites with Full Hook-ups, Electric 100/50/30/20 Amps, Restrooms and Showers, Private patio, barbecue, and sitting area, Propane, Pool, Wifi 
See what people are saying about Coyote Valley Resort
How to get there
  Coyote Valley Resort, 9750 Monterey Road, Morgan Hill, CA 95037 (866) 376-5500
  This RV park is for people who want long-term rentals. Trailertel does not offer daily or weekly spaces. They currently offer RV spaces for 2 month stays or longer. Ammenities:Full Hook-ups, Dumpstation, 30 AMP Service, Swimming Pool, Fitness Room, Laundry Facilities, Car Wash, Wi-Fi.
How to get to Trailertel
  Trailertel, 1212 Oakland Road, San Jose CA 95112, 408-453-3535.
National Parks and State Parks near San Jose
  Located 20 minutes outside of San Jose, this state park offers hiking for all levels. Castle Rock State Park is also popular with rock climbers.
How to get to Castle Rock State Park
Castle Rock State Park, Los Gatos, California 95033.
San Jose Attractions
  An architectural wonder and historic landmark in San Jose that offers tours daily.
Great America Theme Park is a brand-new theme park with waterpark.
This is a very popular shopping mall in the San Jose area.
Open on Saturdays from 9am to 1pm, this is a popular Farmers Market to visit and explore the local fruits and vegetable available for sale.
Located on the Southern Edge of the Santa Cruz Mountains in Uvas Valley, this vineyard features scenic views and award-winning wines from the Central Coast.
One of the oldest wineries in the Santa Clara Valley, Morgan Hill Cellars is located in a beautiful landscape with a tasting room featuring a wide-ranging selection of wines.
The Tech Interactive is a family-friendly science and technology center in the heart of downtown San Jose.
Coyote Creek Golf Club has two Jack Nicklaus Signature Courses. The Valley Course is open to the public. The course is located in Morgan Hill, which offers beautiful views of rolling hills and sweeping meadows.
Events in San Jose
  San Jose is home to many of the largest tech companies in the world and with that, the annual events are eclectic and appeal to a wide range of audiences.
Roses are red – and very popular in the Santa Clara area. That is why this 4th of July Event is called the Rose, White & Blue Parade.  
Every October in San Jose, this film festival is a great opportunity to watch internationally acclaimed short films alongside actors, directors and producers.
  Every year in July, the Gilroy Garlic Festival is the large summer food fest to attend in the area. The heart of the Gilroy Garlic Festival is the world-famous Gourmet Alley. It includes an outdoor kitchen where "Pyro Chefs" put on a spectacular flame-up show while preparing garlic-laced calamari and scampi in huge iron skillets.