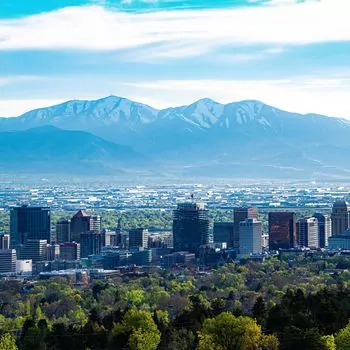 Whether it's a starting point or a stop on a longer itinerary, Salt Lake City, Utah, is a superb destination for an RV vacation. Flanked by the natural treasures of the Great Salt Lake and two mountain ranges, it offers a unique combination of big-city enticements, an intriguing cultural history, and immediate access to the great outdoors. Rent an RV in Salt Lake City and you can go hiking or skiing in the morning, stroll through a world-class art gallery in the afternoon, and roast s'mores on the lakefront at bedtime. About Salt Lake City Salt Lake City is the capital and largest city in Utah, the major hub of a metropolitan area that's home to over 1 million people. It is known for the great natural beauty of its surroundings, namely the Great Salt Lake and the Wasatch and Oquirrh mountain ranges. Salt Lake City became a world-famous destination when it hosted the 2002 Winter Olympics. The numerous ski resorts nearby attract snow-sports enthusiasts from far and wide, while in summer, the mountains are just as appealing for hiking, mountain biking, fishing, and photography. When you rent an RV in Salt Lake City, you get an ideal way to explore the great outdoors, but don't forget to spend some time visiting the top attractions of the city as well.
Campgrounds and RV Parks near Salt Lake City
There are
many great RV parks
in and around SLC, including options close to downtown, on the outskirts of the city, and in nearby wilderness areas. Here are just a few of the most popular places for RV camping in Salt Lake City.
Pony Express RV Resort
Pony Express RV Resort is in North Salt Lake, conveniently close to both downtown SLC and the Great Salt Lake. A variety of site options are available, including sites for big rigs up to 70 feet, so this resort is a great option whether you arrange RV rental, motorhome rental, or camper trailer rental in Salt Lake City. All include full hookups, Wi-Fi, cable, and a picnic table. Guests have access to a heated swimming pool, life-size board games, a general store, laundry facilities, and bike rentals.
Salt Lake City KOA Holiday
Salt Lake City KOA Holiday is just 14 blocks from downtown SLC, and it's even connected to the city's light rail system. The RV park welcomes vehicles up to 80 feet for long-term and short-term stays. Its sites have full hookups, cable and Wi-Fi, and picnic tables. Amenities include a hot tub/sauna, seasonal pool, camping kitchen, ample recreational facilities, café, well-stocked store, laundry facilities, and two RV washes.
Salt Lake City KOA Holiday
Northwest of Salt Lake City, campers will find Salt Lake City KOA Holiday in nearby River Ridge, Utah. The site is 20 minutes from the French Quarter, which a daily shuttle bus takes residents to and from, and offers office and storage space for its guests. There is also a pool, laundry facilities, and fully equipped bathrooms. The site is pet friendly and supports 15-30 and 50 amp electric.
Salt Lake City KOA Holiday
Mountain Shadows RV Park is 18 miles south of Salt Lake City, offering a peaceful setting within easy reach of the city. Its 50- and 60-foot RV sites all have full hookups and free Wi-Fi and are available for daily, weekly, and monthly rates. There is an indoor spa, game room, laundry room, playground, and pool, and the scenic grounds include a natural waterfall.
National Parks and State Parks near Salt Lake City
Many travelers looking for RVs for rent near Salt Lake City are eager to explore the great outdoors and enjoy the remarkable natural beauty of the region. There are more than 60 state and national parks within a few hours of Salt Lake City, including plenty that are under an hour away.
Wasatch-Cache National Forest
Wasatch-Cache National Forest covers a vast wilderness area spanning from Utah to Wyoming, but its popular Wasatch Front district is just 30 minutes outside SLC. The forest offers skiing, snowboarding, and snowmobiling opportunities in winter, and hiking, boating, fishing, mountain biking, and more during other seasons. The national forest also features two National Scenic Byways (Logan Canyon and Nebo Loop) ideal for scenic RV drives.
Timpanogos Cave National Monument
Approximately 45 minutes from Salt Lake City is Timpanogos Cave National Monument. Here, you can explore an incredible underground world of geological wonders. Take a guided tour to venture into caves to admire helictites, crystals, and other unusual underground formations.
Great Salt Lake State Park
Great Salt Lake State Park is one of the best places to enjoy Salt Lake City's namesake. Stop in at the visitor center, book a boat tour on the lake, or take a self-guided tour. The tour route includes an observation deck, Silver Sands Beach, and a fascinating section of the shoreline, along with plenty of information about the lake's unusual habitats. Another must-see spot on the lake is
Antelope Island State Park
, where bison, bighorn sheep, and pronghorn roam free. E-bike and horseback rides are available, offering an unforgettable way to explore the park.
Salt Lake City Attractions
Downtown Salt Lake City has a large concentration of tourist attractions to discover. You might take a tour of the
Utah State Capitol
, built in 1916, or take in the exhibits at the
Utah Museum of Fine Art
. There's more to see, including fossils, Ancient Egyptian artifacts, and Navajo baskets, at the
Natural History Museum of Utah
. Visitors with kids can have lots of fun at the
Discovery Gateway Children's Museum
. Nature lovers can take a pleasant stroll around the
Red Butte Garden and Arboretum
. Relive the spectacle of the Winter Olympics at Olympic Cauldron Park, which has a visitor center and dancing fountain. Salt Lake City has a fascinating history closely intertwined with the history and culture of the LDS Church. Many landmarks in the city showcase these ties, among them
This Is the Place Heritage Park
, which recreates 19th-century pioneer life. Stroll around
Temple Square
to see numerous LDS landmarks, including the Salt Lake Temple (which is not open to the general public except for its visitor center), the Church History Museum, the Salt Lake Tabernacle, and the Family History Library, the largest genealogical library in the world.
Events in Salt Lake City
Salt Lake City hosts a
diverse lineup of annual events
. While you're browsing RV rentals in Salt Lake City, check to see if your planned visit lines up with any of these major happenings. The
Utah Arts Festival
is held in late August in Library Square downtown, a major annual celebration of the arts since 1977. For a full week in June, SLC holds the Utah Pride Festival, the second-largest annual event in the city attracting tens of thousands of people. Pioneer Day celebrations take place for a week around July 24, the anniversary of Mormon pioneers' arrival to the Salt Lake Valley. It includes parades, a rodeo, fireworks, and more. Arrange camper rental in Salt Lake City in September and you might attend the
Utah State Fair
. In January, the city hosts events as part of the
Sundance Film Festival
, while FanX Salt Lake (formerly Salt Lake Comic Con) comes to town in mid-September.