Rent an RV near Rochester, New York
When considering renting an RV near Rochester, New York, you're going to have many different types of RVs, motorhomes, campers and travel trailers to choose from. Depending on the type of trip you are taking to or from Rochester, New York, you'll want to choose an RV for rent that includes the amenities you'll need for you, your friends or family. RV rentals in Rochester, New York are in high demand, especially between Memorial Day weekend and Labor Day weekend, so you'll want to book your RV for rent in advance....
When renting an RV or camper you will need RV Rental protection in case the unthinkable happens. Many people mistakenly believe that their personal auto policy will cover their RV rental only to find out too late that this is untrue. It's likely your Auto Insurance Policy is not going to cover the RV Rental. When you rent an RV on RVnGO.com, RV rental protection is automatically included in your rental. For a low nightly rate, you will receive $1,000,000 in liability coverage and up to $250,000 in property damage coverage. With RVnGO's RV rental protection plans, you can rent an RV with the peace of mind that you are covered in the case something happens on your trip. RVnGO's RV rental protection plans also cover RV owners, in the case something is broken or damaged on the RV during your trip.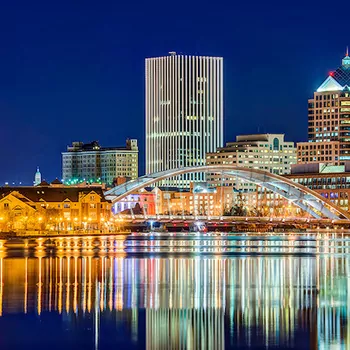 Bordered to the north by Lake Ontario and to the west by Niagara Falls, Rochester, New York, is a hidden gem of a Northern destination. The brightly lit city features museums and dramatic waterfalls in addition to its busy restaurant scene downtown. With lakes and mountains nearby on all sides, the region is perfect for RVing— and don't forget to try the Ice Wine!
Campgrounds and RV Parks near Rochester
For an easygoing unwind in nature, Rochester is located nearby lakefront beaches, wooded hills, and grassy valleys perfect for RVing.
For an immersive nature experience, Whispering Winds Campground has you covered— all 80 acres of it! The grounds hold up to 130 campsites, with three ponds stocked for catch and release fishing, and trails to hike through. Also available on the property is a restaurant and bar for ultimate camping convenience! Whispering Winds Campground is pet friendly and supports full electric hookups.
For direct waterfront access to Lake Ontario, Hamlin Beach State Park offers a classic no frills vacation for RVers. Miles of sandy beach and biking trails intersect the pet friendly park, and a general store with laundry and showers keeps everything tidy. The individual campsites themselves are spacious and come with picnic tables and fire pits.
In nearby Holley, Red Rocks RV Resort is a laidback hidden gem surrounded by woods. The open meadow that hosts the campgrounds is a serene respite from the city, with a pond for swimming and kayaking and a small beach to sunbathe on. Red Rocks is equipped with two playgrounds and a general store for supplies. The park supports full electric hookups and is pet friendly.
National Parks and State Parks near Rochester
Upper New York's stunning natural scenery carries a dramatic, otherworldly quality that nature writers and poets have sought to capture in their works for centuries.
Covered bridges, tranquil lakes, open green fields, and wooded hills make up the vast miles of Allegheny State Park. When hiking through the wilderness, make sure to bring fishing gear and waterproof boots for the streams and rivers that cross through the park.
The rock pathway carved into the cliffside of Robert H. Treman State Park and the view that it trickles down into is nothing short of breathtaking. As if set in Middle Earth itself, the park's Gorge Trail features a winding pathway along rushing water, complete with its iconic arched stone bridge. The gorge's basin is a popular swimming spot beneath a wide, flowing waterfall.
Rochester Attractions
Beyond Rochester's dramatic boardwalk by the water, the city is full of fine dining and shops, with museums and zoos to keep the entire family busy during vacation.
The iconic natural wonders of Niagara Falls are 1.5 hours drive by car from Rochester. In addition to the ferry rides and bridges that take visitors through the gorge, the city of Niagara also hosts a stunning Aquarium, casinos, museums, and more. Plus, the opportunity to hop the border and visit Canada for the day.
The immersive and interactive Strong National Museum of Play is designed with kids in mind and heart. Permanent exhibits range from Skyline Climbs to the Toys Hall of Fame, while visiting collections have included Millennial Madness: The Toys That Shaped a Generation and Material Girl. The museum also features an arcade, butterfly garden, and Imagination Destination.
Set upon 20 acres, the Seneca Park Zoo is a sprawling home to dozens of incredible animals and conservation programs. The zoo fosters youth education through ZooCamp and scout programs, plus Overnight stays at the zoo!
Events in Rochester
The whimsical flowers of spring and sweet wines of winter are celebrated in their seasons by Rochester— sometimes even to the tune of breaking Guinness World Records.
The delicacy of the winter harvest across New York is celebrated annually at the NYS Ice Wine and Culinary Festival in February. During the enchanted evening, the state's wineries showcase their Ice Wines alongside curated tastings and sleigh rides.
The Rochester Lilac Festival is not only an immersive fairytale experience but also a Guinness World Record holder. Over half a million visitors descend upon Rochester's Highland Park to take in the beautiful flowers in their spring glory. Additionally, the park holds dozens of food and craft beer/wine vendors with live music and even an Expo 5K/10K. Where will you RVnGO next?