Rent an RV near Reno, Nevada
When considering renting an RV near Reno, Nevada, you're going to have many different types of RVs, motorhomes, campers and travel trailers to choose from. Depending on the type of trip you are taking to or from Reno, Nevada, you'll want to choose an RV for rent that includes the amenities you'll need for you, your friends or family. RV rentals in Reno, Nevada are in high demand, especially between Memorial Day weekend and Labor Day weekend, so you'll want to book your RV for rent in advance....
When renting an RV or camper you will need RV Rental protection in case the unthinkable happens. Many people mistakenly believe that their personal auto policy will cover their RV rental only to find out too late that this is untrue. It's likely your Auto Insurance Policy is not going to cover the RV Rental. When you rent an RV on RVnGO.com, RV rental protection is automatically included in your rental. For a low nightly rate, you will receive $1,000,000 in liability coverage and up to $250,000 in property damage coverage. With RVnGO's RV rental protection plans, you can rent an RV with the peace of mind that you are covered in the case something happens on your trip. RVnGO's RV rental protection plans also cover RV owners, in the case something is broken or damaged on the RV during your trip.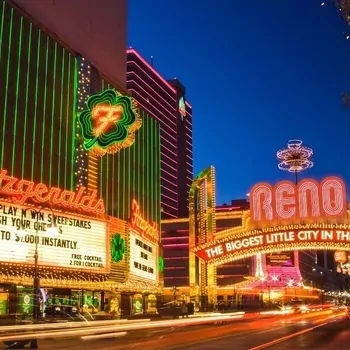 Affectionately self-proclaimed the Biggest Little C ity in the World, Reno is a destination for people that want a little of everything in their vacation. With over a dozen casinos and multiple museums, it has plenty of tourist glam to show off. It sits at a crossroads of natural features, with snow capped mountain peaks that give way to pine trees and crystal clear lakes on one side, and desert prairie on the other. It's both fast paced yet easygoing, and the perfect destination for individuals, couples, and families looking to cut loose.
Campgrounds and RV Parks near Reno
As a major tourist destination in the region, Reno has a wealth of RV campgrounds situated right within the city, next to its biggest attractions, as well as peaceful, remote sites in nature.
River West Resort is conveniently located just outside of the center of Reno, along the banks of the Truckee River. As such, the grass by the river, shaded by the trees, is a tranquil respite from Nevada's desert. The campgrounds support electric 30/20/15 and 50 amp, and are pet friendly. Amenities include showers, restrooms, and laundry facilities.
For those looking to stay close to Reno's attractions, Grand Sierra Resort RV Park gives you bang for your buck; the park is situated just next door to Grand Sierra Resort Casino, as well as restaurants and shops. The park offers a range of basic amenities (shower, restrooms, laundry facilities) as well as the opportunity to use the resort's pool and gym. The grounds support full electric hookups.
Straddling the border between Nevada and California, Reno KOA Journey at Boomtown offers all of the luxury features that KOA is known for. In addition to basic amenities, the park offers planned activities for kids and families, a pool with a hot tub and sauna, and individual gas BBQs and fire pits for each site. The park is located near casinos, shops, and restaurants, and is pet friendly. Located only 10 minutes drive from Reno center, Reno KOA Journey gives travellers the choice to camp surrounded by trees and grass, rather than desert.
National Parks and State Parks near Reno
Less than an hour from one of America's most incredible State Parks, Reno is a dream to visit for its city-by-the-wilderness location.
Less than an hour's drive to the south of Reno are the magnificent shores of Lake Tahoe. Miles of turquoise blue water sheltered beneath pristine Jeffrey Pines covers the idyllic Sierra landscape. A visit to Reno is incomplete without spending at least a day at Lake Tahoe Nevada State Park hiking its trails or kayaking in the basin.
Washoe Lake State Park is an ideal place to visit for watersports. The lake itself is surrounded by sloping mountains on one side and prairie grass on the other, where equestrian facilities can be accessed. The park permits fishing, boating, and camping on its grounds, as well as seasonal hunting.
Reno Attractions
Reno's larger than life character in its mid size frame is most on display with the attractions that call it home. The big little city has a surplus of museums, casinos, shops, and restaurants to boot.
The National Automobile Museum in Reno has over 220 antique cars and motorcycles to its name, including one-of-a-kind vehicles from the private collection of its patron. For those interested in classic cars, the museum is like stepping back through 20th and 21st century American engineering history. Featured at the museum is the winning American entry in the 1908 New York to Paris Auto Race, the Thomas Flyer Automobile.
Over 15 casinos dot the Reno landscape, each one grander than the last— if there's one thing Nevada knows, it's showstopping casinos. For a glitzy night trying your luck at the slots or dining in resort restaurants, check out favorites Peppermill Resort Spa Casino, Grand Sierra Resort and Casino, and Atlantis Casino Resort Spa.
The Nevada Museum of Art, right in the center of downtown Reno, is home to hundreds of works of photography and fine and contemporary art. Collections include Art of the Greater West and Altered Landscape. Exhibits have included Black Wall Street, Georgia O'Keefe: Living Modern, and Helen Glazer: Walking in Antarctica.
Events in Reno
The skies above Reno play a large role in the city's annual events. The natural beauty surrounding the land is part of the celebration in both balloon racing and outdoor theatre.
Hailed as the world's largest free hot-air balloon event, the Great Reno Balloon Race is a beloved weekend tradition in Nevada. In addition to the race itself, the weekend is filled with family activities and exhibits on the lawn of Rancho San Rafael Regional Park.
Set amidst the dramatic backdrop of beautiful Lake Tahoe, the Lake Tahoe Shakespeare Festival sees the great playwright's works performed on a stage like no other. The evening is catered by local restaurants, so that all you have to do is take in the sunset over Lake Tahoe with a bottle of wine, and some of the greatest plays ever written beneath the open sky. Where will you RVnGO next?