Rent an RV near Port St. Lucie, Florida
When considering renting an RV near Port St. Lucie, Florida, you're going to have many different types of RVs, motorhomes, campers and travel trailers to choose from. Depending on the type of trip you are taking to or from Port St. Lucie, Florida, you'll want to choose an RV for rent that includes the amenities you'll need for you, your friends or family. RV rentals in Port St. Lucie, Florida are in high demand, especially between Memorial Day weekend and Labor Day weekend, so you'll want to book your RV for rent in advance....
When renting an RV or camper you will need RV Rental protection in case the unthinkable happens. Many people mistakenly believe that their personal auto policy will cover their RV rental only to find out too late that this is untrue. It's likely your Auto Insurance Policy is not going to cover the RV Rental. When you rent an RV on RVnGO.com, RV rental protection is automatically included in your rental. For a low nightly rate, you will receive $1,000,000 in liability coverage and up to $250,000 in property damage coverage. With RVnGO's RV rental protection plans, you can rent an RV with the peace of mind that you are covered in the case something happens on your trip. RVnGO's RV rental protection plans also cover RV owners, in the case something is broken or damaged on the RV during your trip.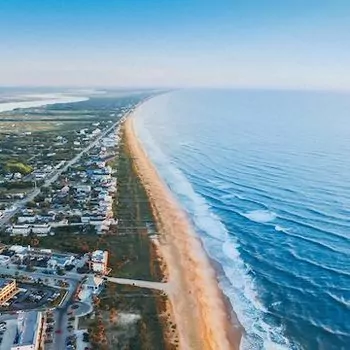 Nestled in the middle of Florida's Treasure Coast, Port St. Lucie is a hidden gem just above famous Palm Beach— without the crowds. Miles of flawless beaches cover the coast, while pastel buildings dotted with palm trees paint the downtown scene in a dreamy hue. With numerous inlets that create mangrove forests and waterways connecting the city, Port St. Lucie has a unique atmosphere reminiscent of Caribbean islands and every bit as welcoming.
Campgrounds and RV Parks near Port St. Lucie
The RV community of Port St. Lucie consists of green fields spaciously laid out beneath palms, and plenty of natural amenities nearby.
Inland from the coast, PSL Village RV Park is a placid meadow of green grass to stretch out on. Individual campsites are spacious and equipped with a picnic table, and the grounds themselves come with a swimming pool, restrooms, showers, and laundry facilities. The park supports full electric hookups and is pet friendly.
Closer to the coast, Port St. Lucie RV Resort similarly offers laidback lodgings with similar amenities. The grounds feature a clubhouse with laundry, showers, restrooms, and tables for use, and a swimming pool. Individual sites come with picnic tables. The park is pet friendly and supports full electric hookups, with a general store across the street for snacks and drinks.
When it comes to luxury during your RV vacation, Motorcoach Resort St. Lucie West is second to none. The park features multiple swimming pools, a golf course, tennis courts, and more! In addition to the basic amenities of showers, restrooms, and laundry, many of the individual sites come with outdoor kitchens beneath tiki huts, including BBQ grills! The park supports full electric hookups and is pet friendly.
National Parks and State Parks near Port St. Lucie
There is no shortage of incredible natural features surrounding Port St. Lucie. In many cases, a single State Park captures a diverse array of habitats that make up the Floridian landscape.
Accessible only by boat, St. Lucie Inlet Preserve State Park is a wonderland of Floridian biomes. Visitors can kayak through mangrove forests and snorkel or surf fish in the turquoise waters offshore. For people looking to get away from the crowds of the main beaches in Port St. Lucie, the quiet golden sand beach of the Inlet is a dream to sunbathe on.
Savannas Preserve State Park offers over 15 miles of hiking trails through diverse habitats. The wetlands are lush with wildlife and exotic plants, best observable up close by canoe, kayak, or paddling. The park also features horseback riding trails for a unique Floridian experience.
Port St. Lucie Attractions
History, setting, and aquatic fun are the main events in Port St. Lucie when its gorgeous beaches aren't stealing all of the glory.
The botanical gardens at Port St. Lucie are an abundant preserve teeming with vibrant flora in every direction. The gardens are free to visitors and open every day of the week, and have exhibits that include: Bamboo Garden, Butterfly Garden, Bromeliad Island Garden, Hibiscus Garden, Orchid Room, Rose Garden, and more!
In addition to Florida's pristine beaches, Port St. Lucie is also home to Sailfish Splash Waterpark to keep children and families cool under the sun. The park features multiple pools, slides, playgrounds, and a lazy river.
The Elliott Museum is an ode to the life and work of inventor and social activist Sterling Elliott, the man that Thomas Edison once called a genius. The museum exhibits include early Elliott bicycles (and the Elliott Hickory Quadricycle), a hydro-aeroplane, ocean science, and an extensive collection of antique cars.
Events in Port St. Lucie
Port St. Lucie throws street parties and food festivals throughout the year in an ode to its community and its Southern flair.
The self proclaimed longest running street party on the Treasure Coast takes place on the first Friday of each month at Fort Pierce City Marina Square. Alongside live music, vendors in the square include food trucks and bartending stations, arts and crafts, face painting, and more!
BBQ lovers flock to the Treasure Coast Ribs and Wings Festival each year in celebration of some delicious Southern style cuisine. In addition to the main event, the festivities also include craft beer tastings, DJed sets, cornhole contests, a family fun zone with rides and activities for kids, and more! Where will you RVnGO next?