Rent an RV near Plano, Texas
When considering renting an RV near Plano, Texas, you're going to have many different types of RVs, motorhomes, campers and travel trailers to choose from. Depending on the type of trip you are taking to or from Plano, Texas, you'll want to choose an RV for rent that includes the amenities you'll need for you, your friends or family. RV rentals in Plano, Texas are in high demand, especially between Memorial Day weekend and Labor Day weekend, so you'll want to book your RV for rent in advance....
When renting an RV or camper you will need RV Rental protection in case the unthinkable happens. Many people mistakenly believe that their personal auto policy will cover their RV rental only to find out too late that this is untrue. It's likely your Auto Insurance Policy is not going to cover the RV Rental. When you rent an RV on RVnGO.com, RV rental protection is automatically included in your rental. For a low nightly rate, you will receive $1,000,000 in liability coverage and up to $250,000 in property damage coverage. With RVnGO's RV rental protection plans, you can rent an RV with the peace of mind that you are covered in the case something happens on your trip. RVnGO's RV rental protection plans also cover RV owners, in the case something is broken or damaged on the RV during your trip.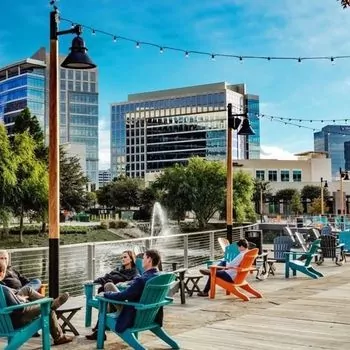 Directly north of Dallas is the increasingly popular city of Plano, once a hidden gem now a destination in Texas in its own right. Nestled between lake regions on either side, Plano features a vibrant and historic downtown scene with plenty of attractions for children and adults. Its annual events are often centered around its bustling community, and the city has a distinctly welcoming spirit when it comes to visitors— largely in part because there's simply so much to do!
Campgrounds and RV Parks near Plano
Although there aren't any RV campgrounds directly within the city of Plano itself, the surrounding lake region has plenty of shoreline to go around.
If being directly on the water is most important during your vacation, then Collin Park Marina is an excellent option. The campgrounds are part of Lake Lavon Park, one of the many shoreside parks in the area, with boat ramps and courtesy docks for visitors. The grounds support full electric hookups, and come with volleyball courts, picnic tables, a horseback riding trail, and more! Collin Park Marina does not allow pets on its campgrounds.
To the northwest of Plano on the shores of Lake Lewisville, Stewart Creek Park has direct access to the waterfront. The campgrounds are situated on the grassy field of the park, with showers and restrooms available. The park also has access to a boat ramp and pier for fishing, plus a sandy beach for swimming and sunbathing. The park supports 30, 20, and 50 amp hookups and is pet friendly.
In nearby Wylie, Lake Hubbard RV Resort is another option for those that are looking to stay near water, about a half mile away. The campgrounds come with laundry, showers, and restroom facilities, in addition to a recreation center with brand new kitchen and appliances and a fitness room. The grounds have plenty of green space, dotted with picnic tables, firepits, and grills for guests to use. Lake Hubbard supports electric 30 and 50 amp and is pet friendly.
National Parks and State Parks near Plano
When staying by Plano, travellers have their pick of gorgeous sand beaches and glittering lakes to choose from. In fact, there are so many parks in the region, that an entire vacation could be spent visiting a new park each day!
Lavonia Park is located to the east of Plano, and features the spacious grass fields and extensive waterfront that the region is known for. At Lavonia Park, visitors can hike, boat, fish, swim, jet ski, and more.
To the northwest of Plano, Little Elm Park is a popular spot with local towns and cities for its gorgeous sandy beach, upgraded playground, and grand volleyball courts. Throughout the summer, crowds flock to the park for water activities and relaxing on the grass, plus annual carnivals held on the lot.
Plano Attractions
The city of Plano is 100% dedicated to engagement. Whether it's with the outdoors through its many natural features and activities, or through fantastic art exhibitions for the family, Plano keeps its visitors busy— and together.
At Oak Point Park and Nature Reserve, the forest is best observed from the canopy. Go Ape Zipline and Adventure Park is a thrilling tree-tops adventure course for ages 10 and up. Ropes courses include ziplines, suspended bridges (of various shapes and sizes), and vertical rope nets to climb. For children and/or teens, a similar ropes course is available with modifiers.
For fans of the tv show Dallas, a visit to Southfork Ranch in Parker, Texas, is a must. Both the original CBS series and its TNT revival were filmed at Ewing Mansion on the ranch, which is open year-round for tours. The ranch itself is picturesque Southern countryside, with horseback riding tours available of the lush grounds. In fact, the mansion, conference center, and grounds are so idyllic, they're a popular location for weddings and other major events.
Take your kids to Crayola Experience Plano for a day of whimsical fun! At Crayola's 60,000 square foot attraction, kids can play in the adventure lab and indoor playground, attend the Crayon Factory Show, take part in kaleidoscope and art exhibits, and so much more. Crayola Experience is committed to bringing out creativity and imagination in children through engaging with art in all of its many forms.
Events in Plano
Community is at the heart of Plano's many festivities, but it's not only for the members of the city itself. The welcoming spirit and hospitality that the South is known for truly shines in Plano's annual traditions.
Oak Point Park is also home to the annual Plano Balloon Festival, an award-winning three day event. At the festival, events include an exhibition of the hot air balloons themselves, alongside live music, a daring parachute performance from RE/MAX of Texas, and a fireworks show at night.
In the historic downtown district of Plano, a one-of-a-kind dining experience occurs for one night only each year. At Night Out on 15th, ticket holders can enjoy a meal outdoors in the middle of 15th street, in the arts district— but it's not just any old meal. For this dinner, the dining table is 300 feet long. As a way to bring together the community, Night Out on 15th is a beloved event catered by a number of participating local restaurants that includes a pre-dinner reception and post-dinner whiskey and cigar tasting. Where will you RVnGO next?