Rent an RV near Philadelphia, Pennsylvania
When considering renting an RV near Philadelphia, Pennsylvania, you're going to have many different types of RVs, motorhomes, campers and travel trailers to choose from. Depending on the type of trip you are taking to or from Philadelphia, Pennsylvania, you'll want to choose an RV for rent that includes the amenities you'll need for you, your friends or family. RV rentals in Philadelphia, Pennsylvania are in high demand, especially between Memorial Day weekend and Labor Day weekend, so you'll want to book your RV for rent in advance....
When renting an RV or camper you will need RV Rental protection in case the unthinkable happens. Many people mistakenly believe that their personal auto policy will cover their RV rental only to find out too late that this is untrue. It's likely your Auto Insurance Policy is not going to cover the RV Rental. When you rent an RV on RVnGO.com, RV rental protection is automatically included in your rental. For a low nightly rate, you will receive $1,000,000 in liability coverage and up to $250,000 in property damage coverage. With RVnGO's RV rental protection plans, you can rent an RV with the peace of mind that you are covered in the case something happens on your trip. RVnGO's RV rental protection plans also cover RV owners, in the case something is broken or damaged on the RV during your trip.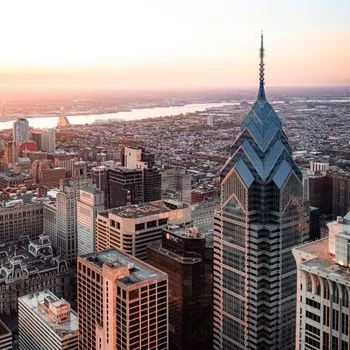 Philadelphia
is known as the City of Brotherly Love. There is a lot to do and see while visiting this historic city. Full of history, culture, and symbolism there is a unique and full environment to have an amazing adventure in Philadelphia.
Camping and RV Parks near Philadelphia
Camping in an RV rental in Philadelphia is a fun way to experience the surrounding area. Make sure your RV rental is parked in a park that allows you to have the best time you can in Philadelphia.
Only 20 minutes away from downtown Philly, you do not need to go far to get to where you want to go. This campsite makes sure while you are on the site, you have plenty of ways to relax and have fun. They provide many games such as cornhole and horseshoes as well as picnic tables and fire pits for smores. This is a great site to stay in your RV rental during your time in Philadelphia.
Located right off of the river, this campsite promises fun and adventure from the moment you arrive till you leave. Enjoy finish, swimming, or kayaking in the river. This park is also conveniently located so you can go see all the attractions and events in Philadelphia that you want.
National Parks and State Parks near Philadelphia
There are beautiful National and State Parks near Philadelphia. It is easy to get caught up in the city, so make sure to get out and into nature. Philadelphia and plenty of state and national parks to visit that are not too far away.
If you are looking to get into a state park but not travel very far, Benjamin Rush State Park is your best bet. This state park is full of hiking, fishing, and even a community garden. This is your quick escape from the city into nature. Enjoy quiet walks around the woodland area and seeing all the sights the park has to offer.
Wissahickon Valley Park is a little further away from Philadelphia. This is a better place for a serious weekend away full of fun and adventure. Enjoy miles of hiking and biking trails that you can go explore the surrounding forest and area. You can also decide to volunteer and help be part of cleaning and preserving the park.
Philadelphia Attractions
There are tons of attractions in Philadelphia that you must check out. Philadelphia is rich in history and culture – so there is always something to do. There are many sites that are famous for their part they played in shaping the history of the US. Make sure to find the attractions you want to go see when in Philadelphia.
The Liberty Bell is one of the most famous historical monuments for US history. This is one of the biggest symbols of American Independence and was said to have rang after the Congressional vote to declare independence from Great Britain. This is a must see attraction when visiting Philadelphia.
The Longwood Gardens used to be tribal land but was reformed to become one of the most visited gardens in the U.S. The beauty and scenic wonder of the gardens are meant to be enjoyed by everyone.
One of the oldest and largest public marketplaces in the US is the Reading Terminal Market. Here you can find delicious and fresh foods and locally sourced ingredients. You can pick up a wide array of kitchen supplies and tools as well. Look around and see the sites and shops and goods that are offered around the market.
Philadelphia Events
There is always something going on in Philadelphia. You can always find the perfect event that will scratch that itch of experience and adventure.
Philadelphia Events
are fun and exciting ranging from the celebration of food, music, history, and everything in between.
The US's largest African-American Cultural Festival happens every year in Philadelphia. This week long celebration attempts to educate people on African American culture. The entire festival boasts the music, dances, performances, and food of African culture. Promoting these beliefs and values helps others gain understanding and acceptance of cultures they may be unfamiliar with.
Philadelphia hosts the nationals oldest and largest week long celebration of Beer in the Country. Make sure to stop by to try some of the top brewed beers in the nation to find your next favorite. Promoting new and uniquely crafted beers is a great way to celebrate the experience of drinking beer.