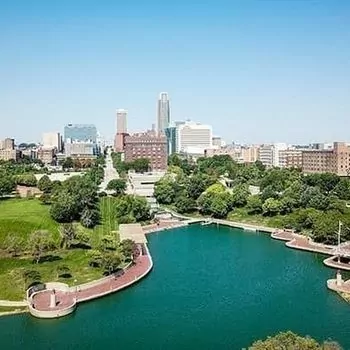 While you cruise America, make a stop in Omaha. According to Culture Trip, Omaha, Nebraska is one of the most underrated cities in America that you've got to check out. Imagine renting an RV and heading to Omaha to see the cobblestone streets and modern skylines. In Omaha, you are spoiled for choice with the many excellent cafes, great cultural restaurants, and nice shops. You will love the culture in Omaha, right from its museums to its parks and gardens. If you decide to rent an RV in Omaha, you have myriad beautiful RV parks to choose from.
Camping and RV Parks near Omaha
Before getting to Omaha, it is helpful to know where you will stay at the end of a long day of exploration. Choose the camping ground according to your itinerary, so you can get close to the Omaha events and attractions you wish to experience. Here are our top choices:
Ashland RV Campground is in the Good Sam Park network and located conveniently only 20 minutes from metro Omaha. The Ashland RV Campground has private showers and restrooms, free WiFi, and a dumping station. This modern campground has large, paved sites, 30/50 amp service, water hookups, dump station, free WiFi, private showers and restrooms. Each site has ample parking, a picnic table and fire pit. A laundry facility is also provided.
This RV park can accommodate vehicles up to 45 feet and you can easily bring your gang of friends to try your luck at the Horseshoe Casino, just a hop and skip away from the park. When you stay at the Horseshoe RV Park, you're just steps away from the 24-hour excitement of the Legendary Horseshoe Casino, the home of the best odds, highest limits and biggest jackpots. We also offer award-winning restaurants and Whiskey Roadhouse, a uniquely-intimate venue featuring some of the biggest names in music. Horseshoe Casino RV Park offers water and electric hookups, shower house, laundry facilities, and dump station.
The Walnut Creek Lake and Recreation Area is a 450-acre mixed-use recreation area with a 105-acre reservoir. This is an RV park and camping site situated in suburb of Omaha. This is the park for you if you need a bit of peace and quiet after an exciting day exploring the town. Relax by the serene Walnut Creek lake or walk along one of the many trails. The kids can enjoy the playgrounds while you grab dinner at one of the shops nearby. Walnut Creek is unique, as it is a "pack in, pack out" facility. No trash service is offered in the park; you are responsible for removing any trash you generate during your visit, thus leaving the cleanliness of the park up to you, the user. It offers 44 electric sites (30 or 50 amp hook ups), city water available, dump station, 55 feet concrete pads, paved roads, first come first serve, $16 per night with a 2 week limit.
National Parks and State Parks near Omaha
While cruising America along the highways in your RV rental in Omaha, you will find some must-stop sites all within a day's trip. There's fun for the entire family in Omaha, Nebraska. Whether you're traveling alone, as a couple, or with children, everyone will find something they love to do here!
Two Rivers State Recreation Area offers Electric Plus, Electric, Basic, and Basic Equestrian camping. They have great picnicking, swimming, camping, and fishing activity areas. Two Rivers offers 143 camping pads with 20-, 30- and/or 50-amp electrical hookups (12 pads have water hookups), as well as 64 camping pads without electricity. Additionally, one ADA electrical site with water hookups and one ADA non-electrical padded site are available. The area offers modern restrooms with showers and a dump and fill station. Camping reservations are available up to one year in advance of arrival for half of the electrical campsites. All other camping is first-come, first-served. All campers should check in at the park office upon arrival. For those camping without reservations, please go to park office upon arrival to check availability and register to camp.
This modern state park is the perfect year round destination for a family escape. Families can visit the aquatic center and indoor playground, explore the park's hiking and biking trails, adventure through the treetop ropes course, climb the observation tower and, when the weather turns cold, enjoy indoor rock climbing, sledding and ice skating. You can visit the aquatic center and enjoy the hiking and biking trails. Enjoy climbing? Get the adrenaline pumping when you adventure through the treetop ropes course. Or opt for rock climbing, indoors. You can even go sledding and ice skating at this state park. The jewel of the park is Peter Kiewit Lodge, which offers 40 guest rooms, most with balconies that offer a stunning view of the Platte River valley.
Spirit of Nebraska's Wilderness consists of 67 bronze and stainless steel works by Kent Ullberg, N.A., F.N.S.S., of Corpus Christi, Texas. His site occupies the Bank properties on all four corners of the 16th and Dodge intersection as well as works on 15th Street. This wildlife monument includes 3 bulls standing at 8' and weighing nearly 1,400 pounds, several yearling bulls, and 2 cows with their calves, as well as a large water feature with 8' Canada Geese in bronze taking flight. As the geese fly across the street they are attached to 18' bronze trees, a traffic signal, the corner of a building, a light post, 2 other poles, and culminate with several stainless steel geese suspended within the glass atrium of the Bank's headquarters. Each of these works has been strategically placed to engage visitors, particularly children, as they pass.
Omaha Attractions
Omaha is a city in the U.S. state of Nebraska, on the Missouri River close to the Iowa border. A stop on the Lewis & Clark National Historic Trail, it's known for its pioneer history, museums and cultural centers. The Henry Doorly Zoo and Aquarium spearheads conservation work and features a big cat complex as well as indoor jungle, rainforest and desert habitats. There are tons of attractions in Omaha that will be fun for the whole family. If you're on the search for unlimited fun and adventure, then you have come to the right place! From activities that get your heart rate up to experiences that only require you to sit back and put your feet up, you'll never have to wonder what to do next. There really is no wrong time to plan an RV trip to Omaha, Nebraska, but you can always plan your trip around specific Omaha events.
Beautiful architecture blends with memories of a time gone by at The Durham Museum. Making its home in one of Omaha's most unique treasures, Union Station, The Durham Museum offers a fascinating look at the history of the region and offers a broad-range of traveling exhibits covering subjects ranging from history and culture, to science, industry and more through our affiliation with the Smithsonian Institution and strong ties with the Library of Congress, National Archives and the Field Museum.
The Park is currently offering limited visits at this time. Please check our Facebook page to reserve a time. It is located in the beautiful hills of Fort Calhoun, Nebraska on 13 acres of mixed grassland and woods. This is a working ranch, so visit are based on staff availability.
Enjoy unique wines while taking in the views of beautiful Ashland, Nebraska. A local favorite, Cellar 426 offers live music, light snacks and plenty of scenery. Cellar 426 sits high on the hill with 360 degrees of breathtaking views. Cellar 426 invites guests to enjoy a relaxing visit while tasting Award Winning Nebraska-crafted wines in a beautiful tasting room designed with the comfort and warmth of a modern lodge.
Omaha Events
For events, you will never run short of options in Omaha! There is everything for everyone, with both seasonal and yearly events. There really is no wrong time to plan an RV trip to Omaha, Nebraska, but you can always plan your trip around specific Omaha events. Omaha special events bring in visitors throughout the year to experience a variety of festivals, sporting events, and celebrations.
Joslyn Art Museum was a generous gift to the people of Omaha from Sarah H. Joslyn (1851–1940) in memory of her husband, George A. Joslyn (1848–1916). New Englanders George and Sarah Joslyn came to Omaha in 1880. The Museum's collection has grown to include over 11,000 works representing artists and cultures from antiquity to the present. The Joslyn Art Museum is internationally recognized for its collection of artists and explorers of the American West, including major holdings by Alfred Jacob Miller and nearly 400 watercolors and drawings by Swiss artist Karl Bodmer, who journeyed up the Missouri River between 1832–34 to portray the landscapes of the high plains and its native inhabitants. It also has garden yoga sessions every Sunday morning in August and September. They also have various live music festivals, art discussions and art films being played, all through the year.
MAHA Festival is an annual celebration of music and discovery. With live music and a variety of cuisines up for the tasting, it's a memory you will savor for a long time. Focused on bringing people together. The festival curates and produces cultural experiences with the goal of positively impacting our home city, Omaha. Since the start, Maha has welcomed more than a hundred music acts, dozens of speakers, and attendees from all 50 states, all fueled by a dedicated group of hundreds of amazing volunteers.