Rent an RV near Newport, North Carolina
When considering renting an RV near Newport, North Carolina, you're going to have many different types of RVs, motorhomes, campers and travel trailers to choose from. Depending on the type of trip you are taking to or from Newport, North Carolina, you'll want to choose an RV for rent that includes the amenities you'll need for you, your friends or family. RV rentals in Newport, North Carolina are in high demand, especially between Memorial Day weekend and Labor Day weekend, so you'll want to book your RV for rent in advance....
When renting an RV or camper you will need RV Rental protection in case the unthinkable happens. Many people mistakenly believe that their personal auto policy will cover their RV rental only to find out too late that this is untrue. It's likely your Auto Insurance Policy is not going to cover the RV Rental. When you rent an RV on RVnGO.com, RV rental protection is automatically included in your rental. For a low nightly rate, you will receive $1,000,000 in liability coverage and up to $250,000 in property damage coverage. With RVnGO's RV rental protection plans, you can rent an RV with the peace of mind that you are covered in the case something happens on your trip. RVnGO's RV rental protection plans also cover RV owners, in the case something is broken or damaged on the RV during your trip.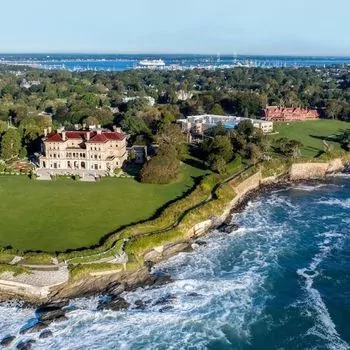 Although Rhode Island is the smallest state in the US, its southern bay peninsulas and islands are a treasure trove of hidden New England gems. The city of Newport was once the summer home of 20th-century America's richest families, and the staggering luxury of the seaside mansions open for tours is like a step back in time to visit. Although small in size, Newport is filled to the brim with rock and sand beaches, miles of street shopping, and classic New England charm.
Campgrounds and RV Parks near Newport
As a continuation of southeastern Massachusetts' "farm coast," Newport is tucked alongside quiet green pastures and sandy coves. Although RVing inside the city directly is difficult, there are plenty of parks only minutes away from Newport's main attractions.
Across the bay from Newport by a 12 minute drive, Fort Getty Park & Campground is located in Jamestown, Rhode Island, and overlooks the water. The laidback park is pet friendly and supports electric 30/20/15 amp. Showers and restrooms are available, as well as firepits and picnic tables. For a peaceful, easygoing RV experience with water views and a quick drive to the city center, Fort Getty is a great choice.
Bordering Newport to the east is Middletown, where Second Beach Family Campground is situated. As the name implies, Second Beach is nestled right between lush green field and a white sand beach only steps away from the campground. The camp offers guests direct access to the beach, along with restrooms/showers, picnic tables, a community firepit, and a swingset for children. Second Beach Campground is not pet friendly.
Closest to the city central, Meadowlark Mobile Home and RV Park is 2.5 miles from Newport and surrounded by green fields and trees on all sides. The grounds support electric 30/20/15 amp and are pet friendly, with a large field on the property for picnics and relaxing. The park doesn't provide restrooms/showers. However, the main amenity that Meadowlark offers is that it's minutes from Newport's beaches and mansions.
National Parks and State Parks near Newport
All along the peninsula that Newport calls home are miles of rugged shoreline and green fields that characterize New England. The region is also a popular spot for swimming and sunbathing on the sands of Newport Beach.
In the southeasternmost tip of Aquidneck Island is Brenton Point State Park, surrounded on all sides by rocky coast. Overlooking Narragansett Bay, Brenton Point is perfect for picnics on its green lawns and kites on windy days. The crashing of waves against its shore is a dramatic backdrop that has made the scenic park a popular wedding venue for visitors.
To the east of Newport is Sachuest Point, home to its National Wildlife Refuge. The park includes vast marshes and steep, rocky coastline, with miles of trails intersecting the various reaches of the refuge. Sachuest Point is a very popular spot for birdwatching in particular.
Newport Attractions
Newport's historic district was once the summer playground for America's richest families. Opulent mansions, miles of cliffside trails, and a bustling shopping and restaurant district make it easy to see why.
In the early 1900s, Newport was a summer escape for railroad tycoons and silver heiresses. Along the coastline of the city are the grand, extraordinary mansions of these 20th century magnates that are open for tours throughout the year. Most famous among them are the Breakers, built in 1893 by Cornelius Vanderbilt II with over 70 rooms, and Rosecliff, built in 1902 and featured as the primary mansion in 1974's The Great Gatsby. These mansions and many others overlook acres of vast, blue Atlantic coast and sprawling green lawns, and make for a whimsical day trip in the city.
The gorgeous 3.5 miles of coast that compromise Newport's Cliff Walk is an official National Recreation Trail and a must-do for anyone visiting Aquidneck Island. The trek along Newport's coast passes by Salve Regina University and multiple mansions, including the Breakers, and takes approximately 2.5-3 hours to complete in its entirety. Parts of the trail pass through rocky beaches with overgrown bushes in spots, and others stop by pristine sand and historic neighborhoods. However, there are multiple entry and exit points throughout the walk so that it doesn't have to be completed all in one day.
Summer in Newport sees crowds flock to its historic Thames Street district for shopping and incredible seafood restaurants. Nearby the street itself is a ferry that takes people to Block Island, whose dramatic cliffs, pristine beaches and turquoise waters remain a hidden gem within New England. A walk from Thames Street heading North reaches the historic and well maintained Jane Pickens theater, and eventually the start of the Cliff Walk.
Events in Newport
Newport is all about leisure out in the sun, whether it's taking in music festivals, food trucks on the wharf, or international sports tournaments.
Downtown Newport is also home to the International Tennis Hall of Fame, which is open for visitors throughout the year. What's more, each year in July, the Fall of Fame Open hosts an international tournament that takes place directly after Wimbledon that 32 players take part in after an induction ceremony to open the games. For fans of the game, this event is not to be missed.
Newport celebrates New England's famous seafood cuisine in May with the annual Oyster and Chowder Festival at Bowen's Wharf. On this day, crowds pack into the marina to sip on champagne and sample an endless amount of oysters from local Rhode Island farmers. The event also features live music and an open bar.
During the last weekend in July, Newport's Fort Adams State Park is transformed into a lively celebration of all things jazz. At the Newport Jazz Festival, concerts are held on the main stage while the grounds of the park are covered with vendor stalls, food trucks, and other exhibits for guests to take part in. Where will you RVnGO next?