Rent an RV near Newark, Delaware
When considering renting an RV near Newark, Delaware, you're going to have many different types of RVs, motorhomes, campers and travel trailers to choose from. Depending on the type of trip you are taking to or from Newark, Delaware, you'll want to choose an RV for rent that includes the amenities you'll need for you, your friends or family. RV rentals in Newark, Delaware are in high demand, especially between Memorial Day weekend and Labor Day weekend, so you'll want to book your RV for rent in advance....
When renting an RV or camper you will need RV Rental protection in case the unthinkable happens. Many people mistakenly believe that their personal auto policy will cover their RV rental only to find out too late that this is untrue. It's likely your Auto Insurance Policy is not going to cover the RV Rental. When you rent an RV on RVnGO.com, RV rental protection is automatically included in your rental. For a low nightly rate, you will receive $1,000,000 in liability coverage and up to $250,000 in property damage coverage. With RVnGO's RV rental protection plans, you can rent an RV with the peace of mind that you are covered in the case something happens on your trip. RVnGO's RV rental protection plans also cover RV owners, in the case something is broken or damaged on the RV during your trip.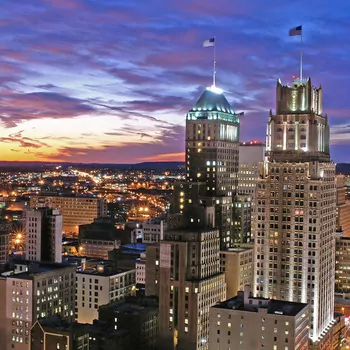 Newark is the beating heart of culture within New Jersey that tends to get overshadowed by its flashy neighbor. Despite this, its music and arts festivals and roots that are laid deep within American history continue to draw more and more people to the city each year. Moreover, Newark's cherry blossom parks and extravagant indoor theme park have put it on the map as a destination for families that can't be missed!
Campgrounds and RV Parks near Newark
When it comes to RVing in the region, one park has got everyone covered and been proudly serving visitors for years.
Located along the water of the Hudson River and across from Liberty State Park, Liberty Harbor RV Park is conveniently situated between Newark and Manhattan island. The park supports electric 30/20/15 and 50 amp, and is pet friendly. Amenities include restrooms, showers, and laundry facilities. There are nearby restaurants right down the road, plus Liberty State Park to stretch out in next door!
National Parks and State Parks near Newark
Although Newark's main park gets all of the glory for its incredible views, travel just a little further south for a true hidden gem within the New Jersey coast.
The backdrop of Liberty State Park is nothing short of legendary. The iconic Manhattan skyline, as well as Ellis Island and the Statue of Liberty, are all dramatically visible from Liberty State Park's bluff. The park itself is lined by the Hudson River, and features a large expanse of green space to enjoy the view from.
South of Newark by a 40 minute car ride, Cheesequake State Park is a natural respite from the bustle of the city. Cheesequake showcases the region's diverse geography through its hiking trails, stretching through marshes and woods alternately. At the center of the park, visitors can swim and sunbathe on the sandy shore of Hooks Creek Lake in the summer.
Newark Attractions
Not to be outdone by its neighbors, Newark boasts of a rich history vitally important to life as Americans know it today. For lovers of architecture and thrilling experiences, Newark's attractions are top notch.
Visiting Thomas Edison National Historical Park is to step back in time through history. The park includes both Edison's residence and his laboratories, the latter of which has been incredibly preserved over the years. Visitors can tour the laboratory building that operated for over 40 years, complete with Edison's library, machine shops, and other exhibits.
The fifth largest cathedral in the US is situated right within Newark— Cathedral Basilica of the Sacred Heart. The towering, pristine white stonework lends the cathedral an otherworldly presence to behold whether you're religious or a lover of history and architecture. The cathedral is open for visiting and private prayer throughout the week, and guided tours are available on the first Sunday of month.
This indoor theme park is a veritable wonderland for children to spend the day in. The Nickelodeon Universe Theme Park is so vast and filled with things to do, it actually occupies the title of the largest indoor theme park in the Western Hemisphere! This means tons of rollercoasters and other thrill rides, plus blacklight mini golf, an ice skating rink, the Sea Life Aquarium, and even a Dream Works Water Park all within the glass dome.
Events in Newark
Newark is a hub within New Jersey for cultural activity. Its festivals are a celebration of the diversity in its population and its natural features, the latter of which may come as a surprise.
Newark's Branch Brook Park is home to over 2,700 beautiful cherry blossom trees. In April, when the trees bloom, the park is transformed into an extraordinary world of pink and white that draws thousands of visitors each year. To celebrate the cherry blossoms, simply head out into the park with your family and find a spot on the grass to relax and have a picnic in. Food trucks and live music accompany this blissful day.
Newark is also the site of one of the largest free, outdoor music festivals in the US. The Lincoln Park Music Festival is attended by approximately 60,000 people each year in an event that celebrates African American music, art, and culture. The main stage hosts Gospel, RnB, Hip Hop, and House music, while exhibitions nearby promote local African American artists, poets, and film creatives. Where will you RVnGO next?