Rent an RV near Modesto, California
When considering renting an RV near Modesto, California, you're going to have many different types of RVs, motorhomes, campers and travel trailers to choose from. Depending on the type of trip you are taking to or from Modesto, California, you'll want to choose an RV for rent that includes the amenities you'll need for you, your friends or family. RV rentals in Modesto, California are in high demand, especially between Memorial Day weekend and Labor Day weekend, so you'll want to book your RV for rent in advance....
When renting an RV or camper you will need RV Rental protection in case the unthinkable happens. Many people mistakenly believe that their personal auto policy will cover their RV rental only to find out too late that this is untrue. It's likely your Auto Insurance Policy is not going to cover the RV Rental. When you rent an RV on RVnGO.com, RV rental protection is automatically included in your rental. For a low nightly rate, you will receive $1,000,000 in liability coverage and up to $250,000 in property damage coverage. With RVnGO's RV rental protection plans, you can rent an RV with the peace of mind that you are covered in the case something happens on your trip. RVnGO's RV rental protection plans also cover RV owners, in the case something is broken or damaged on the RV during your trip.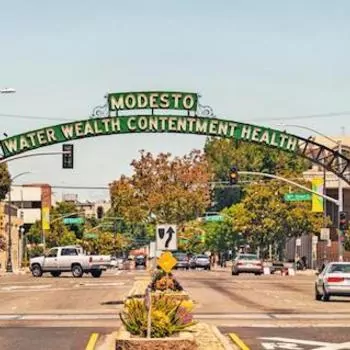 Lively food truck festivals and outdoor events and activities make Modesto a dynamic place to visit. Under two hours away from one of America's most beloved National Parks, Modesto is situated by numerous waterways and rolling hills to traverse by foot or raft. With amusement parks and historical buildings in downtown, the lesser known central Californian city is a hidden gem for RVers looking for a little of everything in their trip.
Campgrounds and RV Parks near Modesto
Scores of water reservoirs and rivers intersect the land surrounding Modesto, and its RV campgrounds take full advantage.
East of Modesto, the vast expanse of Modesto Reservoir hosts over 150 RV sites. Blue waters set against a backdrop of golden grass are the view from the campgrounds, which support electric 30 amp. The campgrounds come with restroom and shower facilities and are pet friendly.
In a departure from the golden shores of Modesto Reservoir, Caswell Memorial State Park is a lush green respite from the California sun. The campgrounds are hosted near the Stanislaus River, and have water access at multiple points. The campgrounds are pet friendly and support full electric hookups, with restrooms, showers, and laundry facilities.
Turtle Beach RV Resort is located on the tranquil green meadow by the San Joaquin River. The campgrounds feature gently rolling slopes beneath mature trees, dotted with picnic tables and spacious campsites. The campgrounds are pet friendly and have direct access to the beach and waterfront. The campgrounds support full electric hookups.
National Parks and State Parks near Modesto
Although a number of State Parks are reachable nearby Modesto, there's none that compare to the incredible natural features a day trip's length away.
Two hours drive East from Modesto brings you to the seat of one of America's most extraordinary National Parks. The Father of Modern Conservation, John Muir's beloved Yosemite National Park is unparalleled in its beauty. The towering summit of El Capitan and the miraculous glow of Firefall are sights that must be on every American's bucket list to be taken in person one day.
Modesto Attractions
Amusement parks and historical exhibits from 1800s California are on display in the Modesto region.
For a day of family fun, Boomers Modesto in nearby Salida has everyone covered. The amusement park features thrill rides, go-karts, batting cages, a laser tag course, mini-golf, bumper cars, and an over the top, state of the art arcade.
At Tuolumne River Regional Park, there's more to do than lay out in the sun. Although the park also features hiking trails and picnic spots, its main attraction is the white water rafting available on stretches of the Tuolumne River.
In downtown Modesto, visitors can step back in time through the McHenry Museum. A collection of exhibits including a county recorder's office, an old time general store, and a blacksmith's shop are hosted alongside gold mining paraphernalia and other historical artifacts from Californian history.
Events in Modesto
Come to Modesto hungry and ready to spend the day in the park with the locals for its Independence Day celebration and more.
Fans of french fries must attend Modesto's Annual Motown Fry Fest! For one day only, local chefs compete to create the ultimate loaded fry, while live music and craft beers and cider keep everyone 21+ refreshed throughout the day.
Modesto celebrates Independence Day in downtown with a parade and All American Festival, featuring live music, games/activities for children, crafts, and food trucks. Then, of course, a fireworks show at night caps off a day of good old fashioned patriotism. Where will you RVnGO next?