Rent an RV near Minneapolis, Minnesota
When considering renting an RV near Minneapolis, Minnesota, you're going to have many different types of RVs, motorhomes, campers and travel trailers to choose from. Depending on the type of trip you are taking to or from Minneapolis, Minnesota, you'll want to choose an RV for rent that includes the amenities you'll need for you, your friends or family. RV rentals in Minneapolis, Minnesota are in high demand, especially between Memorial Day weekend and Labor Day weekend, so you'll want to book your RV for rent in advance....
When renting an RV or camper you will need RV Rental protection in case the unthinkable happens. Many people mistakenly believe that their personal auto policy will cover their RV rental only to find out too late that this is untrue. It's likely your Auto Insurance Policy is not going to cover the RV Rental. When you rent an RV on RVnGO.com, RV rental protection is automatically included in your rental. For a low nightly rate, you will receive $1,000,000 in liability coverage and up to $250,000 in property damage coverage. With RVnGO's RV rental protection plans, you can rent an RV with the peace of mind that you are covered in the case something happens on your trip. RVnGO's RV rental protection plans also cover RV owners, in the case something is broken or damaged on the RV during your trip.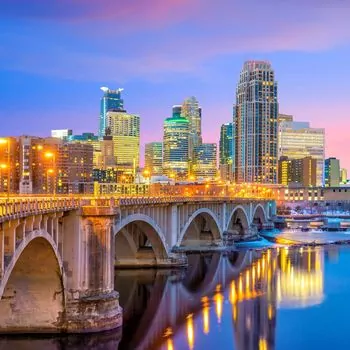 Section: Lead Content (3 -5 Campgrounds and RV Parks) The great Minneapolis of Minneapolis is a major Minneapolis in Minnesota that is one of the "Twin Cities" with the neighboring Minneapolis of St. Paul. Divided by the Mississippi River, it's known for its parks and lakes. Minneapolis is also home to many cultural landmarks. You will definitely enjoy your RV rental in the Twin Cities area.
Campgrounds and RV Parks near Minneapolis
Pack your mountain bike and skis as well as your fishing rods and hiking shoes to take advantage of scenic bike paths, cross-country skiing trails and, the Minneapolis's main lakes. There are plenty of RV friendly campgrounds, RV Parks and RV Resorts to accommodate your trip.
Town & Country RV Park and Campground
Offering more than 80 campsites nestled in the quiet Minneapolis suburb, this RV Park delivers a delightful campground facility geared towards a relaxing family experience for the RV Renter. You will enjoy the comforts of a full RV hook-up, and have a peaceful and relaxing get-away when you visit. Some of our amenities: • 50 Full Hook-up Sites – includes capability for big rigs • 35 Electric and Water Sites • 16 Tent Sites (electric and water available) • 20/30/50amp sites available • Cable TV available • Heated Saltwater Pool • Restrooms and showers • Remodeled Game Room • Laundry Facility
Click Here
to learn more.
Dakotah Meadows RV Park
This is the Twin Cities premier RV Park. It's an ideal destination when you rent an RV. Located by the scenic Minnesota River Valley, just steps away from Mystic Lake Casino. Convenient for when you are feelin' lucky. You're also close to Mall of America and a short drive away from Valleyfair. Along with the standard amenities you would expect, they offer: • Self Serve RV Wash • Fuel Station • Free Shuttle service to Mystic Lake Casino and Little Six Casino Get more info on their website
Here
St Cloud/Clearwater RV Park
For an RV Park further away to reconnect with nature and the family, we have your spot. Rent an RV and get park that Rig here. This resort is easily accessible from the freeway and offers the standard amenities. Get more details
here
National Parks and State Parks near Minneapolis
Minnehaha Regional Park
Enjoy one of Minneapolis' oldest regional parks. Get breathtaking views of limestone bluffs, river overlooks and an iconic 53-foot waterfall. The park also hosts music and movies at the park in addition to biking paths, hiking paths, Disc Golf, picnic and playground areas and a place for your dogs to play. When the family gets hungry you can try the Sea Salt Eatery.
North Mississippi Regional Park
Soak in spectacular views of the Mississippi River. There is plenty to see and do for the entire family from hiking to kayaking and nature classes while taking in nature's beauty. Park your RV Rental here and put on your hiking shoes or swim trunks. Explore the expansive wildlife area and see all sorts of animals, watch for deer, fox, beavers, otters and birds such as bald eagles, red-tailed hawks, waterfowl and wading birds.
Fort Snelling State Park
Imagine driving your RV Rental into this pristine state park. Located in the heart of the Twin Cities, this park offers extensive hiking, bike, snowshoe, and ski trails that link to an extensive regional trail system that the entire family will enjoy. Spend some time on the lake or take a hike on Pike Island. **Note that this is a DAY USE ONLY PARK.
Minneapolis Attractions
Looking for attractions and things to do around Minneapolis that are friendly for your RV Rental? Don't worry about where to park the RV. There are many options available for you.
Minneapolis Mall of America
Yeah… Ya didn't drive your RV to Minneapolis just to go to a mall. This isn't just a mall you are accustomed to. It's not just one of the largest malls in America, Mall of America hosts more than 400 events a year, ranging from concerts, to celebrity appearances and fashion shows. Be sure to check their calendar for events and plan your RV Rental around a favorite concert or show.
Minneapolis Institute of Art
There is always something new to see and do at the Institute of Art. Since 1883 MIA has been bringing art to the community. MIA's permanent collection has grown from 800 works of art to more than 89,000. If you are an art lover, park your RV rental and spend a day surrounded by history and beautiful artwork. The best part is The Minneapolis Institute of Art is a free museum operated for the benefit of the general public.
Mystic Lake Casino
Follow the lights to Mystic Lake Casino for a fun night of entertainment without the kids. Owned and operated by the Shakopee Mdewakanton Sioux Community (SMSC), this entertainment Meca is more than a casino, you can also enjoy free entertainment and concerts. The special thing about Mystic Lake is their ongoing, fantastic lineup of events. Attracting top name entertainers for concerts, comedy shows, paint parties, exclusive deal nights and more fill their calendar, along with championship golf course and a luxurious spa and excellent restaurants, so there's always something new and exciting to boost your weekend.
Kerfoot Canopy Tour
Inspired by legendary Northwoods pioneer Justine Kerfoot, this zip line adventure is an incredible experience and great way to connect with nature reaching up to 175 feet high. They also offer a High Ropes Course Adventure with 45 different challenges 50 feet above the ground and a 170 foot suspension bridge over the Minnesota River Valley. This will be an awesome thrill for the kids and surely unforgettable. Everyone will be talking about it in your RV Rental the whole rest of your vacation.
Events in Minneapolis
There are many events around Minneapolis that are friendly for the RV Rental. So ya don't need to worry about where to park the RV. You can either stay at one of the RV Parks and rent a car for short trips or many venues accommodate those who own or rent an RV and come to their events. Naturally, events change throughout the year and with each season and every community is different. Below are a couple of events that make Minneapolis special.
Twin Cities Annual Auto Show
For the auto enthusiast, the Twin Cities Auto Show is well worth the drive. Worried about parking your RV Rental? Reserve your spot early. Every year you will get to see and touch the latest vehicles to hit the market featuring exotics, domestics, hybrid cars, luxury sedans, trucks, crossovers and SUVs. Get first glimpse at the new models and what is coming in the near future.