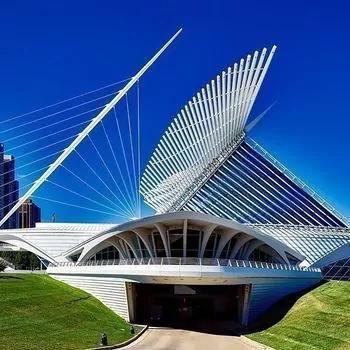 While you cruise America, make a stop in Milwaukee. If you are on an RV road trip to Wisconsin, take some time to visit Milwaukee. In some corners of the city, you can still feel the echoes of the 1800s from its early days as a mostly German farming settlement. Modern-day Milwaukee is now an exciting multi-cultural metropolis. If you decide to rent an RV in Milwaukee, you have myriad beautiful RV parks to choose from.
Camping and RV Parks near Milwaukee
Before getting to Milwaukee, it is helpful to know where you will stay at the end of a long day of exploration. Choose the camping ground according to your itinerary, so you can get close to the Milwaukee events and attractions you wish to experience. Here are our top choices:
The best location to explore Milwaukee with your RV rental is the State Fair RV Park. In this urban setting near the I-94 corridor, you will be minutes from Milwaukee's most well-known attractions. It is the ONLY RV Park in Metro Milwaukee, and it is open year-round! This pet-friendly RV park has 70 full-service hookup sites, electric and water sites, electric-only sites (20/30/50), with pull-throughs and back-ins available. As one of the only year-round RV campsites in the area, amenities include men's and women's showers, laundry, restrooms, propane and water stations, and dump stations.
Located 15 miles south of Milwaukee, Jellystone is a large recreational RV resort loaded with outdoor activities. With seasonal availability May through October, the amenities here include mini-golf, archery, horseshoes, an enclosed dog park, laundry, ATM, Yogi Bear's Water Zone with pools and a water slide, pedal carts, jumping pillows, and a baseball diamond. Experience family camping at its finest. The beautiful campground includes a variety of campsites, perfect for the whole family including fun Theme Weekends and events! RV campers can choose from 223 total spaces, including gravel, grass, pull-throughs, and back-ins. Most of the sites have water, electricity, and Wi-Fi that supports streaming. You can explore other RV campsites in Southeastern Wisconsin with your RV rental on your way to and from Milwaukee.
Timber Trail contains spacious campsites providing unusual privacy beneath a canopy of maple and beechwood trees. They are geared toward family camping with an emphasis on fun, 120 acres of fun. The picturesque hiking trails are included as part of the Kettle Moraine Ice Age Trail. The amenities include a swimming pool, 30 – 50 Amp Full Hook ups, hot clean showers, and laundry facilities. They have a dumping station and hiking and fishing.
National Parks and State Parks near Milwaukee
While cruising America along the highways in your RV rental in Milwaukee, you will find some must-stop sites all within a day's trip. The Wisconsin State Park System has nearly 156,000 acres of land available for visitors to enjoy. Nature provides beautiful backdrops during any season at any of the state parks, forests, recreation areas and trails. There's fun for the entire family in Milwaukee, Wisconsin. Whether you're traveling alone, as a couple, or with children, everyone will find something they love to do here!
Lakeshore State Park is a 22-acre urban oasis adjacent to the Henry W. Maier Festival Grounds and Discovery World at Pier Wisconsin on Lake Michigan with a small beach in a protected lagoon and paved trails. There are boat slips available here, fishing spots (with a license,) and put-ins for kayaks and canoeing. PLEASE NOTE: Lake Michigan's winds and currents can be extremely dangerous. Use caution and obey all warning signs.
This is the state's only urban forest, featuring 237 acres of grasslands, woods and wetlands in the city of Milwaukee and you can hike and bike on six miles of trails to explore 237 acres of these grasslands, woods, and wetlands. Hike, run, bike and watch wildlife on over 6 miles of trails. Explore the nature center, the forest's ponds, stroll over the 120-foot bridge or find a bench to sit and relax outdoors. When you head out of Milwaukee with your RV rental, be sure to stop at some of the state's other popular parks and camping areas like Kettle Moraine, Devil's Lake, or the Wisconsin Dells.
Cedarburg Bog is the most intact large bog in southeastern Wisconsin and comprised of a mosaic of vegetation. Once part of a large glacial lake, the bog is a southern example of the type more commonly found in northern Wisconsin. There are six lakes remaining within the bog, all with varying sizes and depths. The 245-acre Mud Lake is the largest, followed by the 34-acre Long Lake. Surrounding the lakes are areas of emergent aquatic vegetation while just outside this zone is a successional shrub-carr area. Most unusual is a string or "patterned" bog, unique here because it lies far south of its usual range in North America. The good majority of SNAs (State Natural Area) are isolated and have few or no facilities. Some SNAs have vehicle access lanes or parking lots, but their accessibility may vary depending on weather conditions. Parking lots and lanes are not plowed during winter. Hiking trails may be nonexistent or consist of undeveloped footpaths. A GPS unit or compass and detailed topographic map are useful tools for exploring larger SNAs.
Milwaukee Attractions
There are tons of attractions in Milwaukee that will be fun for the whole family. If you're on the search for unlimited fun and adventure, then you have come to the right place! When you are camping in an RV in Milwaukee, make time to visit some of the old-school spots that conjure up that early 20th-century vibe with stained glass, dark leather booths, carved wood bars, and some great Wisconsin beer selections. • Try sauerbraten or wiener schnitzel at Mader's • Get a brandy old-fashioned and fish fry at the Swingin' Door Exchange • Take the ghost tour at Shaker's Cigar Bar • Sip a brew at the city's oldest tavern, the Landmark 1850 Inn
For over 125 years, the Milwaukee Art Museum has been a source of pride for the city. Gaze out over Lake Michigan while enjoying world-class exhibits under the sculpturally iconic white flying buttresses by Spanish architect Santiago Calatrava.
The downtown Deer District is an enormous sports and entertainment complex housing the Fiserv Forum, brewpubs, sports bars, restaurants, and even a summer night market focused on minority-owned local businesses.
If sports aren't really your thing, just south of downtown and adjacent to Lakeshore State Park, you'll find the Historic Third Ward. This former warehouse district is an artsy neighborhood with a beautiful river walk, boutiques, galleries, and restaurants with local and international flair. In the Historic Third Ward, you'll find locally owned restaurants, spas, theaters, galleries, and boutiques all in a historic warehouse setting. The neighborhood is home to the award-winning Third Ward Riverwalk and the nationally acclaimed Milwaukee Public Market. Located just south of downtown Milwaukee.
Sitting on 435 acres of glorious scenery on the highest elevation in Southeastern Wisconsin, Holy Hill is a destination for those looking to celebrate their faith in a sacred place of peace, beauty and prayer. It is open to the public and draws hundreds of thousands of pilgrims and sightseers annually. Visitors can attend daily Catholic Masses of worship, as well as hike around the beautiful property to take in the majestic scenic views and walk the life-sized Stations of the Cross in a serene setting. A café and large gift store are open year round.
Step back in time for some old fashioned family fun. This municipal amusement park offers a ferris wheel, bumper cars and boats, a giant slide, a roller coaster, and much more. It is located on the Fox River. Admission and parking are free. Rides cost between .25 cents to $2 and promise to deliver a ton of fun.
Milwaukee Events
For events, you will never run short of options in Milwaukee! There is everything for everyone, with both seasonal and yearly events. There really is no wrong time to plan an RV trip to Milwaukee, Wisconsin, but you can always plan your trip around specific Milwaukee events. Milwaukee special events bring in visitors throughout the year to experience a variety of festivals, sporting events, and celebrations.
Milwaukee is the home of Harley Davidson, and on Labor Day Weekend, you can get your fill of H-D moto-culture at Wisconsin's biggest local biker bash. The Harley Davidson Hometown Rally home base is at the museum, where you will find rock shows, performance and stunt riding, and demo rides of the latest bikes. The festivities continue at the six southeastern Wisconsin Harley dealerships.
If you're camped at the WI State Fairgrounds RV Park in the first half of August (reserve your RV spot early!), you'll have a front-row seat to all the exciting Wisconsin State Fair festivities. The fair has been an annual tradition in Milwaukee for over 170 years. During the 11-day fair, you can try a tasty world-famous cream puff or cheese curd, hear all kinds of music at 30 free stages, and experience the smells and sounds of thousands of animals in Ag Village.
Milwaukee's SummerFest was lauded by Rolling Stone Magazine as one of the U.S.'s "must-see musical festivals." Over 800 acts are featured each year. The lineup each year never disappoints. Enjoy entertainers like: Green Day, Dave Chappelle, Chris Stapleton, Guns N Roses, Megan Thee Stallion, and Miley Cyrus. There is something for every taste in music—rock, hip-hop, country, alternative, reggae, R&B, and more. If you're not here in September, don't worry, there are more festivals here than you can shake a stick at. Mexican Fiesta, Irish Fest, Fringe Fest, Polish Fest, German Fest, Festa Italiana, Brew Fest, Food Truck Fest, Armenian Fest, and the Bristol Renaissance Fair all happen in the Milwaukee area each summer.