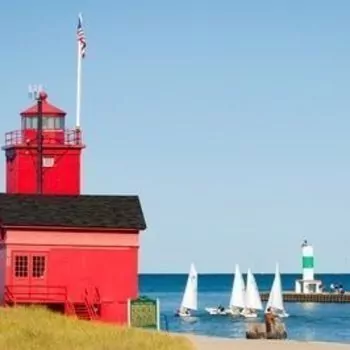 The origin of the American Motor Industry, Michigan is an awesome state for RV tourism. It contains more than 11,000 inland lakes and is a mix of uber metropolitan, and urban communities with Great Lake excellence, giving guests an assortment of exercises to enjoy. Whether you are interested in the Motor City of Detroit, the iconic sound of Motown music or natural beauty spots like Mackinac Island,
Michigan
is a state that has it all. RV campgrounds for a RV rental in Michigan are rich on the edges of significant metropolitan zones, so leasing a RV for your get-away is the best option to enjoy the state of Michigan. Significant urban communities include: Detroit, Flint, Grand Rapids, Lansing, Ann Arbor, and Kalamazoo. All of which make a RV rental in Michigan awesome!
COVID-19 / CORONAVIRUS UPDATES FOR NATIONAL PARKS IN MICHIGAN
Michigan National Park Closure Updates
The National Park Service is modifying its operations on a park-by-park basis in accordance with the latest guidance from the Centers for Disease Control and Prevention (CDC) and state and local public health authorities. While most facilities and events are closed or canceled, outdoor spaces in some parks remain accessible to the public. Before visiting, please check with individual parks regarding changes to park operations. If you choose to visit a national park, please ensure that you follow CDC and state and local guidelines to prevent the spread of infectious diseases and practice Leave No Trace principles. Updates about the NPS response, including safety information, are posted on
The National Parks Service Coronavirus Website.
COVID-19 / CORONAVIRUS UPDATES FOR STATE PARKS IN MICHIGAN
Click for Up to Date Michigan State Park COVID-19 Updates
Michigan's State Emergency Operations Center coordinates release of all important news related to COVID-19, and the DNR and all state agencies are working closely with the SEOC. Sign up to receive news releases directly from the SEOC. In accordance with Gov. Gretchen Whitmer and Michigan Department of Health and Human Services' recommendations designed to help prevent the spread of COVID-19, we have closed public access to many facilities and have canceled all group events until further notice. Daily updates will be provided on this webpage. The state is taking proactive steps to mitigate the spread of COVID-19 in Michigan. We appreciate your understanding and cooperation in reducing the coronavirus risk to Michigan residents. Information around this outbreak is changing rapidly. The latest information is available at Michigan.gov/Coronavirus and CDC.gov/Coronavirus.
Michigan Attractions
Mackinac Parks
Set up camp in your private RV rental in Michigan. Located just off the water's edge and right outside Mackinac Island where boutique shopping, historical centers, and steed drawn carriages are a delight in this peaceful little asylum. You can, you can bike, you can zip line or cross over a forest canopy bridge in
Mackinac Parks,
With more than 1,770 acres of land to explore year-round, you're sure to have an adventure or then again you can simply sit by the water and watch the antique wooden pontoons coast by on an idyllic evening.
Boyne Mountain
This mountain in the heart of Northern Michigan has a ton of fun activities for each season. Families can take part in zip lining, water activities in an indoor water stop, and open-air cruising. In winter,
Boyne Mountain
is a powdery white dream which is a popular snowboarding spot. You can also discover cross-country skiing and snow tubing, if snowboarding isn't your style. This huge mountain requires a couple of days to fully appreciate. Fortunately, Boyne, Falls and the close-by Harbor Springs have a plenitude of campgrounds for you to call home.
Gilmore Car Museum in Hickory Corners
The
Gilmore Car Museum
is noted as one of the "Top Three car museums in the nation" for a reason. The collection has nearly 400 vehicles on display and over 189,000 square feet of exhibition space. The assortment includes a 1927 Model T, a Locomobile Steam Car from 1899 and many other treasures. Nearby Hickory Corners is a pleasant country town with a few campgrounds, perfectly situated for your next RV trip.
Michigan State Parks/Campgrounds
Warren Dunes State Park
One of the most unique attractions in Michigan, the
Warren Dunes
ascend more than 260 feet above Lake Michigan, giving guests a staggering perspective of America's biggest lake. It has 3 miles of coastline and campgrounds for RV Rentals. A few highlights are the nature trails, six miles worth of climbing trails, and areas for wildlife viewing. Note that this State Park is extremely pet-friendly too, a perfect place to take the whole family in your camper rental in Michigan!
Lansing Cottonwood Campground
If you plan to drive your RV rental to Lansing, Michigan, the
Lansing Cottonwood Campground
is an incredible place to stay for respite. It is a family owned and worked campground. It has 110 accessible spots, 11 of which are full hookup spots with flame rings, tables, and space for slideouts. Offices and pleasantries include a swimming pool, rec hall, play area, game room, nature trails, horseshoes, arranged activities, camp store, an open field for amusements, RV stockpiling and supplies, wi-fi access, restrooms and showers, and laundry rooms. Appreciate fishing at its completely stocked lake with no permit required! Stop season is from April 15 to October 29 for your RV rental Michigan!
Woodchip Campground
Want to appreciate a drive in your RV rental in Michigan to Grand Rapids? If you wish to the best place to dock is at the
Woodchip Campground,
mere minutes from the downtown zone. It has 69 accessible spaces, 33 of which are full hookup locales with tables, fire rings, and space for slideouts. Services include a swimming pool, play area, arranged activities, restrooms and showers, laundry rooms, self-serve RV wash, and wi-fi access. Camp season is from May 1 to October 1, so look into Michigan RV rental costs and book soon!
Celebration and Events
Detroit Jazz Festival
Music lovers, steer your RV rental on over to Detroit and appreciate the smooth sounds of the
Detroit Jazz Festival.
The celebration happens each Labor Day weekend at Hart Plaza and Campus Martius in downtown Detroit. Established in 1980, this celebration features illuminating Jazz legends, noted artists, as well as up and coming performers. It also includes activities for children, favorite foods, and a firework display.
Blue Water SandFest
Travel in your Michigan RV rental to Lake Huron to experience the fine natural art extravaganza called the
Blue Water SandFest.
Usually held the first weekend in July, it will blow your mind with astounding sand sculpting! It features beginners and ace's sand sculpting rivalries, sand sculpting demonstrations and hands-on lessons, a Quick Sand Speed Sculpting Show, live music, food vendors, and more! There is even a Kid's Zone where children can hone their sand sculpting abilities. The Great Lakes State of Michigan abounds with outdoor beauty, history, and attractions, to add to your bucket list. Find RV rentals to Michigan at RVnGO and head to your next great adventure!