Rent an RV near McKinney, Texas
When considering renting an RV near McKinney, Texas, you're going to have many different types of RVs, motorhomes, campers and travel trailers to choose from. Depending on the type of trip you are taking to or from McKinney, Texas, you'll want to choose an RV for rent that includes the amenities you'll need for you, your friends or family. RV rentals in McKinney, Texas are in high demand, especially between Memorial Day weekend and Labor Day weekend, so you'll want to book your RV for rent in advance....
When renting an RV or camper you will need RV Rental protection in case the unthinkable happens. Many people mistakenly believe that their personal auto policy will cover their RV rental only to find out too late that this is untrue. It's likely your Auto Insurance Policy is not going to cover the RV Rental. When you rent an RV on RVnGO.com, RV rental protection is automatically included in your rental. For a low nightly rate, you will receive $1,000,000 in liability coverage and up to $250,000 in property damage coverage. With RVnGO's RV rental protection plans, you can rent an RV with the peace of mind that you are covered in the case something happens on your trip. RVnGO's RV rental protection plans also cover RV owners, in the case something is broken or damaged on the RV during your trip.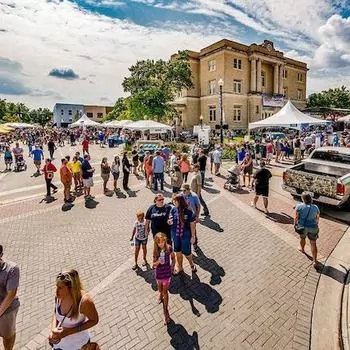 With its vintage American architecture and location close to multiple lakes and open grass plains, McKinney is a true hidden gem in Northern Texas. The historic city has a character to it that is entirely its own and immersive from its classic Americana downtown scene. Texan flair is sown into its love for community festivities, and with no shortage of dreamy natural features nearby, McKinney makes for a laidback, refreshing RV destination.
Campgrounds and RV Parks near McKinney
Although McKinney is an urban locale, it's location at the tip of the Dallas-Fort Worth metroplex means that it's surrounded to the North and East by plains, rivers, and lakes. As such, the RV campgrounds nearby are ideal for camping just outside of the city.
At the tip of the peninsula in nearby Lavon Lake, Clear Lake Campground offers direct water access and views in a small campground. Described by previous guests as "boaters and fishers paradise," Clear Lake has a range of basic amenities including restrooms, showers, and laundry facilities. The park is pet friendly and supports electric 30/20/15 amp.
Higher up on the peninsula, Countryview RV Park is closer to McKinney without sacrificing water access. The campgrounds feature a picnic pavilion and BBQ grills, in addition to restrooms, showers, and laundry facilities. The park is pet friendly and supports full electric hookups.
Northeast of McKinney, Anna Country RV Ranch lives up to its namesake. A true country setting, the park is located on a working ranch, complete with friendly cows next door. Laid out on spacious green plains, Anna Country RV offers a traditional Texan countryside stay, complete with a range of basic amenities (showers, restrooms, laundry) and features such as an event center, playground, general store, and dog park. The park supports electric 30 and 50 amp.
National Parks and State Parks near McKinney
Soak up sun and waves in the many lakes of the region's State Parks, all located just a half hour's drive away.
For a little bit of everything in nature, Eisenhower State Park is as complete of an escape from the city as one can be. Dramatic rocky cliffs surround the shores of Lake Texoma like a Mediterranean visage, complete with a small, popular beach for swimming. The park has miles of hiking trails through the woods, with tent camping throughout, and the cliffs and caves make for a rock climbing challenge.
Ray Roberts Lake State Park, north of McKinney, is a popular destination for its warm golden sand beaches. The gentle waters of Ray Roberts Lake are perfect for swimming, fishing, and boating, while the lawns of the park are idyllic spots to picnic. Tent camping is allowed in certain areas of the grounds.
McKinney Attractions
McKinney is an outdoor destination in both its urban and rural spread. Its institutions take advantage of Texas' climate and countryside by getting people outdoors, and its downtown area is picturesque for window shopping.
Functioning as both a wildlife sanctuary and an educative museum, the Heard Natural Science Museum & Wildlife is an immersive walk through the woods and fields— all 289 acres of them! The establishment is equal parts reserve and museum, where the entire day can be spent on a nature hike that comes across outdoor exhibits such as Dinosaurs Live, Magic Planet, Animal Encounters, and more.
Historic Downtown McKinney refers to a section of blocks within the city center that are renowned for their classic buildings and rich historic architecture. As one of the oldest downtowns in Texas, the streets are filled with over 120 shops, art galleries, fine dining restaurants, antique collections, and more!
One of the two major lakes in the region, Lake Lavon is comprised of miles of gorgeous beach and blue water. Popular activities include swimming, sunbathing, fishing, boating, hiking, and more! The Northwestern shores of the lake are just under a half hour drive from McKinney center, making it a perfect day trip from the city.
Events in McKinney
Holidays in McKinney are celebrated according to Texas fashion— the bigger, the better!
McKinney celebrates Independence Day with dramatic Texan flair. Festivities include a grand parade through Historic Downtown, a classic car show, family activities at Craig Ranch, live entertainment and music, and a concert and fireworks show for the ages to ring in the 4th of July.
The winter months also see Historic Downtown McKinney adorn itself with the festivities of the season. Beginning the weekend of Thanksgiving, the region is transformed to include a petting zoo, carousel, ferris wheel, holiday train, craft area, snow hill, and more! Complete with a grand and luminous Christmas Tree in the main square, McKinney is a decked out destination for the holidays. Where will you RVnGO next?