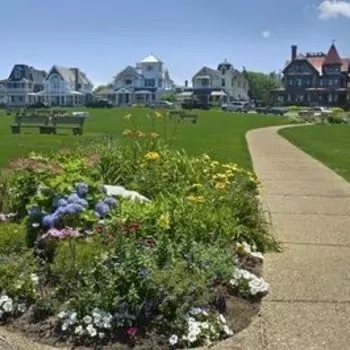 Massachusetts, also called the "Commonwealth of Massachusetts," is known for the historical capital city of Boston. A Colonial-era mecca it offers all things American Revolution related to truly appreciate the birth of this nation. It is also home to the prestigious Harvard University and Fenway Park, where the Red Sox pro baseball team plays. Other notable locations to see within the state are Cape Cod, Martha's Vineyard, Plymouth, and Salem. Make sure to travel in your RV rental to
Massachusetts
so you can make the most of its rich history, beautiful sights, and fun events.
COVID-19 / CORONAVIRUS UPDATES FOR NATIONAL PARKS IN MASSACHUSETTS
Massahusetts National Park Closure Updates
The National Park Service is modifying its operations on a park-by-park basis in accordance with the latest guidance from the Centers for Disease Control and Prevention (CDC) and state and local public health authorities. While most facilities and events are closed or canceled, outdoor spaces in some parks remain accessible to the public. Before visiting, please check with individual parks regarding changes to park operations. If you choose to visit a national park, please ensure that you follow CDC and state and local guidelines to prevent the spread of infectious diseases and practice Leave No Trace principles. Updates about the NPS response, including safety information, are posted on
The National Parks Service Coronavirus Website.
COVID-19 / CORONAVIRUS UPDATES FOR STATE PARKS IN MASSACHUSETTS
Click for Up to Date Massachusetts State Park COVID-19 Updates
Massachusetts State Parks COVID - 19 Update : In an effort to stop the spread of the COVID-19 virus, the Baker-Polito Administration is urging the public to stay home as much as possible to avoid person-to-person contact. However, should individuals and their families need to get outside for healthy, outdoor recreational activities, including walking, hiking, jogging, and bike riding, Massachusetts state parks and other natural resources managed by DCR remain open and accessible to the public. Additionally, state parks are public areas, and while the agency continues to make efforts to sanitize high-touch locations, these surfaces are only as clean as the last person who has come in contact with it. Please take appropriate steps to protect your health and the health of others by following the Centers of Disease Control and Prevention (CDC) and the Massachusetts Department of Public Health's (DPH) guidelines to prevent the spread of COVID-19.
Massachusetts Attractions
Martha's Vineyard
Pilot your Massachusetts RV rental down to Cape Code and hop on a ferry to the iconic New England summer vacation spot of
Martha's Vineyard.
A wooded island with sandy beaches around the perimeter, it has quaint little towns, some with Victorian houses, and lots of things to explore. RV campers make sure to check out the major hub of Oak Bluffs which has the oldest operating Flying Horses Carousel in America, it was brought here in 1880. Don't miss the bi-plane rides and Jaws filming hotspots around the island, where you can still catch it on the big screen a few days a week!
Museum center of Fine Arts
An artist's heaven, a trip to the
Museum center of Fine Arts
is an absolutely must if you plan on stopping in Boston. Built in 1876, boasting an amazing collection of nearly 500,000 pieces of art, it is one of the most comprehensive art museums in the world. From Egyptian exhibits to contemporary pieces, The Museum of Fine Arts is open every day except for major holidays.
Parson Capen House
Steer your RV rental in Massachusetts to Topsfield and visit the
Parson Capen House.
The Parson Capen House, built in the late seventeenth century, is the finest surviving example of Elizabethan architecture in the U.S. It was made a National Historic Landmark in 1960. The house is open to the general public each Sunday, Wednesday, and Friday, from June 15 to September 15. There are docents accessible who can share details on the history of the house and the region.
Massachusetts State Parks/Campgrounds
Pine Acres Family Camping Resort
Many RVers traveling in their RV rentals to Worcester stay at the
Pine Acres Family Camping Resort.
Located in the town of Oakham, which is around 30 minutes from Worcester. Pine Acres Family Camping Resort will amaze you with its various services. It has 260 accessible spaces, 150 of which are full hookup spots with BBQ flame broils, fire rings, tables, and space for slideouts. Amenities also include water sports at Lake Dean, a heated pool, water umbrella, game room, nature trails, play area, horseshoes, bicycle rental, mini golf, recreational hall, lunchroom, restaurant, wi-fi web access and satellite TV, RV stockpiling and supplies, laundry rooms.
Normandy Farms Family Camping Resort
Situated between Boston and Cape Cod,
Normandy Farms Family Camping Resort
is a great location if you want to spend lots of time in Boston and Cape Cod. It is a family-oriented RV campground with 283 accessible spots, 229 of which are full hookup spaces with flame rings, tables, yards, BBQ barbecues, and space for slideouts. Services include a heated pool, play area, whirlpool, game room, frisbee golf, recreational lobby, fishing, practice room, outside games, shuffleboard, arranged activities. Visitor amenities also include wi-fi web access and digital TV, lunch room, goods, fishing supplies, RV stockpiling, restrooms and showers, and laundry rooms for your next RV rental trip to Massachusetts. Stop season is from April 1 to November 30 for a trailer rental Massachusetts.
Celebration and Events
Boston Dragon Boat Festival
The oldest dragon festival in the nation, The
Boston Dragon Boat Festival
is held each year in early June. More than 75 groups from all over the country join this event. It is celebrated on the banks of the Charles River in Boston and Cambridge. It highlights dragon boat races, cultural dances, an artworks exhibition, crafts, martial arts demonstrations, musical performances, food vendors, and a festival dinner.
Feast of the Blessed Sacrament
The Whaling City of New Bedford, Massachusetts hosts what is hailed as the largest annual ethnic festival in the region. For more than a century the greatest Portuguese feast in the world has been going strong. An annual New Bedford tradition, it takes place at the beginning of August for 4 days. RVers will delight in the carnival midway, 5K road race, a 40-foot barbecue pit, parade, entertainment on 4 stages, and of course, food at the
Feast of the Blessed Sacrament.
Tanglewood Music Festival
From the middle of June to the beginning of September, the Tanglewood estate in Stockbridge and Lenox is home to the Boston Symphony Orchestra. Set in the idyllic Berkshire Hills, music fans will appreciate the natural surroundings will enjoying performances throughout the summer at this musical landmark.
Tanglewood Music Festival
features BSO and other big names from the classical, rock, folk and pop genres. Massachusetts, otherwise called the "Sound State", is loaded with so many fun events that every trip is memorable! Look at the RV rentals to Massachusetts on RVnGO so you can enjoy a great get-away in Massachusetts. Much thanks to you for selecting RVnGO for your Massachusetts RV rental!