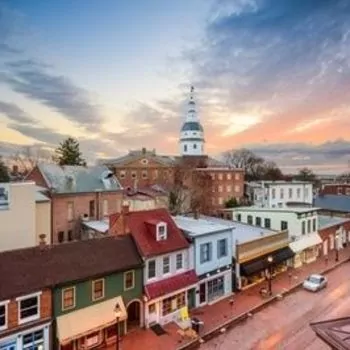 Birthplace of the U.S. national anthem, Maryland is one of the original thirteen colonies. A major seaport it has abundant coastlines and waterways to explore. Whether you visit the dramatic whitewater rapids and waterfalls at Great Falls, the Fort McHenry National Monument and Historic Shrine, Baltimore's Inner Harbor which displays military ships and science center or the National Aquarium for marine life exhibits, steer your RV rental to
Maryland
and make the most of its wonderful views, history, and attractions.
COVID-19 / CORONAVIRUS UPDATES FOR NATIONAL PARKS IN MARYLAND
Maryland National Park Closure Updates
The National Park Service is modifying its operations on a park-by-park basis in accordance with the latest guidance from the Centers for Disease Control and Prevention (CDC) and state and local public health authorities. While most facilities and events are closed or canceled, outdoor spaces in some parks remain accessible to the public. Before visiting, please check with individual parks regarding changes to park operations. If you choose to visit a national park, please ensure that you follow CDC and state and local guidelines to prevent the spread of infectious diseases and practice Leave No Trace principles. Updates about the NPS response, including safety information, are posted on
The National Parks Service Coronavirus Website.
COVID-19 / CORONAVIRUS UPDATES FOR STATE PARKS IN Maryland
Click for Up to Date Maryland State Park COVID-19 Updates
In accordance with federal guidelines and state directives pertaining to COVID-19, we want to share important information about Maryland State Parks. Please support our efforts so we can keep State Parks safe and open. Our highest priority is the well-being of our visitors and staff. During this time, we remain diligent in taking steps to make your visit as safe and enjoyable as possible.
Maryland Attractions
Eastern Shore
The
Maryland Eastern Shore
is the state's most popular attraction. Noteworthy towns, shorelines, and friendly city draws tourists from all over to relax and unwind. Nearby attractions include rowing, swimming, biking, fishing, bird watching, and golf. There are waterfront festivals and competitions up and down the coast for individuals to partake in. The Eastern Shore is an outstanding drive for your Maryland RV rental.
Six Flags America
Six Flags America is the place to go for excitement and adventure. This amusement stop includes more than one hundred rides, various shows, and the biggest water park in the region.
Six Flags
is a great spot for family fun. Grown-ups will be excited by rides, like the Wild One, Joker's Jinx, Superman's Ride of Steel, and Penguin's Blizzard River. Younger kids will have a great time at the Looney Tunes Movie Town where they can meet and connect with characters, like Bugs Bunny. There is nothing better than spending a day at Six Flags America!
Baltimore's Inner Harbor
The city of Baltimore is rich with history and views, spend the day investigating and exploring the city. The Inner Harbor offers something for everyone, including eateries, the National Aquarium, Harborplace, and Maryland Science Center, which includes a planetarium and observatory. In time past it was a neighborhood populated by mariners, dockworkers, and the most daring of individuals. In 1980, Harborplace opened and transformed the
Inner Harbor in Baltimore
to become an amazing sightseeing hub.
Maryland State Parks/Campgrounds
Situated around 37 miles from Baltimore, The
Merry Meadows Recreation Farm
is settled in a 375 acre lot where you and your family can spend quality time together. In addition to making the most of its various amenities, it is minutes from many incredible attractions. It has 110 accessible spaces, 105 of which are full hookup spots with tables, fire rings, and space for slideouts. Services include a swimming pool, fishing, horseshoes, tennis court, food trucks, mini golf, game room, cafe, staple goods, wi-fi web access and satellite TV, RV stockpiling and supplies, and a ton more for your camper rental in Maryland.
Cherry Hill Park
Only 25 minutes from Six Flags America, Cherry Hill Park has 350 accessible full hookup locales with yards, BBQ flame broils, fire rings, tables, and space for slideouts. It is filled with comforts including wi-fi web access and digital TV, warmed pool, whirlpool, sauna, play area, game room, nature trails, rec hall, mini golf, cafe, staple goods, golf carts, and much more for your RV rental in Maryland. You are open to camp at the
Cherry Hill Park
anytime of the year in a Class A RV rental in Maryland.
Celebrations and Events
African American Festival
If you are planning to cruise around Maryland in late July, visit Baltimore and enjoy the
African American Festival.
It is a two-day family-oriented celebration of heritage and culture which has been a local tradition for over 30 years. It features an assortment of arts, health and wellness exhibits, an empowerment tent, shows, games, more than 150 trading stalls, live music, skill classes, and more! The celebration is open to the general public.
Maryland Bacon Festival
If you're a bacon lover, you cannot miss the Maryland Bacon Festival, which takes place each April in Baltimore. The celebration is high on the hog featuring bacon confectionary delights, bacon testing, and all bacon food, bacon cooking shows, bacon eating challenges, bacon cooking rivalries, and a bacon-themed kid's zone. You can also rock out to live music from some of the best local groups who are bacon lovers as well! Bring home some bacon from the
Maryland Bacon Festival!
Whether you indulge in bacon bonanza, gobble some Maryland crab cakes or sail around the harbor, you are sure to enjoy the sights, sounds, and history. Book an RV rental to Maryland with at RVnGO and have a fabulous time in Maryland!