Rent an RV near Madison, Virginia
When considering renting an RV near Madison, Virginia, you're going to have many different types of RVs, motorhomes, campers and travel trailers to choose from. Depending on the type of trip you are taking to or from Madison, Virginia, you'll want to choose an RV for rent that includes the amenities you'll need for you, your friends or family. RV rentals in Madison, Virginia are in high demand, especially between Memorial Day weekend and Labor Day weekend, so you'll want to book your RV for rent in advance....
When renting an RV or camper you will need RV Rental protection in case the unthinkable happens. Many people mistakenly believe that their personal auto policy will cover their RV rental only to find out too late that this is untrue. It's likely your Auto Insurance Policy is not going to cover the RV Rental. When you rent an RV on RVnGO.com, RV rental protection is automatically included in your rental. For a low nightly rate, you will receive $1,000,000 in liability coverage and up to $250,000 in property damage coverage. With RVnGO's RV rental protection plans, you can rent an RV with the peace of mind that you are covered in the case something happens on your trip. RVnGO's RV rental protection plans also cover RV owners, in the case something is broken or damaged on the RV during your trip.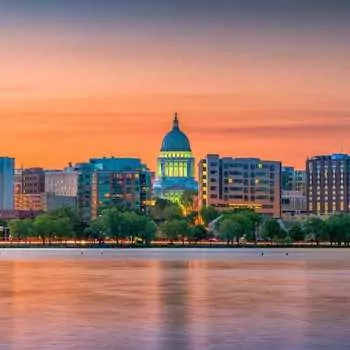 Campgrounds and RV Parks near Madison, WI
Madison is the capital of Wisconsin and home to some amazing campgrounds and RV parks for RV enthusiasts and renters. If you're planning on an RV trip to the great outdoors, then RVnGO is here to help. With our easy-to-use platform and simple rental process, you can decide between tons of RVs in your area from real hosts. With that in mind, consider checking out some of the following campgrounds and RV-friendly parks when planning your RVing trip in Madison, Wisconsin.
As part of Yellowstone National Park, Madison Campground is next to plenty of beautiful nature that is perfect for outdoor activities. If camping, you can enjoy the outdoors in comfort with an RV reservation. Do keep in mind that there are no site hook-ups for RV locations. You will have to make sure you have all the resources you need like water, electricity, and sewage containment. However, there is a dump station for RVs. Sites can accommodate up to 40' long recreational vehicles. About 15 miles away are the nearest service stations, so keep in mind you will be truly out in nature and not nearby service stations.
Located in southern Wisconsin, Lake Kegonsa State Park offers a variety of recreational activities. The park features a massive 3,200-acre lake. The rest of the 342-acre State Park is perfect for hiking and camping, even with RVs. Depending on the season, the park is perfect for boating, swimming, nature studies, fishing, skiing, and sledding. Pets are welcome but must be on a leash and under control at all times. Do not let your pets wander the area and certain areas may be off-limits to pets.
National Parks and State Parks near City
The beauty and environments in Wisconsin are well known and hundreds of thousands of people each year travel to the various parks to enjoy it. Almost nothing is more enjoyable than getting out of the hustle and bustle of city life and getting clean, fresh air. If you find yourself near Madison, then you have your choice between many amazing National and State parks like the ones listed below.
One of few lakes in southwestern Wisconsin, 455-acre Yellowstone Lake is a popular recreation area year-round. Fishing, swimming, boating, and bluff-top campsites. Cross-country skiing in season. Fishing regulations are different from standard regulations; check at the park. Pets are welcome in Wisconsin State Parks but must be on a leash and under control at all times. Certain areas may be off-limits to pets. Visit our website for more details.
Lake Kegonsa State Park, south of Wisconsin's state capital, Madison, offers a natural, peaceful atmosphere beside a glacier-hewed lake. Selecting one of the 80 beautiful campsites nestled among the oaks can be a difficult task. After setting up camp, visitors can hike a trail, enjoy the beach, launch their boat, or have a picnic in the park. Lake Kegonsa offers swimming, fishing, water-skiing, sailing, and motor boating. The lake covers 3,209 acres and is more than 30 feet deep. Park visitors enjoy the lake's excellent fishing.
Madison, WI Attractions
People all across the United States go to Madison to enjoy some of the main attractions of the city. If you are considering or on an RV trip through Madison, don't miss out on some of these amazing attractions as you're cruising through.
If you're looking for a taste of the history and culture of Wisconsin, then take a tour of the Frank Llyod Wright Taliesin Estate. The Taliesin Preservation offers a variety of tours of the Taliesin estate in Spring Green, Wisconsin. These tours are designed for every level of interest. Booking tours in advance is strongly recommended. Tours often sell out, so book well in advance of your preferred tour date. Walk-ins are accommodated with space permitting.
Animal lovers rejoice, there is a fantastic zoo to visit near Madison, Wisconsin that you are sure to enjoy. The Henry Vilas Zoo is one of ten remaining free zoos in North America. As an accredited AZA (Association of Zoos & Aquariums) zoo, our mission is to conserve and protect the wonders of the natural living world. The zoo houses animals from across the world including various amphibians, birds, fish, insects, mammals, and reptiles. Some other animals at the zoo include capybaras, badgers, and even polar bears.
Events Near Madison, Wisconsin
Madison also is home to annual events that are amazing to witness. Since these events are planned well ahead of time, you can plan your RV trip around them. Many events are perfect for the entire family for bringing your kids along can be a great idea. Check out some of the best events to go to in Madison, WI below.
Madison Festivals owns and operates the Taste of Madison, Madison Marathon, and Run Madtown. Event profits are donated directly to our charity partners, event volunteer groups, granted through the MFI community grant program, and reinvested in the events. When you attend and support one of the above events you directly support people living and working in Dane County.
Keep an eye out for the Jazz at Five festival near Madison, WI. The Jazz at Five annual events brings amazing professional and amateur jazz artists with thousands attending each year. If you enjoy the complex sounds of jazz, then this festival is not one to miss out on. The event is also free and open to the public, so why not check it out? However, if you want to contribute, you can become a sponsor. One of the benefits of being a sponsor is a reserved table for eight each performance evening, waiting for when you arrive. In addition, the Jazz at Five wait staff provides all Sponsor tables food, beer, and wine service at their table.
Rent RVs Online for Cheap with RVnGO
Renting an RV is easy with RVnGO. Find the perfect RV near Madison, WI for an affordable price that is less than the competition. Save up to 40 percent on your RV, Motorhome, Camper, or Travel Trailer rental. Where will you go?