Rent an RV near Long Beach, Washington
When considering renting an RV near Long Beach, Washington, you're going to have many different types of RVs, motorhomes, campers and travel trailers to choose from. Depending on the type of trip you are taking to or from Long Beach, Washington, you'll want to choose an RV for rent that includes the amenities you'll need for you, your friends or family. RV rentals in Long Beach, Washington are in high demand, especially between Memorial Day weekend and Labor Day weekend, so you'll want to book your RV for rent in advance....
When renting an RV or camper you will need RV Rental protection in case the unthinkable happens. Many people mistakenly believe that their personal auto policy will cover their RV rental only to find out too late that this is untrue. It's likely your Auto Insurance Policy is not going to cover the RV Rental. When you rent an RV on RVnGO.com, RV rental protection is automatically included in your rental. For a low nightly rate, you will receive $1,000,000 in liability coverage and up to $250,000 in property damage coverage. With RVnGO's RV rental protection plans, you can rent an RV with the peace of mind that you are covered in the case something happens on your trip. RVnGO's RV rental protection plans also cover RV owners, in the case something is broken or damaged on the RV during your trip.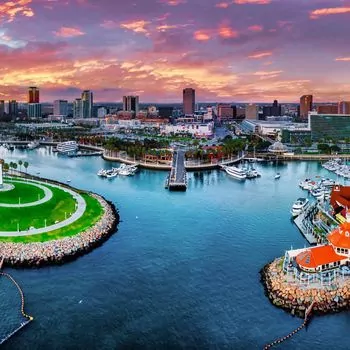 Long Beach in Southern California is a prime RV tourist destination. A humming beachfront megalopolis surrounded by modern conveniences to enrich any RV vacation road trip. From dream-like theme parks and museums to breathtaking natural sights and public beaches that stretch over three miles, you won't run out of Long Beach attractions while vacationing in this breathtaking coastal city. RV camping in Long Beach allows you to stay close to your conveniences as you make your way from place to place during your visit. If you're looking to rent an RV near Long Beach, check out this article to get an idea of spots to include in your vacation itinerary.
Camping and RV Parks near Long Beach
Before getting to Long Beach, it is helpful to know where you will stay at the end of a long day of exploration. Choose the camping ground according to your itinerary, so you can get close to the Long Beach events and attractions you wish to experience. Here are our top choices:
The Golden Shore RV Resort in the LA South Bay area is a true gem, located near the local entertainment venues and shopping malls. Step out of the Long Beach city buzz and into a serene and relaxed atmosphere featuring lush landscapes, palm trees, and a breathtaking view of the city's skyline. This resort allows you a range of amenities and friendly staff, including a hot tub and swimming pool. Remember to check ahead and reserve your slots – it's quite popular.
If you're looking for RV camping grounds right in front of the beach, the Dockweiler RV Park is your stop. You're guaranteed a great time – friendly staff, many amenities, and awesome beach grounds, all for a great price. Dockweiler also offers ready access to many Long Beach attractions. Enjoy cool ocean breezes at dawn and dusk, and take in panoramic skyline views of everything from Catalina Island to Malibu. Alternatively, enjoy beach walks and dip your toes right in the ocean water to relax after a long day of sightseeing.
The El Dorado East Regional Park is the largest state park in Long Beach, featuring extensive natural landscapes close to downtown Long Beach. The park includes four miles of biking trails and pedestrian walkways for some gentle exercise during your stay. The path connects to more amenities, including two fishing lakes, playgrounds, and picnic shelters. Pet owners should visit the El Dorado Dog Park, while families will enjoy the El Dorado Nature Center for fun learning and the model aircraft flying zone for some real-life video gaming against the backdrop of nature.
National Parks and State Parks near Long Beach
While cruising America along the highways in your RV rental in Long Beach, you will find some must-stop sites all within a day's trip. With its beachfront beauty, gorgeous trails, picture-perfect views, and dazzling nature, it makes sense why Long Beach is home to some of the most spectacular state parks California offers, the only problem you'll encounter is choosing which one to enjoy first!
Bluff Park carries a rich history: it stands on active military grounds during the Second World War. Today, you'll find interpretive info stands where gun batteries once stood and the Lone Sailor Memorial statue to mark its military background. The Long Beach Museum of Art sits on the North end of this scenic green park, offering rich cultural works to complete the natural beauty of Bluff Park. Away from fun learning, enjoy 13 acres of lush green lawns and palm trees, an unobtrusive sea breeze for warm days, and a long-distance view of Junipero Beach, another Long Beach attraction.
Bolsa Chica State Beach is a popular state beach, drawing hundreds of thousands of vacationers and sunbathers to its location south of the community of Sunset Beach in Orange County. This area was once called "Tin Can Beach" and became a state beach in 1960. Bolsa Chica is a perfect place to go surfing, sunbathing, play volleyball, enjoy water sports, hold family outings or to watch the sun set. Average summer temperatures range in the high 70's-80's, while winter brings slightly cooler temperatures to the mid-60's. The beach consistently draws prime waves and the surf breaks in shallower water, causing incoming waves to form a desirable curled shape as they crest.
Long Beach Attractions
There are tons of attractions in Long Beach that will be fun for the whole family. If you're on the search for unlimited fun and adventure, then you have come to the right place! From activities that get your heart rate up to experiences that only require you to sit back and put your feet up, you'll never have to wonder what to do next. If you love history and culture, then a sightseeing tour or day trip should be at the top of your itinerary.
No trip with your RV rental in Long Beach to Long Island is complete without visiting the Long Beach Downtown Waterfront. This place offers so much more than chartered fishing trips and whale-watching tours at Rainbow Harbor. You can enjoy a private dinner cruise or simply take a rental bike ride or walk through the numerous spots for dining, shopping, and all-inclusive family fun. Don't miss any of the attractions hosted within the Downtown Waterfront, from the Long Beach Convention Center to the Rainbow Harbor Esplanade that connects the harbor to the Shoreline Aquatic Park which features a lighthouse.
The Rainbow Harbor Esplanade bustles with waterborne activity. A walk along the Esplanade reveals luxury yachts, tall ships, charter vessels, water taxis, fishing boats and pleasure crafts. a park-like setting right on the iconic harbor waterfront. You will find a wide range of restaurants with both indoor and outdoor seating near the Rainbow Harbor Esplanade. It's the perfect place to sit, relax, and enjoy a meal or a drink with great harbor views. Take a stroll on the Rainbow Harbor Esplanade. Connecting Rainbow Harbor to Shoreline Park, this area features native plants from ecosystems along the Pacific coast.
Another attraction found within the Downtown Waterfront, the Aquarium of the Pacific deserves its own mention. This public aquarium is the largest in Southern California, showcasing the diversity of the Pacific Ocean, with over 50 exhibits showing more than 11,000 animals and fish. Adults and children alike will appreciate the science discussions, anima encounters, and guided tours– expansive grounds have something for everyone. The June Keyes Penguin Habitat is a family favorite, featuring twenty Magellan penguins. Make time to stop by these popular exhibits: the Ocean Science Center, the Shark Lagoon, the Moon Jelly Touch Lab, and Lorikeet Forest.
Long Beach Events
For events, you will never run short of options in Long Beach! There is everything for everyone, with both seasonal and yearly events. Long Beach special events bring in visitors throughout the year to experience a variety of festivals, sporting events, and celebrations.
Come see race cars reach speeds of up to 200 miles per hour while zipping through the streets of Downtown Long Beach. The Grand Prix of Long Beach is the largest event in the city drawing in a crowd of around 170,000 spectators. The GPLB is an IndyCar Series race held on a street circuit in downtown Long Beach, California.
Featuring a great line-up from classic R&B to hot summer night jazz. The only Southern California Jazz Festival staged on a gorgeous grassy knoll in a beautiful waterfront setting. Long Beach Jazz Festival features some of the top artists of the year and includes VIP seating in an incredible outdoor setting with a great selection of food, art and much more. "Jazz", an experience you will never forget!