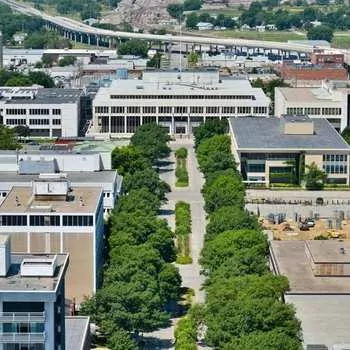 Nebraska is home to some of the most stunning landscapes and nature in the United States. Lincoln, Nebraska is one of the cities you should consider visiting if you find yourself RVing around the State. Located in Lancaster County, Lincoln is the 2nd largest city in the State and is rapidly growing year over year. There is very little development outside of the city meaning there are plenty of beautiful natural locations for camping and outdoor activities. There are plenty of locations to take your RV rental from RVnGO out for an unforgettable experience.
Campground and RV Parks near Lincoln, NE
Camping in Nebraska is a great choice if you have an RV. While it gets very cold during the winter, you can stay warm and enjoy the outdoors in comfort. Consider one of these three RV campgrounds for your RVing adventures in Lincoln:
Pawnee State Recreation Area
Camp A Way RV Park
West Omaha / NE Lincoln KOA Holiday
If you are looking for an RV campground with plenty of natural activities to keep you busy, then Pawnee State Recreation Area is a great choice. You can enjoy the hiking trails, equestrian trails (if you have a horse), hunting, biking, archery, swimming, and range shooting- just to name a few. The park is over 2,500 acres with nearly a third of that being water. You can bring a canoe and kayak and get on the waters. A park permit is required but can be purchased at the link above.
Pawnee SRA offers campers Electric Plus, Electric, Basic, and Equestrian Basic campsites. The park has 68 all-weather camping pads with 20, 30 and 50 amp electrical hookups. There are also 34 camping pads without electricity and 97 non-pad sites without electricity. The shady campground offers water, showers and restrooms. A dump and fill station are available at the area.
Finding the right park with RV campsites can be difficult, if you do not know where to look. Camp A Away RV Park is a great spot for anyone looking to take advantage of their RV rental. Many campgrounds may not allow full size RVs or have RV accessible camping spots. Camp A Way has full hook up sites for RVs and is open year-round! One of the best parts are the Creekside camping tent sites. Not many people get to camp near the water so it offers a unique experience.
If you are looking to really get the most out of your outdoor RV camping experience, then the campground makes a big difference. West Omaha/NE Lincoln KOA is a family-owned campground with locations in many other states. With 85+ RV sites, you can be sure to find a spot in this open year-round location.
The Lincoln KOA Holiday website states that "West Omaha / East Lincoln KOA is the best for Nebraska camping no matter how you like to camp. Whether you're tent camping under our huge shade trees, stargazing while relaxing on our patio rv sites, or enjoying the comforts of our Cabins, you'll find the perfect spot for you, or for you and your family to explore our KOA and eastern Nebraska! Tent sites are spacious, shaded, and include a picnic table and fire pit. Some tent sites have water and electricity available as well."
National and State Parks Near Lincoln, NE
Some of the best locations for camping are National and State parks. Even if you find yourself not looking to camp at these locations, they are still amazing spots to visit. The natural wonders and beauty of Lincoln Nebraska really shines when you see the splendor of the sites you can visit.
The Pioneers Park Nature Preserve contains 668 acres of tallgrass prairie, woodlands, wetlands and a stream. Since 1963 the Nature Center has served the Lincoln area as an environmental education center and wildlife sanctuary. Eight miles of hiking trails wind through various habitats and take visitors past non-releasable raptor exhibits and a small herd of bison.
The Nature Center is a great place for people of any age to visit during all seasons. Come walk the trails through our prairie, meet our exhibit animals, listen to the birds in our bird garden, relax on one of our benches, treat yourself to the smells of our herb garden, dig in the natural play area, or learn from our exhibits.
This park is already on this list as a great campground but it is also a fantastic state park. Went plenty to do like fishing, swimming, hunting, range shooting, and boating, it's hard to imagine you will be bored at this beautiful park. There are over 1,000 acres of pristine nature to enjoy and walk around. See the sights or enjoy some of the many activities offered at Pawnee State Recreation Area.
Parks can offer more than just beautiful trails and campgrounds. Sometimes locations hold invaluable historic significance. The park commemorates the passing of the Homestead Act of 1862. The passing allowed any qualified person to claim up to 160 acres of land for cultivation and improvement. Learn about agriculture, native tribes, and more at the Homestead Heritage Center. Or take a stroll through the Tallgrass Prairie.
Lincoln, Nebraska Attractions
RVing around isn't just going to campgrounds and living out in nature with style and comfort. If you find yourself in Lincoln, Nebraska, then you have to check out some of the attractions on this list. Try adding some of these attractions on your way to your campground or on the way back to get the most out of your journey!
If you are looking for fun for the whole family, then the Lincoln Children's Zoo is the right place for you! This massive zoo has all types of interesting animals to observe and learn about. When it comes to animals, "Lincoln Children's Zoo is home to over 40 endangered animals including the Sumatran tiger, Humboldt penguin, snow leopard & Matchie's tree kangaroo. Plus, feed a giraffe, see the world's smallest monkeys (pygmy marmoset), cheetahs, fossa, ring-tailed lemurs, red pandas, meerkats & more." – Lincoln Children's Zoo
A must see to believe attraction that is popular throughout Lincoln, NE is the Sunken Gardens. The only Nebraska garden to be listed in the "300 Best Gardens to Visit in the United States and Canada" by National Geographic's "Guide to Public Gardens", this enchanting place is important to many. Formerly a neighborhood dumpsite, this 1.5 acres was first developed in 1930 and was transformed into an iconic feature of Lincoln. The Sunken Gardens have been the backdrop to decades of memorable occasions.
The Seldon Art Association, founded in 1888, founded the museum as part of its move to create a society of fine arts. Today, Sheldon is one of the nation's leading academic art collections, housing the collections of the Sheldon Art Association and the University of Nebraska which together comprise nearly 13,000 objects in diverse media. The museum's collection includes prominent holdings of 19th-century landscape and still life, American impressionism, early modernism, geometric abstraction, abstract expressionism, minimalism, and over 3,000 photographs spanning the history of the medium.
Lincoln, NE Events
Every year, there are dozens of amazing yearly events to catch around Lincoln, NE. Whether you arrive in the summer, winter, fall, or spring, you can be sure there is something interesting going on. Events like the Summer Kite Festival are beautiful to view and exciting to be able to experience. Plan your RV travels around some of these events to get a unique slice of Nebraska.
Held on the beach at the D River State Recreation Site, the annual Summer Kite Festival is a longstanding family vacation tradition. Experience two days of kite-flying activities and catch a wonderful view of all the various kites being flown. You can enjoy the beauty of the various designs while reclining on the beach and enjoying the sun.
If you enjoy fireworks and find yourself in the area on July 3rd, then you can enjoy the Uncle Sam Jam event in Lincoln, Nebraska. The event is yearly and has plenty of events and food to keep you entertained. There is a fireworks show as well as live music.
Spooky experiences are not as easy to come by as other events but if you are brave enough, then there is a yearly event you should check out. A Tour to Die For is a collaborative effort between the North Lincoln County Historical Museum and Taft Pioneer Cemetery Association, and Theatre West. Your tour guide is well versed in the legends and lore of our town. You'll hear local folklore and tales of a time past, as well as other mysterious occurrences on your journey to Pioneer Cemetery.
Your final destination is the final destination of many of the early settlers of Lincoln City: Pioneer Cemetery. You'll meet six of the people interred here while taking a lantern tour lasting about 60 minutes. Of course, you will also hear an eternity of fascinating tales. While the event was canceled for 2020-2021, look out for it to return in the coming years.
Start Your Lincoln RVing Adventure with RVnGo Today!
Renting an RV is easy with RVnGO. Find the perfect RV near Lincoln, NE for less. Save up to 40 percent on your RV, Motorhome, Camper, or Travel Trailer rental. Where will you go?