Rent an RV near Lexington, Massachusetts
When considering renting an RV near Lexington, Massachusetts, you're going to have many different types of RVs, motorhomes, campers and travel trailers to choose from. Depending on the type of trip you are taking to or from Lexington, Massachusetts, you'll want to choose an RV for rent that includes the amenities you'll need for you, your friends or family. RV rentals in Lexington, Massachusetts are in high demand, especially between Memorial Day weekend and Labor Day weekend, so you'll want to book your RV for rent in advance....
When renting an RV or camper you will need RV Rental insurance to protect you should the unthinkable happen. Many people mistakenly believe that their personal auto policy will cover their RV rental only to find out too late that this is untrue. It's likely your Auto Insurance Policy is not going to cover the RV Rental. When you rent an RV on RVnGO.com, RV rental insurance is automatically included in your rental. For a low nightly rate, you will receive $1,000,000 in liability coverage and up to $250,000 in property damage coverage. With RVnGO RV rental insurance, you can rent an RV with the peace of mind that you are covered in the case something happens on your trip. RVnGO RV rental insurance also covers RV owners, in the case something is broken or damaged on the RV during your trip.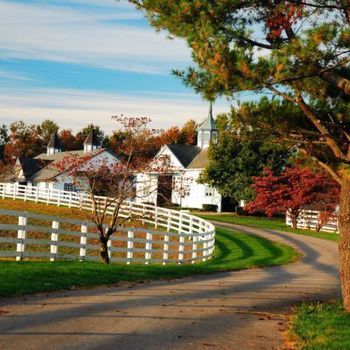 Lexington, Kentucky, is the Horse Capital of the World nestled amongst miles of dazzling green hills and pastures. A true Southern delight, Lexington is known for all things historic, including its racetrack and Horse Park, and its celebrations of Southern cuisine and Antebellum architecture. During a visit to Lexington, make sure to arrive hungry and be ready to stay up late to pack in everything that the emerald city has to offer.
Campgrounds and RV Parks near Lexington
Lexington is an enormously popular RV destination in Kentucky, with many of its famous parks and sites welcoming RV campground components so that guests can stay in the heart of the action.
Both an attraction in its own right as well as housing an RV campground, Kentucky Horse Park is a hugely popular destination in Lexington for campers and day visits alike. The sprawling pet friendly park supports electric 50/30/20 amp and offers a wide range of amenities. In addition to restrooms and showers, the campgrounds also include a grocery store, junior Olympic size swimming pool, and tennis, basketball, and volleyball courts. Kentucky Horse Park is a great choice for RVers looking to stay closer to central Lexington while enjoying the luxuries that the park has to offer.
For a more laidback camping experience, Whispering Hills RV Park is located further north outside of the city, quietly situated in the rolling landscape of its namesake. Whispering Hills provides a host of basic amenities (restrooms, showers, laundry facilities) as well as firepits and picnic tables for campers. The grounds support full electric hookups and are pet friendly. To experience camping in the plains country of Kentucky beneath the stars, Whispering Hills RV Park is second to none.
As the name suggests, Cummins Ferry RV Resort is nestled directly on the banks of the Kentucky River, right across from a scenic waterfall. Although the park is 40 minutes from the city center of Lexington, it provides a truly immersive camping in nature experience all while remaining under an hour from Lexington's main attractions. The park is pet friendly and supports full electric amp, and offers showers/restrooms, a swimming pool, miles of hiking trails, live music weekly during on season, and marina access for boat launches.
National Parks and State Parks near Lexington
To visit the countryside of Lexington is to step foot into the colonial era for its wondrous mansions and untouched miles of lush, heavenly green fields.
In nearby Richmond, visitors to the area can step back in time with Fort Boonesborough State Park's pioneer settlement. At Fort Boonesborough, visitors can tour the remains of the original fort site as well as the restructured identical replica, which is serviced by interactive colonial settlers there to educate guests on colonial life and the fort's history. Fort Boonesborough also has boat launch access for visitors to use, as well as hiking trails, picnic shelters, a museum and gift shop, and swimming pool.
At Waveland State Historic Site, visitors are able to tour the house and grounds of an Antebellum estate. In addition to the guided or unguided tours of the gardens, slave quarters, smokehouse, and ice house, the mansion also hosts small groups for Tea Tuesdays throughout the year. On these occasions, period-dressed educators serve tea and food in the mansion's dining room on classic fine china. Afterwards, guests are treated to a tour of the mansion.
Lexington Attractions
When in Lexington, make the most of every part of its culture; architecture and equestrian fame with some easygoing Southern hospitality.
Similarly to the Waveland Historic Site, the Henry Clay Estate is an even larger brick colonial mansion, perfectly maintained since 1809. Visitors are welcome to tour the ornately decorated home and its gardens, whose grounds are so idyllic, weddings and other events are often hosted on the premises.
It wouldn't be a visit to Lexington without attending a race at the historic Keeneland Race Course, a National Historic Landmark. In the spring, the 15 day meet serves as one of the richest stakes in America, including the prestigious Blue Grass Stakes (a prep race for the Kentucky Derby). Races are conducted from April to October, but the track can be visited throughout the year.
Of the many wineries in Lexington, perhaps none are more gorgeously set on the land than Talon Winery & Vineyards. This local favorite is found amidst the hills of Lexington's countryside, serving sumptuous wines and live music on weekends on its spacious grounds. After a busy day of activity, Lexington's sunsets are best enjoyed surrounded by good company, good drinks, and an open field.
Events in Lexington
As a foodie destination, Lexington's frequent markets and festivals keep the food and drinks flowing to people's tables.
On the first Friday of every month between May and December, a few blocks in downtown Lexington transform into a lively bazaar. On these nights, vendors line the streets with artisanal crafts, beers, food, and live music to enjoy throughout the season. Plus, if you've timed your visit extra-specially, Night Market lines up with Lexington's downtown Gallery Hop, in which the area's art galleries open to the public for free for people to wander through as a celebration of Lexington's beatific culture.
Lovers of BBQ and Southern cuisine won't want to miss Lexington's Bluegrass BBQ Festival! The downtown exhibit takes place annually in June, and promises to all attendees BBQ, beer, bourbon, and bluegrass music played live on the plaza. The festival features local and regional experts of all things BBQ, like slow-cooked brisket and juicy ribs. Where will you RVnGO next?