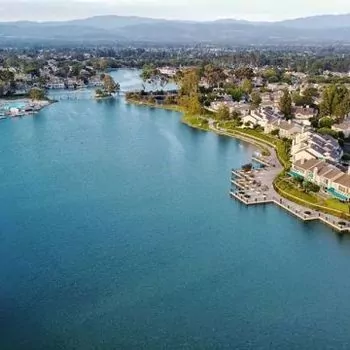 The picturesque city of Irvine, California, is a beautiful destination for any RV enthusiast. When people think of Irvine, they often associate this beautiful city with restaurants, outdoor recreation, shopping and family fun — and it is all that, but it's also much more. For RVers, Irvine offers the perfect balance between culture, nature and adventure. Whether you want to Ready to hit the road and explore? Rent an RV in Irvine!
Camping and RV Parks near Irvine
There are some wonderful and unique RV parks in and around Irvine. When searching for RVs for rent near Irvine, California on RVnGO, you will find a list of RV-friendly spots.
Newport Dunes Waterfront Resort is a beachfront oasis that has it all — dining, watersports, family activities, movies on the beach and much more. In this case, you will enjoy a more luxurious experience than many of the other RV parks, as RV park guests have access to the same amenities as the five-star hotel guests. Whether you're relaxing in a hydrotherapy pool or playing in SoCal's largest inflatable water park, this resort will not disappoint. The soft beach sand will be at your doorstep — come see for yourself!
Not your average RV park, O'Neill Regional Park is situated among 4,500 acres of heavily wooded hillsides and scenic trails. Other location amenities include everything from an amphitheater to horseshoe pits, playgrounds to picnic areas. RV camping allows for up to eight people per site and leashed dogs are welcome.
Located just under 14 miles from Irvine, the Anaheim RV Park is centrally located between Los Angeles and San Diego. Sure, this park is within walking distance to the Disneyland® Resort, but it's also close to Southern California's famous deserts, beaches and mountains. All of the 150 landscaped RV sites feature full hookups, free Wi-Fi and cable TV. RVs up to 50 feet are welcome, making this the perfect home base for RVs of all sizes.
National Parks and State Parks near Irvine
Irvine is known to be home to the best parks in the country. Take in the scenic beauty of these destinations. There is no shortage of state parks, historic parks, national forests and other green spaces around Irvine, California. There are plenty of activities and adventures to enjoy around every bend. Jump in your RV to explore what these state parks have to offer.
Crystal Cove State Park is one of Orange County's largest remaining open spaces and natural seashores. Featuring 3.2 miles of stunning beach, as well as 2,400 acres of wilderness and an offshore underwater area. Featuring 46 vintage coastal cottages originally built in the 1930s and 40s, this park is federally listed as the Historic District. Whether you're combing the beach or searching in the tidal pools, hiking or appreciating the unique history, this park is a must-visit. Come for the day or even stay the night. RV size limits are 25 feet for non-hookup tent sites and 38 feet for hookup RV sites. Token-fed hot showers are available in Moro Campground.
Red Rock Canyon State Park is known for its scenic desert cliffs, incredible rock formations and colorful canyons. There is unique history throughout this park, as this area was once home to the Kawaiisu people. Petroglyphs (rock carvings) can be found in the El Paso mountains, along the Native American trade route that was used for thousands of years, as well as the infamous gash on the western edge of the El Paso mountain range. Although this park is beautiful year-round, the local floral displays are particularly beautiful following the winter thaw. You may also see hawks, lizards, roadrunners and other signs of native wildlife. Once again, you can camp as long as your RV is 30 feet or smaller.
Located just 28 miles from Irvine, Chino Hills State Park offers over 14,100 acres of protected land. Being a refuge for plant and animal life, this park is a great spot to visit if you appreciate the natural world's biodiversity and beauty. Over 90 miles of trails allow you to hike, ride a bike or even ride a horse, making this the perfect place to enjoy a day out. You can also camp your RV here for $30 a night. The park is open year-round, but gate hours vary depending on the season. If you visit April-September, the park is open 8 a.m. to 7 p.m. and from October through March, the hours are 8 a.m. to 5 p.m.
Irvine Attractions
There are so many attractions and events to take in throughout the year in Irvine that you can rent a camper and discover all the city has to offer nearly any time of year. Whether you're a local or tourist, Irvine is the type of city that offers something for everyone. With its fair share of attractions, cultural hotspots, history and natural spaces, plan your getaway ahead of time so that you don't miss out on some of the best things to do in this Orange County city.
Orange County Great Park is one of the most popular attractions in the area and for good reason! Stroll through rows of towering palm trees, take your kids to playgrounds and the on-site carousel, head to the farmers' market or even experience a Great Park balloon flight, where you'll soar 400 feet above the landscape.
If you're a photographer or birder-watcher, or simply want to relax outdoors, the IRWD San Joaquin Marsh & Wildlife Sanctuary is full of natural wonders. Explore over 11 miles of trails and take a closer look at some of the species that call that freshwater marsh home. Pack a picnic, walk the boardwalk and make memories.
For those who want to shop and eat, the Irvine Spectrum Center features around one hundred boutiques, plenty of restaurants, a spa, a cinema and more. Here, you'll find weekly live music performances, a giant Ferris wheel, arcade centers, ice cream parlors and the list goes on.
Irvine Events
Irvine is always alive with many events that can make your vacation more memorable. Regardless of when you visit Irvine, there is always something exciting going on, including festivals, food events, concerts, art shows, farming events and more. Here are just some suggestions to give you a better idea of what Irvine is all about. In March, Irvine offers plenty for foodies, including the Orange County Restaurant Week, Spring Harvest Festival and family-fun strawberry tours (pumpkin picking is available in the fall). May is when the Strawberry Festival takes place and June is the time to visit for the Corn Festival. More of a melon fan? Then August is when you'll experience the Melon Festival, complete with wagon rides. The Irvine Global Village Festival is Orange County's largest multicultural celebration, showcasing over 50 cultures. This September event highlights cuisine, dance, music and more. For those visiting in June, the Studio Arts Festival is a great event, displaying 100+ works, live demonstrations and performances.