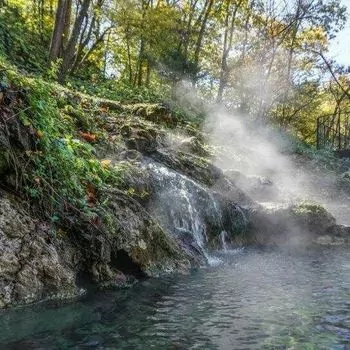 In need of some relaxation? The natural thermal waters of Hot Springs, Arkansas are renowned for their healing and recharging capabilities. But although its bathhouses are legendary, Hot Springs is so much more than just a spa town. This quaint southern city is a hidden gem for nature lovers, with mountain trails and peaceful lakes nearby for hiking and boating, as well as an upbeat downtown scene that includes the annual Arkansas Derby!
Campgrounds and RV Parks near Hot Springs
Hot Springs has plenty of RV campgrounds scattered throughout its National and State Parks, all of which are conveniently located close to the city center.
Catherine's Landing Campground and RV Resort/a>
Catherine's Landing Campground and RV Resort is a modern campground situated along the banks of Lake Catherine. As such, it comes with a wide range of amenities, including showers/restrooms, laundry facilities, a saltwater pool, and kayak and boat rentals from its private docks. There's even a zipline in the park for kids to use! There is plenty of well-maintained green space at Catherine's Landing, with lots of campsites in the plains below the stars and some in the woods surrounded by trees for privacy. Each individual site comes with a picnic table and is pet friendly. The site supports electric 30-15 and 50 amp.
Gulpha Gorge Campground
For a more authentic, casual camping experience, Gulpha Gorge Campground north of Hot Springs is a laid back, first come first serve site. As part of Hot Springs National Park, the woodland campsites come with the most basic amenities, such as picnic tables and a firepit; there are restrooms, but not showers. The campsite is pet friendly and supports full electric hook-ups, and is perfect for people looking to camp out in nature, ensconced by the tranquility that only National Parks can provide.
Hot Springs National Park KOA Holiday
Popular chain resort KOA Holiday is always an excellent choice for families looking to maximize the perks that their RV resorts can provide. Hot Springs KOA is located northeast of the city, and only a seven minute drive to the center. The campgrounds support full electric hook-ups, are pet friendly, and come with showers/restrooms and laundry facilities. There is a pool, multiple ponds, playgrounds for children, convenience store, and many staff-held events for families on site throughout the year.
National Parks and State Parks near Hot Springs
Hot Springs is bordered on all sides by nature, making it truly feel like a valley town. And, because of the abundance in rivers, lakes, mountains, and forests, visitors never have to sacrifice one type of vacation for another!
Hot Springs National Park
The city of Hot Springs is named, aptly, for its incredible natural thermal waters. At Hot Springs National Park, visitors can hike through the mountains and come upon two places where the springs can be touched; The Display Spring and Hot Water Cascade. Also located within the park is Gulpha Gorge, whose scenic flowing creeks and bridges seem straight out of a fairytale. Although the park is beautiful any time of the year, autumn in Arkansas is perhaps when the woods and springs are the most beautiful. The leaves of the mountain trees turn into vibrant red, orange, and gold, and the springs themselves become a respite from the crisp fall air.
Lake Catherine State Park
The waters of Hot Springs aren't just for healing. At Lake Catherine State Park, there are sandy beaches along the vast lake of its namesake, and waterfalls that cascade into crystal clear swimming holes. Lake Catherine makes for a perfect day trip or jumping off base for your entire RV vacation because of its convenient location near Hot Springs and its surplus of activities. In addition to the hiking trails of the woods that surround the lake, the waters of the lake provide plenty of room for boating, kayaking, swimming, and fishing.
Hot Springs Attractions
Whether you recharge best by relaxing in nature or engaging the mind, Hot Springs is capable and ready to rejuvenate you.
Bathhouse Row
A trip to Hot Springs would be incomplete without visiting Bathhouse Row. Comprised of eight bathhouses, these working spas are owned by the National Park Service and have been welcoming guests since 1892. Most popular among them, Buckstaff Bathhouse is the only one that continues to provide traditional bathing and massage services to patrons. For a more modern experience, Quapaw Bathhouse + Day Spa offers guests a luxury bathhouse experience in its thermal, mineral water pools. There are also private baths under romantic skylights and steam caves to leave skin looking dewy and refreshed.
Garvan Woodland Gardens and Anthony Chapel
Surrounded almost on all sides by the Ouachita River, the Garvan Woodland Gardens are a serene woodland retreat. The Gardens themselves refer to acres of placid flora laid out in thoughtful sections and connected by walking trails. A day spent in them includes fields of tulips in spring, a bonsai garden, numerous stone bridges that overlook flowing creeks, Japanese maple trees, and the famous Anthony Chapel. Anthony Chapel is a breathtaking feat of architecture that celebrates nature as its muse. The chapel is constructed of expansive windows and a network of criss-crossing pine beams that meet at the pointed top of the high arched ceiling. The result is an ethereal display of natural design, and it's no surprise that weddings are held here often.
Mid-America Science Museum
Hot Springs is also home to the Mid-America Science Museum, whose mission is to instill a curiosity and passion for science in children through interactive exhibits, both travelling and permanent. Inside the museum are fossils, laser light displays, and the Hall of Wonder, where annual exhibits highlight an area of focus in science through immersive and engaging shows. The 2021 display is Life in One Cubic Foot, which seeks to illuminate earth's incredible biodiversity. Connected to the museum via gated suspended bridges, and nestled amongst the treetop canopy, is the Museum Treehouse and its giant, enclosed trampoline.
Events in Hot Springs
Wine in the woods, medieval fairs, and Derby Day in the South— Hot Springs is open year round and embraces it all!
Derby Day at Oaklawn Racing Casino Resort
Throw on your sundresses and feathered hats because Derby Day at the Oaklawn Racing Casino Resort is not to be missed! During the racing season, the racetrack hosts 16 stakes races leading up to the Arkansas Derby. In April, Oaklawn hosts the weeklong Racing Festival of the South.
Hot Springs Rennaisance Faire
In early November, during the peak of fall foliage season, the fairgrounds at Garland County hosts the Hot Springs Renaissance Faire. During this weekend, the grassy field and surrounding woods of the fairgrounds are turned into a sprawling medieval market, with over 80 vendors and 16 live acts, including combat and jousting tournaments. Food, drinks, and costumes abound for a weekend that's fun for every member of the family.
Dessert Before Dinner
One of the newest annual traditions in Hot Springs is the Dessert Before Dinner with Bubbles and Bons fundraiser. For one evening only, ticketholders will be treated to the Architecture Bake-Off, which is a design challenge in which architects recreate their building designs into extraordinary, towering cakes. The competition is judged by local bakery owners before everyone gets to enjoy the tasty designs for themselves. Guests will also get to tour the Garvan Woodland Gardens privately while they enjoy wine and bon bons, with a delicious dinner and live performance to top off the evening. All proceeds from the event go to STE+AM®, which provides support for limited access students in the fields of science, technology, engineering, architecture, and math. All of these incredible sights and so many others are just outside of your door when you rent an RV near Hot Springs with RVnGO. Where will you go next?