Rent an RV near Honolulu, Hawaii
When considering renting an RV near Honolulu, Hawaii, you're going to have many different types of RVs, motorhomes, campers and travel trailers to choose from. Depending on the type of trip you are taking to or from Honolulu, Hawaii, you'll want to choose an RV for rent that includes the amenities you'll need for you, your friends or family. RV rentals in Honolulu, Hawaii are in high demand, especially between Memorial Day weekend and Labor Day weekend, so you'll want to book your RV for rent in advance....
When renting an RV or camper you will need RV Rental insurance to protect you should the unthinkable happen. Many people mistakenly believe that their personal auto policy will cover their RV rental only to find out too late that this is untrue. It's likely your Auto Insurance Policy is not going to cover the RV Rental. When you rent an RV on RVnGO.com, RV rental insurance is automatically included in your rental. For a low nightly rate, you will receive $1,000,000 in liability coverage and up to $250,000 in property damage coverage. With RVnGO RV rental insurance, you can rent an RV with the peace of mind that you are covered in the case something happens on your trip. RVnGO RV rental insurance also covers RV owners, in the case something is broken or damaged on the RV during your trip.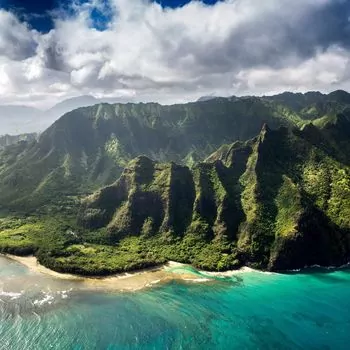 Honolulu is the capitol of the island state and the biggest city in it. Those who rent an RV in Honolulu are setting themselves up for a magical adventure whether they want to enjoy tropical beaches, party in a cosmopolitan city and hike through gorgeous landscapes. Oahu, the island that houses Honolulu, caters to all of those preferences. Find out where you can park a motorhome rental in Honolulu and discover some of the sites to see while you're there.
Camping and RV Parks near Honolulu
The areas surrounding Honolulu are favorites for campers whether they're from the island or visiting from over the ocean. One reason is that so many of the campsites sport ocean views or are within walking distance of the beach. What many of the campsites lack in amenities they make up for in access to sheer beauty.
Rent a campsite at this recreation area for between $20 and $30 a night, making it an affordable addition to the budget for your RV rental in Honolulu. The campsite includes picnic tables and showers and boasts a walking path for those that want to enjoy some exercise. You can explore the beach and fish, though pets aren't allowed.
This site offers 50 camping spots on or near the beach. Lifeguards man the beach at certain times, so you can swim with peace of mind. This site is near a military location, and there are some restrictions on what areas campers can access and when.
This campsite might be a great option if the reason for your camper rental in Honolulu is to escape the crowds. There are only eight campsites, total, so you can expect a relatively quiet stay in this rural area. City campsites are closed on Wednesdays and Thursdays, so you'll need to plan well in advance if you're using your RV for rent near Honolulu for an extend stay.
National Parks and State Parks near Honolulu
Be sure to take in the natural splendor of one of the nearby natural parks or preserves, in between visiting the major attractions on the island. Hawaii's islands boast a few national parks and other memorials and sights of interest. Whether you want to stay on the island of Oahu after finding an RV for rent near Honolulu or you're willing to adventure to some of the other islands, there's plenty of outdoor fun to be had.
You'll want to bring the cameras out for selfies at Hawaii's most recognized landmark. Diamond Head offers plenty of hiking on historic trails and stunning views of the coast. Explorers willing to venture in on foot can view the inner and outer slopes associated with a volcanic crater that's 300,000 years old. Once you're done, you can stop at a kiosk for more information and visit a gift shop.
History buffs certainly can't go RV camping near Honolulu and not visit the Pearl Harbor memorial site. You can visit the USS Arizona Memorial and museum for free. The site includes a variety of exhibits, including information about what happened during the Japanese attack on December 7, 1941 generally as well as to specific people and places.
This historical park commemorates a spiritual location that protected Hawaiian warriors who sought refuge and protection offered by Lono, the god of life. For travelers today, the site is a refuge where they can learn about the ceremonies and beliefs of this culture or find peace themselves in the beauty of the natural world.
If you time your RV camping trip in Honolulu correctly, you may be able to slip over to the Big Island for a spectacular nature fire show. This is a park where you can view volcanic eruptions from afar. Visitors may also see the results of volcanic activity on the landscape.
Honolulu Attractions
Obviously, the beaches are the headliners for many people considering a camper trailer rental near Honolulu. But the city and surrounding area have even more to offer. Between relaxing in camp life and surfing or swimming in the ocean, consider checking out some of the Honolulu attractions below.
This is the palace where the last monarchs of the islands lived. It's a National History Landmark, and visitors can explore the exterior grounds and many of the interior rooms. That includes the throne room and rooms for music, work, sleeping and even imprisoning people. Exhibits include extensive collections of items such as dishes, furniture, military accessories, documents and photos.
This is one of the most popular hiking destinations in the state. It's fairly accessible and relatively easy when compared to other hikes in the area. You can do the hike on your own or take a tour up to the iconic waterfalls.
Enjoy the unique experience of exploring a botanical garden in an old volcanic crater. The gardens make up around 60 acres that cover some of the internal slopes and the basin of the crater. You'll see a variety of plant life, including cactuses and succulents, Hawaiian plants and plants from Madagascar and Africa.
This is another trail worth hiking if you're out for iconic views. You'll get superior views of the coast along with the historic lighthouse. If you haven't gotten the cameras out for selfies at any other location, you'll want to do it here.
Honolulu Events
Hawaii is a great place for festival lovers, so if you're renting an RV around Honolulu, check for annual events that might be coming up. From flower festivals to celebrations of hula dancing, you'll find plenty of options.
This festival features a hula competition and celebrations a range of traditions unique to the island. Enjoy traditional food and music while you shop artisan booths or watch a parade.
Lei Day is a statewide celebration in Hawaii. The celebration begins in the morning of May first every year and continues into the next day. Every year on May 1, people across the islands celebrate Lei Day. This includes a wide range of events such as ceremonies, carnivals, lei-making demonstrations and performances.
The Honolulu Festival is Hawaii's premier cultural event, promoting mutual understanding, economic cooperation and ethnic harmony between the people of Hawaii and the Pacific Rim region. Each year, the Festival attracts thousands of new and returning spectators who are looking for an experience unique to Hawaii. Every spring-time festival includes stage performances, a craft fair, educational programs, an enormous parade, tree planning projects and a friendship gala to promote peace.