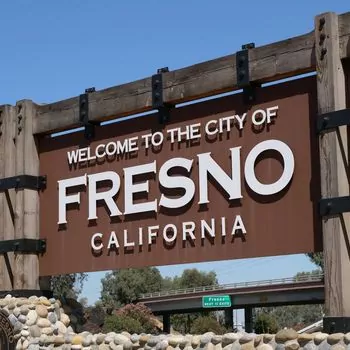 Fresno sits in the heart of California's Central Valley. First founded as a railroad town, Fresno is now a hub for agriculture and acts as the gateway to the Sierra Nevada mountain range. You can find many RV-friendly places to explore around Fresno, whether you're a full-time, seasonal traveler or just visiting the area for a weekend family getaway. Here, there is something for everyone. The following includes some of our favorite destinations in and around Fresno and how to find them on RVnGO. From RV camping in Fresno to Fresno events and more, our list dives into why you should rent an RV in Fresno!
Camping and RV Parks near Fresno
Fresno has plenty to offer the RV vacationer, that it will be a challenge to fit everything in your trip. There are plenty of great RV Parks and Resorts to park at, as well. RV parks in and near Fresno will help you stay comfortable during your travels. The city offers several options for you to consider. Get an affordable rate on an RV rental in Fresno by searching your options on RVnGO. Whether you want a small RV that makes traveling more comfortable or a large RV with all the comforts of home, RVnGO can help you find the right model for your trip.
The top RV resort would be the Blackstone North RV Park. Known as the gateway to Yosemite, it has all the beautiful nature areas you'd expect near a national forest. Of the many places to stay with an RV in Fresno, Blackstone North RV Park is one of the most beautiful. Rose beds are scattered throughout the park, and each RV pad has grass around it. Those who choose a 30-amp service instead of 50 can save some money too.
The next RV resort on the list is Three Palms Mobile Home & RV Park. This RV park is super family-oriented and has activities for people of all ages. You'll love Three Palms Mobile Home & RV Park if you're looking for a longer-term RV park with experienced management and plenty of amenities. These friendly folks will ensure that visiting Fresno is an easy experience. You can't beat this RV park's pet-friendly accommodations and open spaces, so you won't feel cramped while your pup runs around and enjoys the three fenced dog parks.
RiverBend RV Park strongly recommends that you make reservations online by going to the "Book now" page. If there are any issues, you can be assisted by calling their front office at (559) 787-3627. Furthermore, they strongly recommend using your own toilet facilities in your RV. Other than that, the Resort is a tranquil 25 acre RV Park situated on Kings River and a gateway to Kings Canyon National Park & Sequoia's National Park on route to Yosemite National Park. It is ideally located for those who want to visit Yosemite (74 miles away), Kings Canyon (41 miles) and Sequoia National Park (56 miles away). Don't worry if you are unable to reserve a site at Yosemite or the Kings Canyon RV parks, which are usually overcrowded and very difficult to reserve. Riverbend RV Park is a gem and large too, spread out over 25 acres along the Kings River, with streams running through the Park.
National Parks and State Parks near Fresno
While cruising America along the highways in your RV rental in Fresno, you will find some must-stop sites all within a day's trip. There are beautiful National and State Parks near Fresno. Make sure to visit them in your RV rental for a great weekend in the outdoors. Fresno definitely has plenty of sites that everyone can enjoy! You don't even have to leave Fresno's city limits to visit an urban state park. If you want a "deep forest" experience, though, you can find options a short drive from California's capital city. When in doubt, search RVnGO to find local hosts with RV rentals in Fresno that give you a comfortable ride to parks throughout the area.
Located an hour east of Fresno, Hume Lake Recreation Area is a popular destination that includes boating, fishing, and camping. And roughly 40 minutes south of Hume Lake is the beautiful Sequoia National Forest, a favorite with families and has plenty of hiking trails to explore. Sequoia National Forest is also home to the General Sherman Tree - the largest living tree in the world.
If you're a nature lover and willing to go deeper into the mountain range, Mono Hot Springs is located two hours east of Fresno and is the perfect weekend getaway. The hot springs are one of the coolest things to do on a visit, and you can spend all day soaking in them. There are six pools, with some reaching up to 104 degrees Fahrenheit!
Yosemite is the oldest national park in America and has plenty of granite peaks, waterfalls, and giant sequoias, including one over 2,000 years old when it died. The park is home to nearly 400 miles of trails, which means your family will never get bored. It is also a designated pet-friendly area, so you can bring Fido with you on the adventure!
Kings Canyon National Park is another park with incredible mountains, canyons, and giant sequoias, including the General Grant Tree, the second-largest tree. King's Canyon offers over 100 miles of hiking trails, and again, this park welcomes pets! This immensity of mixed conifer forests with its soaring cliffs and spectacular vistas includes rock formations like Half Dome. The high elevation also creates a milder climate than many places nearby Fresno, so in summer, you can enjoy hiking to the top without worrying as much about heat exhaustion or dehydration. RVnGO's RV Hosts near Fresno have all these destinations listed as "must-see" places to go while staying at their sites!
Fresno Attractions
There are tons of attractions in Fresno that will be fun for the whole family. There is so much to do in the Fresno area to keep you busy for a whole year. Fresno has a wealth of attractions to educate and entertain visitors. Here are a few top attractions.
The Forestiere Underground Gardens, located at 5021 West Shaw Avenue in Fresno, California, are a series of subterranean structures built by Baldasare Forestiere, an immigrant from Sicily, over a period of 40 years from 1906 to his death in 1946. Explore the spectacular features, which include a winter bedroom, a summer bedroom, a kitchen, a parlor with a fireplace, and a fishpond. Lovers of architecture will be enthralled with the archways and beautiful stone walls. What was once useless farmland, he turned into a network of rooms, tunnels and courtyards as a subterranean escape from the sweltering Central Valley summer heat. Using only shovels, picks and other hand tools, Baldassare was inspired to excavate for forty years, going as deep as 25 feet underground and spanning over 10 acres. He grew fruit trees and grapevines underground - many of which are still thriving today!
Shinzen emerged in the era of sister-city gardens, following World War II, with the building of Japanese gardens to forge friendship and to recognize the significant role of early Japanese immigrants and citizens in the founding and development of our community. An early connection with the Fresno Sister City Kochi, Japan, provided a key link to further identify the importance of friendship and international brotherhood in the creation of this notable feature for Fresno. Located inside of Woodward Park in Fresno, the traditional northwestern American Japanese Garden was designed around the four seasons, and the five acres are filled with structures that focus on rock, stone, and water. Some of the features visitors might enjoy include the Mon Gate and Entry, Ume Grove, which is filled with waterfalls and walking paths, the Double Moon Bridge, which goes over a Koi pond, and the Clark Bonsai Collection, which was donated in 2015.
Since its opening in 1978, the Roger Rocka's Dinner Theatre has been entertaining Fresno's locals and visitors with refreshing productions of some of the nation's favorites. The theatre has only improved with time and now boasts of having over 180 productions under its belt. When you arrive at the theater you will be greeted by a friendly hostess who will take your name, check her seating chart and guide you to your table. The service staff will take over from there and you will find them to be carefully and cheerfully attentive to your needs. The dinner show tickets you purchase from our box office cover your salad, dinner and the show but appetizers, drinks and desserts are optional extras. The filet mignon also has an additional charge. A full bar including cocktails, wine, beer, coffee, tea, soda and milkshakes. Any additional items you choose to order will be put on a tab by your server which will be presented at intermission.
Fresno Events
There is always something going on in Fresno. You can always find the perfect event that will scratch that itch of experience and adventure. Fresno Events are fun and exciting ranging from the celebration of baseball, food, music, history, and everything in between. Not sure when you should rent an RV in Fresno? You could plan your travels around these annual events.
One of the annual highlights is the summer concerts in the park offered every Wednesday from May to August. So, bring your picnic lunch, snacks, and beverages to enjoy the music of some popular bands on stage, such as The Kinks, Creedence Clearwater Revival, or Mozart with a Twist!
Rogue Festival is one of several "Fringe Festivals" worldwide, meaning that independent artists or performers are not invited to perform but are assigned via application lottery. This gives under the radar performers a chance to showcase their talents, which can result in not-so-common performances. In fact, the lineup of performers consists mostly of not the typical household names, adding a little spice to the festivities as a whole. It also features every kind of art and entertainment performance, such as music, dance, puppetry, theatrical plays and magic acts. So, if you're an artsy person, Rogue Festival just might trigger your senses in a way so mesmerizing, you wouldn't want it to end.
If you're looking for a nice family-oriented activity, stop by the annual peach party in Old Town Clovis. This party includes peach displays, samplings of peachy specialties, and more. The entire family is welcome to enjoy food from the Clovis farmers market and take part in kids' activities.
The Big Fresno Fair is also an annual event in early October at the Fresno Fairgrounds, and it has carnival rides, horse racing, livestock, art, and plenty of entertainment. The Big Fresno Fair is indeed big. It's the biggest annual event in Fresno and the whole Central Valley in terms of visitors and scope. The fair hosts numerous fun exhibits, music entertainment, educational programs, live horse racing, livestock shows, concerts, among many others. This humongous facility spans 165 acres (66 hectares) of high-quality real estate allotted for stalls, booths, carnival rides, stage platforms, programs and many more. Not to mention the emphasis on educational activities complemented by lively programs, a testament to their mission to educate, celebrate and have fun.
Grizzly Fest is a multi-genre music festival wherein it features a little of everything from indie, hip hop, reggae and much more. Though the festival features music as its main event, it also features art exhibits, carnival rides and culinary bliss. There are three stage platforms for performers located at both corners of the festival grounds. The middle portion is the place for guests to be ecstatic about the event and rock to an array of music performances. In essence, Grizzly Fest is the Coachella of Fresno.